Religion, medicine, and law collide in the latest film adaptation of an Ian McEwan novel
Emma Thompson plays a high court judge who must make a painful and delicate decision over what's best for a gravely ill teenage boy in this intense story of moral dilemmas and infatuation.
Thompson is Judge Fiona Maye and she presides over the family court in London with the wisdom of Solomon (and sometimes the testiness of Judge Judy) in cases of conjoined twins, divorce, and child abduction.
When the case of Adam Henry, a 17-year-old boy dying of leukaemia and who is being prevented from having a blood transfusion by his Jehovah Witness parents, is brought to her attention, it triggers a crisis in her ordered life.
Watch our interview with Emma Thompson and Fionn Whitehead
We need your consent to load this rte-player contentWe use rte-player to manage extra content that can set cookies on your device and collect data about your activity. Please review their details and accept them to load the content.Manage Preferences
There are also problems closer to home. Maye shares a well-appointed apartment with her American professor husband Jack (Stanley Tucci) but her commitment to the law means her marriage is heading for the rocks, just as she faces one of the most difficult cases of her career.
The bulwarks of religious dogma, medical science and the law are about to clash, a moral dilemma is in place, and The Children Act proceeds with all the exactitude of a high court hearing. Maye even applies the same legalistic rigour to her problems at home but it's a veneer that soon begins to crack.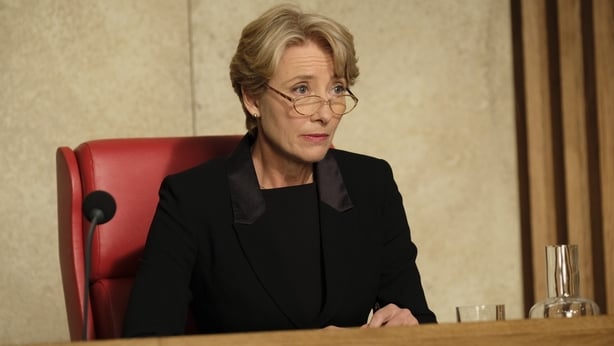 Adam has led a sheltered life under the yoke of religious dogma but director Eyre and McEwan (who adapted the screenplay from his novel) do well not to overcook that part of the story, portraying the troubled teen as a highly-intelligent innocent with courtly manners who addresses Maye in a mixture of deference and affection. He even uses her official designation of "my lady".
Whitehead, who had his breakout role in Dunkirk, is very impressive in the part and the mostly absent Tucci plays the man who knows he's in the wrong with understatement. There are also remarkably subtle and sorrowful performances from Ben Chaplin and Cork actress Eileen Walsh the boy's parents.
However, Thompson is front and centre at all times and, as ever, she is very watchable and subtle as judge Maye.
This is a solid drama about how conflicted emotions can break through the constraints of professional behaviour but The Children Act ends up becoming almost symphonic in its gravitas. It somehow manages to be both elegant and stuffily ponderous. Catharsis never really arrives.
Alan Corr @corralan