The gang's all here for some more knockabout Pixar fun
With superhero movie fatigue having well and truly set in, what a joy it is to have the Incredibles back again. A full 14 years after the first movie, super-brain director and writer Brad Bird has brought the Parr family back to life for an adventure that combines all the verve and fun of the triumphant, Oscar-winning original but also adds even more eye candy to make this a genuine wonder to behold.
We are back in the future-retroism of Bird's early sixties America, a sleek atomic age of clean lines and graceful curves, but the writer-director also makes well-aimed points at more modern concerns, not least the central themes of how does the family dynamic respond under pressure and the pernicious impact of tech on our lives.
Watch our interview with writer- director Brad Bird and producer John Walker:
Best of all, the baddie is a shadowy figure called Screenslaver, a dastardly villain who attempts to use TV screens and monitors to manipulate humanity (imagine that!?).
We begin exactly where the first movie ended, with the Supers taking on Under-Miner's dastardly attack on the city of Metroville. The confrontation turns the Parr family home into a large heap of rubble and they are left slumming it in a hotel after they are once again banned by government officials concerned about the collateral damage the supers (particularly the lunkish Mr Incredible) are causing the city they are saving.
However, uber slick, billionaire brother and sister Winston and Evelyn Deavor propose that the Parrs get back in the superhero game with a series of publicity stunts that will win favour from the public and force officialdom to release them from their enforced retirement.
The family are moved into a hi-tech pad and Helen aka Elastigirl is chosen to head up the PR campaign, complete with sleek new motorbike and a superhero outfit, while Bob aka Mr Incredible is left at home to mind the kids.
Their daughter Violet (voiced by Sarah Vowell) is still so wracked with eye-rolling despair and hormonal turmoil that she does what a lot of teenagers would like to and vanish at will; ten-year-old Dash is the same ball of energy and enthusiasm; and baby Jack-Jack, well, baby Jack-Jack is about to reveal the true extent of his own powers.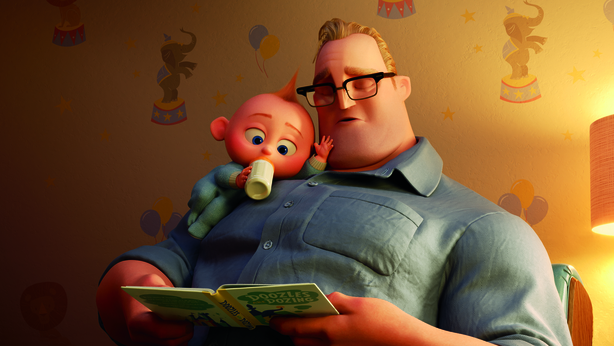 The pace of the laughs and the action never let-up. There's a bravado finale on a luxury hydrofoil at sea which is brilliantly executed and a sequence in which Elastigirl single-handedly saves a monorail is another stand-out.
However, it will be Jack-Jack's tussle with a raccoon which may be the highlight of the whole film. This baby has a whole range of superpowers, one of which is stealing Incredibles 2 from the adult cast.
Alan Corr @corralan