The longest horse race in the world  - 1,000 kms across Mongolia in a week - is the subject of Ivo Marloh's captivating documentary featuring two Irish jump jockeys who participated in the 2012 event.
It all began in the time of Genghis Khan (1162 –1227) whose postal system depended on the legendary Mongolian horse. Trusty messengers galloped the steppe bearing missives and the postal circuit - aptly described by the Mongol Derby chief as "an amazing, empire-busting institution "- lasted until the late 1940s when operations ceased.
Thus the postal structure was the foundation for the annual race which began eight years ago. A total of 8,000 horses have been ridden by competitors through grassland, mountainous terrain, desert and dunes, and across rivers to save time and distance.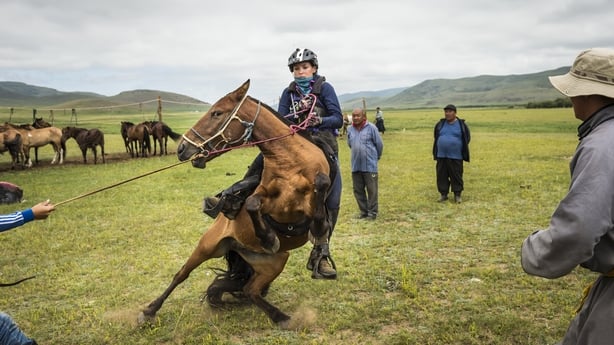 Every year the eager souls who crave harsh physical challenge or who just love horses come from all over the world to compete. The riders navigate between different stations, known as Urtuus, which are some 40 kilometres apart. There is a constant supply of fresh horses, but as the film reveals, the station can run out of suitable horses on the rare occasion.
A competitor might be fortunate and pick a good nag, or he or she might draw the short straw. It's easy to run foul of the rules - a rider might be penalised, losing an hour or two of valuable time because the horse was worked too hard. Strict veterinary checks on the steed's heartbeat after each stage means the competitor cannot hide.
You might have a great animal on which to ride but equally the only horse left for you to choose might be nervous or just slow. Or the horse has never been ridden and is almost impossible to mount even with the help of the Mongol handlers. They do not pet the animals - wild horses, it is believed, are better able to deal with trying situations, such as finding shelter during a storm.
There was an interesting mix of professions among the 34 riders who started out in the 2012 Derby, including a  young female New York firefighter, with a maritime lawyer, medical doctor, sports entrepreneur, fund manager, journalist, and even a volcanologist also participating. An African horse-trainer came in a respectable third.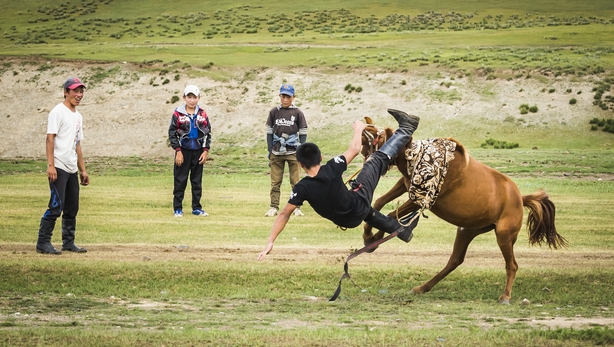 The young Irish competitors Donie Fahy and Richard Killoran were at the time of the race - and may still be - professional jump jockeys. In any case, their composure and ability as team players is admirable to behold, certainly so when contrasted with the unfortunate young American rider, Devan Horn. She punishes herself so hard in an obsessive drive to win that she becomes quite ill. One felt some sympathy for her father whom she contacted by speed-dial - presumably back in the USA - when the going got particularly rough. He must have been worried sick, or maybe not, who knows.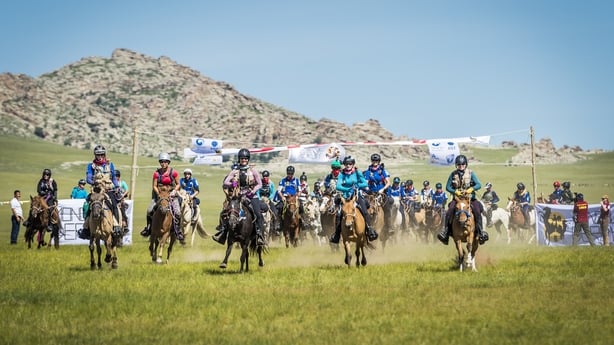 You never see the swarthy, bearded Fahy losing it. The Irishman is quietly determined as he smokes a cigarette and sees to his horse. "I'm not worried about anything, " he says. "I haven't even given it a second thought that anything could go wrong." Like Fahy, Killoran is a calm and cool customer, but at one point towards the tight finish, he is angry that there is no decent horse available.
"This is meant to be a race, not a donkey trek along the beach," he fulminates, perhaps ruefully realising the truth of his earlier remark that "you definitely need to be either brave or stupid."  Fahy had said something similar: "it's something completely crazy, that's why I wanted to do it."
Dehydration, sunstroke, broken collar bones, punctured lung, fractured pelvis, fractured neck ligaments, blurred vision – all human pain is here and there is a nervy air. You keep thinking that something terrible is going to happen.
All the Wild Horses opens exclusively at the IFI on June 8.
We need your consent to load this YouTube contentWe use YouTube to manage extra content that can set cookies on your device and collect data about your activity. Please review their details and accept them to load the content.Manage Preferences