Irish director delivers a gentle and funny feelgood film about Ireland's piano students and teachers
After impressing audiences with family-based documentaries His & Hers and Mom and Me, Irish director Ken Wardrop has taken on a different subject for his new film, Making The Grade. It certainly has the feelgood factor of his first few films but here the Laois man has trained his camera and his very observant eye on a cross section of the 30,000 people in Ireland who prepare for piano exams every year.
Wardrop, who admits that he haven't got a note in his head, has crisscrossed the country seeking both students and teachers of the piano and he uses the framing device of the grading system, from the novice Grade One to the challenging Grade Eight, to slowly ease out the stories of aspiring pianists, from Crosshaven to Derry.
We need your consent to load this YouTube contentWe use YouTube to manage extra content that can set cookies on your device and collect data about your activity. Please review their details and accept them to load the content.Manage Preferences
The results are a pure and gentle delight. 51 teachers and students feature in the film and each has their own story to tell. Over the course of Making The Grade, we encounter key ticklers of all ages, shapes and background, from the heavy metaller who wants to broaden his musical palette and maybe go a bit Deep Purple, to a precocious 10-year-old prodigy who seems destined for the stage, to a young girl with cerebral palsy who uses music as a way to deal with her daily battles.
The high notes are many. In Derry, the precocious and prodigious Rosa O'Reilly seems to leave her teacher, Mrs McGinley, more impressed with every lesson, while the sight of a hirsute rocker of a certain age sitting beside his teacher at an elegant piano and patiently and painstakingly coaxing out notes is an image to savour.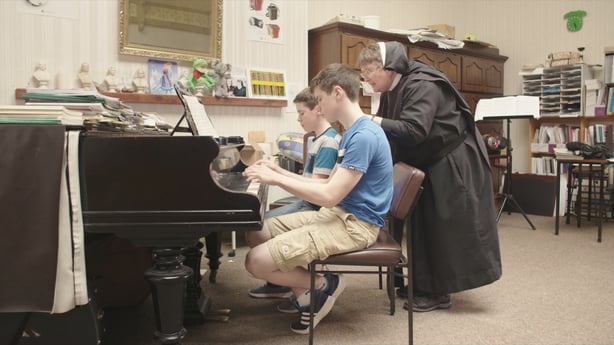 Perhaps best of all is young Angela Morley. She's a young girl with cerebral palsy who spices up her scales and practice pieces by singing raps about the challenges she faces. For her, the power and beauty of music has taken on a whole new meaning.
Alan Corr @corralan
Making The Grade opens at the IFI, Dublin, The Light House, Dublin, and Pálás, Movies at Dundrum on Friday. April 13 and will be shown in selected cinemas nationwide.