If there is a female equivalent of a buddy movie it's I Got Life!, an irreverent treatment of the theme of woman on the verge of menopause.
Aurore is the original French title of a movie first shown in this country at last year's French Film Festival, a better title really than the cheesy I Got Life, taken from the eponymous Nina Simone song which runs as a theme throughout the movie. Aurore (Agnès Jaoui) is the mother of two daughters, separated from her happy-go-lucky if frazelled husband, Nanar (Philippe Rebbot). She works as a waitress for a domineeringly sexist maitre d ' named Seb (Nicolas Chupin) until she has enough and throws in the towel.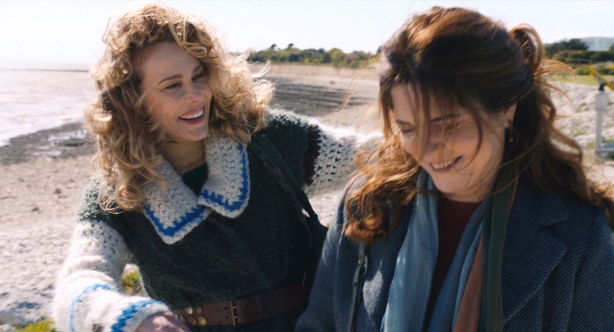 Thus begins a round of job-hunting for the woman of early mature years, predicated on the general angst of women on the verge of 50. One lady whom Aurore meets in the course of her search interrupts a formal exchange with her to turn on a desk fan, lifting up her jumper to cool a sudden hot flush. On the instant, the tenor of the interview changes, and disconcerting as it may be, the sight of the woman obliged to cool herself is familiar to our protagonist who has her own hot flushes. Suddenly there is a kind of empathy though it doesn't significantly change Aurore's rather bleak fortune in the job stakes. In any case, the woman had been talking a staggeringly meaningless series of half -sentences and it is one of the funnier scenes in the movie.
Then there is Aurore's relationship with her daughters, blowing hot and cold flushes too. The younger one, Lucie (Lou Roy- Lecollinet) wants to follow a guy to Barcelona, the older girl, Marina (Sarah Suco) is pregnant and expecting Aurore's first grandchild.
Meanwhile, our protagonist's cheeky, gregarious pal Mano (Pascale Arbillot) is delighted for Aurore's impending grand-motherhood, as they set up situations to meet blokes who will provide some love and affection. Will it last, Aurore's guileful rekindling of the relationship with one Totoche (Thibault de Montalembert), her first love, of some 25 years ago, now a hospital consultant? To complicate things, she is seeing another guy.
To say any more is to spoil, I Got Life is a delightful little gem of a movie and Jaoui as Aurore plays a stormer, equal parts vulnerability and chutzpah. Tres charmante.