Sharon Horgan is among the cast up of this madcap comedy from the makers of Horrible Bosses
Comedy stalwart Jason Bateman and Rachel McAdams team up as a quiz and board game loving couple in this knockabout comedy which throws together one of the most intriguing cinematic hybrids of recent years. If you can imagine Horrible Bosses meets Manhattan Murder Mystery meets Hart to Hart then you're close to this utterly dumb and utterly fun mash-up.
Bateman and McAdams play Max and Annie, a preppy husband and wife who hold a weekly game night with their equally preppy friends. They eat nachos and dip and try but fail to keep their wildly competitive natures in check as they engage in the gentle pleasures of Pictionary and even charades.
We need your consent to load this YouTube contentWe use YouTube to manage extra content that can set cookies on your device and collect data about your activity. Please review their details and accept them to load the content.Manage Preferences
When Max's estranged brother, the rich, successful and charming Brooks (Kyle Chandler), turns up one night with a more high stakes challenge in mind, game night becomes something far darker. Kyle proposes a murder mystery evening in his swish bachelor pad but matters escalate when his well-hidden but murky past collides with Max and co's more prosaic idea of a good night in.
It is great fun with a cast featuring Sharon Horgan as the super smart Sarah, the reluctant date to the nice but heroically dim Ryan (Billy Magnussen), and the great Jesse Plemons as a deeply creepy neighbour, who just wants to be included in the fun.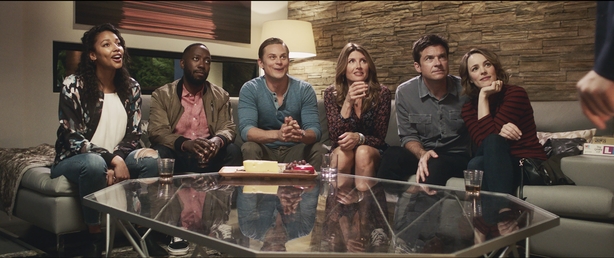 It's co-directed by Jonathan Goldstein, who co-wrote Horrible Bosses and like that dunderheaded movie, Game Night gets most of its laughs when ordinary, law-abiding citizens come up against some very bad people indeed. There's plenty of violent slapstick (a scene involving the treatment of a gunshot wound is a teeth-gritting LOL moment), bad taste (blood-stained terrier, anyone?), and a script bristling with pointed popular culture references.
Even as Game Night piles on the absurdity and really tries your patience with outlandish twists and turns, it never loses pace or fails to keep pranging your funny bone. Worth a roll of the dice.
Alan Corr @corralan