Clint Eastwood's latest is a naturalistic, no frills retelling of real life events which sees real life heroes playing themselves 
There is something of Paul Greengrass's United 93 in this compact and faithful retelling of the dramatic events on board an intercity train from Amsterdam to Paris in August 2015 when three young American men foiled a terrorist attack on 500 passengers. However, unlike Greengrass's unbearably tense 9/11 drama, the outcome here is a far happier one.
Clint Eastwood has taken the brave and novel approach of casting the three heroes - Spencer Stone, Anthony Sadler and Alek Skarlatos - as themselves and it really pays off in what is a naturalistic real life story with a certain clunky charm. After the bravado Sully starring Tom Hanks, this tale of derring do also seems like the obvious choice for Eastwood. 
We need your consent to load this YouTube contentWe use YouTube to manage extra content that can set cookies on your device and collect data about your activity. Please review their details and accept them to load the content.Manage Preferences
The veteran director scrolls back through the three childhood friends' upbringing - troublesome years in a faith school, a childhood fascination with the military - to give the full story of how one act came to define them all. However, by the time the boys decide to undertake that American custom of a backpacking trip around Europe we may be running out of story. 
The imminently likeable and gentlemanly Stone is the leader here and he has real screen presence as the recent army recruit who feels a divine force coursing through him and who avers several times in the film's short running time that life is somehow pushing him towards some great act. At one point he murmurs without a trace of irony, "I just wanted to go to war and save lives."
Eastwood weaves themes of faith, fate, and friendship and while it has some of his usual gung-ho worship of the military (he's as at home in boot camp as he was in Heartbreak Ridge), nobody could begrudge his salute to these real life heroes.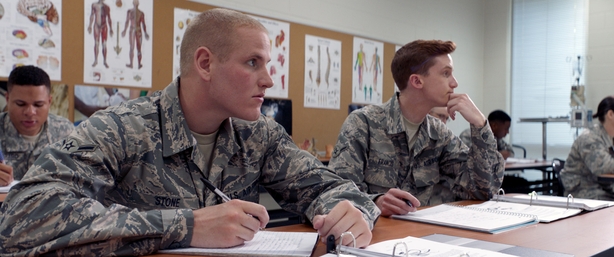 However, he is not beyond sending flag and country up. When the three Californian amigos take a tour of Berlin and stand at the site of Hitler's bunker, they are taken aback to hear that Hitler perished just feet below them as the Russians closed in. "You Americans can't take the credit every time evil is defeated," their guide laughs.
When it arrives, the crucial train scene is handled with Eastwood's flair for directing action and violence. Given the deadly serious events it portrays, this is an easy-going, feel good watch. Just like the train they are about to board, these three men are all hurtling toward an incredible date with destiny.
Alan Corr @corralan