Film-maker Greg Barker was permitted a 90-day shoot in 2016 during which he followed Secretary of State John Kerry, National Security Advisor Susan E. Rice, Deputy National Security Adviser Ben Rhodes and the American ambassador to the UN Samantha Power on visits to 21 countries during President Obama's final year.
As he tracks the key members of the outgoing administration, Barker appears to have been on Air Force One and in a few limos, watching and filming a bunch of people trying to desperately fix the world in 90 days. Or should that be `trying to desperately win the election for the Democrats'.
Samantha Power visited Cameroon and John Kerry went to Greenland - both countries were linked with climate change discussions. There was the Iran nuclear deal and the business of recovering the girls abducted by Bokah Harum, the Islamic extremist group which has operated in Nigeria, as well as Cameroon, Niger and Chad. 
President Barack Obama visited Hiroshima and Laos, and gave the occasional courteous few words to the film-maker Barker when he came within his radius. Filmed in intimate close-up in quiet nooks, the former US President comes across as a chummy yet forceful figure. He is suitably reflective, indeed humbled during a guided tour of the Parthenon in Athens. 
70-year old John Kerry, meanwhile, is kindly and avuncular, a Vietnam vet who protested against American involvement in Vietnam. Pacifist he may once have been, but that useful phrase "protecting American interests" comes up once or twice in the film, all parties are certainly 'on message' regarding this objective. There are shots of the Secretary of State gently steering people into his orbit, placing a firm hold on yet another suited, diplomatic back, walking into a quiet corner to bend an ear. Kerry seems persuasive, in charge, with an air of patient, weather-beaten, slightly shop-soiled experience. The reason he looks good might be down to the fact that he doesn't have to answer one tough question in the entire 85 minutes of The Final Year. Nor does anyone else. So along with the schmoozing and the charm, there is too the sense of a controlling elite.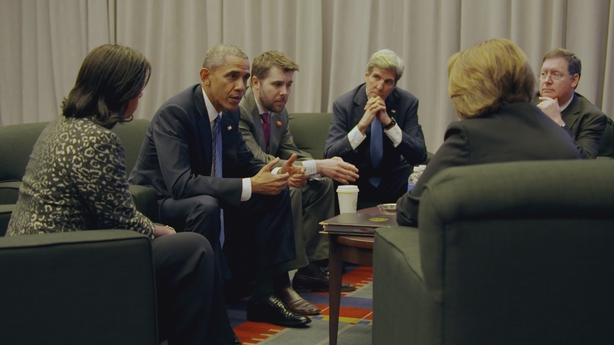 The only really interesting segment arrives towards the close, when Power and Kerry confront a stolidly unmoved Russian delegation at the UN. "Are you incapable of shame?" Samantha Power asks, her critical diatribe also intended for the Syrian and Iranian delegations after the bombing of Aleppo.
Kerry is seen rounding in similar fashion on the Syrians and the Russians for the September 19 bombing of a humanitarian convoy. Some 20 aid trucks with UN markings had been hit outside a Syrian Arab Red Crescent centre in Aleppo province, shortly after the Syrian army declared that the September 9 ceasefire was over.
Indeed September 2016 was not a great month, as the film readily documents. US warplanes carried out an airstrike which resulted in the deaths of 62 Syrian troops with 100 wounded. By way of explanation, US officials said the pilots believed they were targeting the Islamic State.
The candidate, Hillary Clinton, does not feature at all, nor indeed does vice-President Joe Biden, but the Presidential election of December is the central theme as The Final Year nears its conclusion. A gaggle of well-heeled, influential women, including Madeleine Albright and Samantha Power in their number, gather to sip red wine and watch the vote count on TV. There is uniform dejection at the result.
Donald Trump's win leaves the dour speechwriter Ben Rhodes incoherent. He cannot frame a sentence as he sits on some steps, murky office lights behind him, the news chilling him to the bone, freezing the brain's function to articulate.
We need your consent to load this YouTube contentWe use YouTube to manage extra content that can set cookies on your device and collect data about your activity. Please review their details and accept them to load the content.Manage Preferences
It's not that kind of film, but The Final Year does not refer to the fact that during his time in office, Barack Obama transferred more than $100 billion in over 40 different arms sales to Saudi Arabia, more than any other administration in history.
Also, during Obama's time in office, Saudi Arabia appeared to be using white phosphorus munitions in its war in Yemen, which had been supplied by the USA. Real concerns had been voiced by human rights organizations that the highly incendiary material may have been in use against civilians. Under U.S. regulations, white phosphorus is to be employed solely for making signals to other troops and to erect smoke screens. When white phosphorus explodes, it ignites and creates a white smoke. Used as a weapon, it can maim and kill a soldier or civilian by burning flesh to the bone.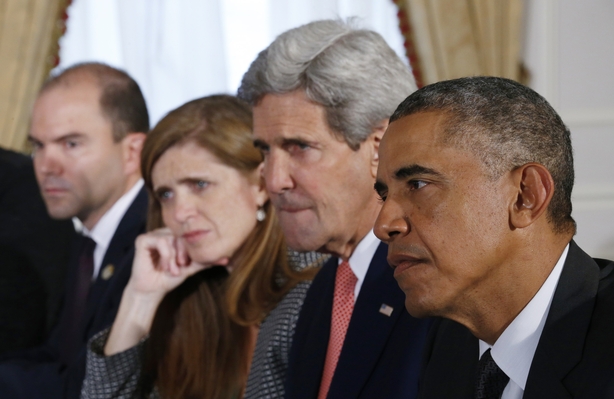 In May 2016, the Obama administration stopped the sale of approximately 400 cluster bombs to the Saudis after human rights organizations reported use of the weapons in civilian areas.  Although this decision was taken during Obama's final year, he is certainly not asked about this in The Final Year, nor indeed are any of the other parties asked about it -  no doubt there were strict terms and conditions about access and the film-maker was caught between the devil and the deep blue sea. 
So, September was not a time of fruitful harvest, just as April hadn't been a great month either.  In Cameroon, a six-year old boy, Toussaint Birwe, died after he was struck by one of the vehicles travelling in Samantha Power's convoy. Power's motorcade had been travelling to a UN refugee camp at Minawao, crowded with thousands of people who had fled Bokah Harum. The Ambassador described it as the "worst day of my professional life".
Greg Barker has done the best with his material, and he has managed to show the dying days of an administration, warts and all at best. And at worst, you query? One might conclude that he has depicted a flawed, unfocused administration, concentrating too much on making a strong, caring impression abroad, which is not what Donald Trump was doing. 
Paddy Kehoe
Former United States Ambassador to the United Nations Samantha Power will attend a special screening of Greg Barker's new documentary The Final Year on Friday, January 19 at 6.20pm at the Irish Film Institute, Eustace Street, Dublin, followed by a Q&A.