The gleefully infectious Pitch Perfect 3 combines everything that was great about the previous two instalments - peppy, polished a cappella numbers, witty one-liners and feelgood vibes - with a crime sub-plot and a healthy dose of ludicrousness. Somehow, all the elements harmonise to perfection.
An explosive (literally) opening sequence showing the Bellas in a hostage situation piques the audience's interest before the film flashes back to reveal how they ended up in that sticky predicament.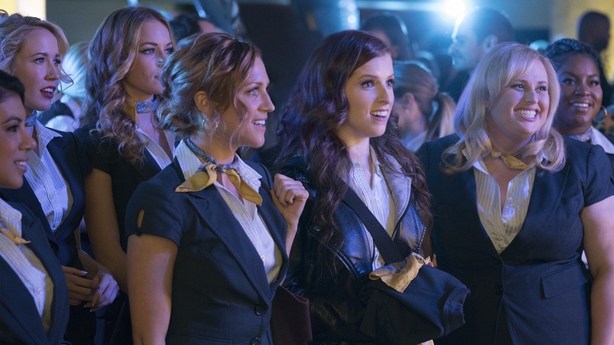 We pick up with the Bellas as they are struggling to cope in the real world outside of the a cappella circuit. The drudgery of the nine to five is weighing them down, so unsurprisingly they jump at the chance to get the band back when they are invited by one group member's high-ranking military father to do a tour of Europe to entertain the US troops. Yes, the set-up is a tad convoluted.
Suitcases are hastily packed and the implausibly not-rusty Bellas high-tail it to the first military base. Of course, there has to be a competitive element to the proceedings, and the group soon learn that the best act will have the (questionable?) honour of supporting DJ Khaled on his tour. The fun and games well and truly begin as they come up against their rivals - an all-female band amusingly named Evermoist - who (gasp!) play their own instruments, as well as some other, more forgettable, acts.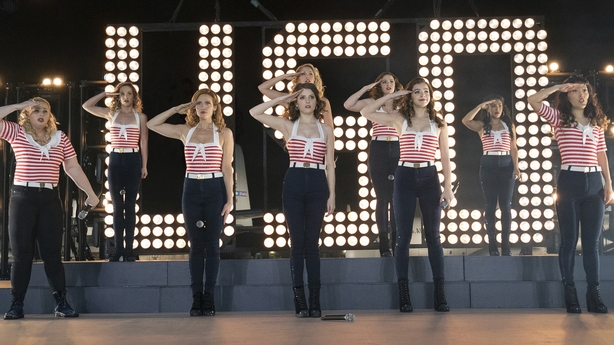 The Bellas try to throw their weight around by challenging their competitors to a riff-off but it soon becomes abundantly clear that their vocal talents can't compete with these multi-skilled musicians who can match their medley-mashing gimmickry with ease.
The movie then introduces some sub-plots, including romantic interests in the form of a US solider and a record producer, but it is John Lithgow's introduction as Fat Amy's (Rebel Wilson) estranged gangster father Fergus that really propels the action along.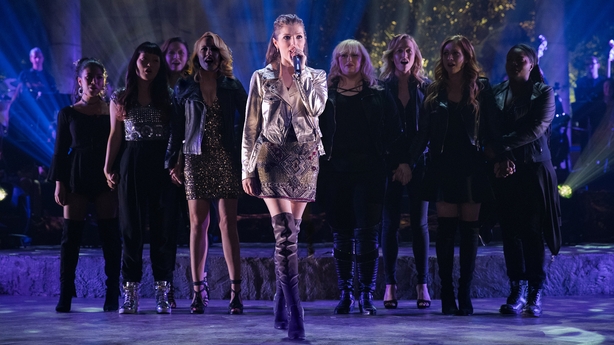 It may all sound exceedingly absurd, and it is, but Pitch Perfect 3 zips along for a snappy hour-and-a-half and rarely falters. Rebel Wilson is on buoyant form and her pithy gags are as fresh as ever. The always-watchable Anna Kendrick is delightfully deadpan and Elizabeth Banks and John Michael Higgins do some scene-stealing as the comically inept documentary filmmakers following the Bellas around.
What's more, the Bellas look like they're genuinely enjoying themselves. You might even have a tear in your eye for the belter of a finale.
Sarah McIntyre
Watch RTÉ Entertainment's interview with Pitch Perfect 3 star Hailee Steinfeld below.
We need your consent to load this rte-player contentWe use rte-player to manage extra content that can set cookies on your device and collect data about your activity. Please review their details and accept them to load the content.Manage Preferences
Pitch Perfect 3 is out in cinemas in Ireland on December 20.
We need your consent to load this YouTube contentWe use YouTube to manage extra content that can set cookies on your device and collect data about your activity. Please review their details and accept them to load the content.Manage Preferences