Fans of the original 1995 Jumanji starring the great Robin Williams are likely to approach this update with trepidation but should emerge from the cinema pleasantly surprised.
Jumanji: Welcome to the Jungle is a BIG movie in many senses. Big cast, big action set-pieces, big production, but at the heart of it all is a big heart (awww), which elevates it above most franchise reboots that limp onto the big screen.
In the original fantasy film, the world of Jumanji is unleashed into the real world when a group of kids play a board game. Here, the premise is flipped on its head and given a digital update as a group of teens are sucked into a video game which they must complete in order to be sent back to the real world.
The motley crew of teens meet while serving detention together. They're well-worn movie stereotypes, the neurotic nerd Spencer (Alex Wolff), the self-absorbed, princessy cheerleader Bethany (Madison Iseman), the homework-shirking jock Anthony, aka Fridge, (Ser'Darius Blain) and the misfit bookworm Martha (Morgan).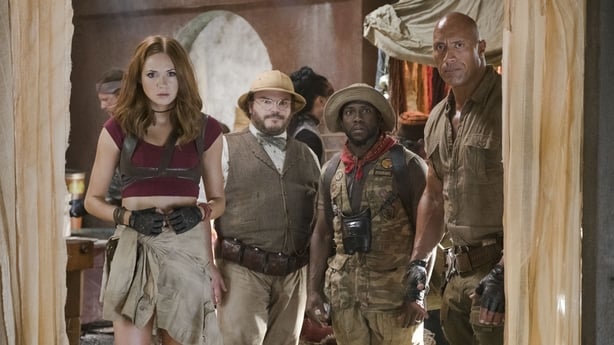 While the unlikely quartet are on detention duty, they dust off an old video game console and decide to fire it up to kill some time. They get more than they bargained for after they pick out their video game characters and are magically transposed into the world of Jumanji.
Upon arriving in the video game's environs, the high-schoolers inhabit the bodies of their comically incongruous avatars.
The relentlessly anxious, weedy Spencer becomes the hulking, valiant Dr. Smolder Bravestone, played by wrestler-turned-Hollywood A-lister Dwayne 'The Rock' Johnson. The Rock enters the world first and when he cracks out his famous People's Eyebrow upon landing on the ground we're given a strong indication that this film is only too happy to serve up exactly what the fans want.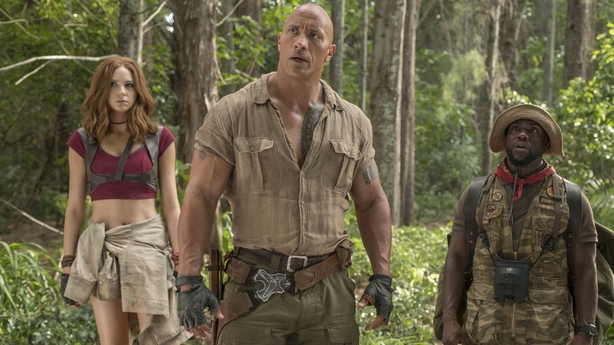 Powerful Fridge has become the diminutive, feeble Franklin "Moose" Finbar, played by a typically hyperactive Kevin Hart, while wallflower Martha metamorphoses into the skimpily-dressed, badass fighter Ruby Woodhouse, played by Karen Gillen.
It is when Jack Black lands into Jumanji as Bethany's avatar Professor Shelly Oberon that the humour from the body-swapping premise is fully realised. He throws himself into the portrayal of a narcissistic teen with admirable aplomb, and even sensitivity at times.
While coming to terms with their new physiques, the gang are quickly brought up to speed about their mission – to return a magical glowing emerald stone to its rightful position at jaguar mountain. They must battle giant hippos, rhinos, poisonous snakes and a rake of motorbike-riding bad guys led by a power-hungry villain (Bobby Cannavale) in order to complete the game and be released from its clutches.
The premise may seem convoluted, but Jumanji: Welcome to the Jungle succeeds largely due to the considerable charms and chemistry of the leading actors, with special kudos to a scene-stealing Jack Black.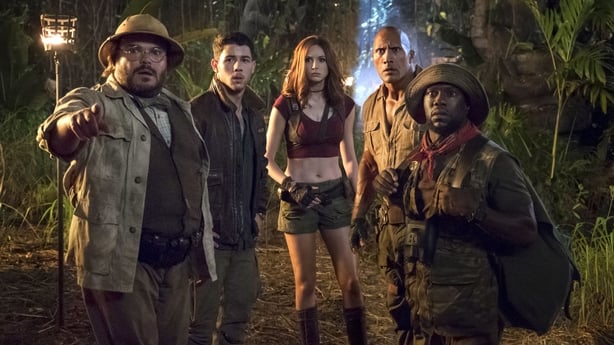 There are plenty of genuine lols, thrilling action sequences, including one truly excellent fight scene with Dwayne Johnson who was made to play a video game character, and even some truly touching moments.
It's a solidly entertaining just under two-hours of family entertainment. You could do worse this Christmas.
Sarah McIntyre
We need your consent to load this YouTube contentWe use YouTube to manage extra content that can set cookies on your device and collect data about your activity. Please review their details and accept them to load the content.Manage Preferences