Stalin dies, giving rise to a lot of averted eyes, thinking on one's feet and winging it in the Kremlin, in Armando Iannucci's passable screwball comedy which might aspire to satire but actually isn't so.
Fear and trembling governs the conduct of most everybody from the scared sound technicians at the performance of a Mozart concerto who order the audience back into their seats for a second recital of the concerto - Stalin has phoned through requesting a vinyl recording of the live event. Rather than disappoint him and incur his wrath and maybe summarily lose your life, it is simply better to do it all again and set the record button as it was not done the first time around.
The Death of Stalin is is based on a graphic novel by Fabien Nury and Thierry Robin, so it was a matter of putting flesh on the bones of the illustrations, one presumes. Thus you get Lavrentiy Beria, former head of the secret police, played by a masterfully wily Simon Russell Beale. Molotov is chummily urbane Michael Palin and Steve Buscemi's wise-guy Khrushchev is entertainingly indiscreet. All do their worst to mourn the rather stop-start death of Stalin - the tyrant comes briefly and alarmingly back to life before finally dying for good, much to the relief of all. 
From then on the Central Commitee plot and hatch and scramble, very ineptly indeed, to grab the reins of power and fill the vacuum. The weakest, dourest most charisma-free of them all, Georgy Malenkov (Jeffrey Tambor) gets the poisoned chalice, as he has been Deputy Leader. But the ruthless Beria will merely dangle and patronise the bumbling Malenkov.
Steve Buscemi gives a marvellous turn as the wise-guy Khruschev who unwillingly accepts the task of organising the main event, Stalin's funeral, which takes place with a kind of nervy pomp and a file of unwanted bishops. Also causing unease is the anti-Stalin pianist Maria Yudina, played with stereotypical Slavic iciness by Olga Kurylenko (who has, incidentally, been a Daniel Craig-era Bond girl in her time.) As one can imagine, Buscemi as Khruschev doesn't at all suggest future leader material. Indeed the anarchic charm of the movie is the manner in which it utterly dispenses with any such fidelities to historical figures.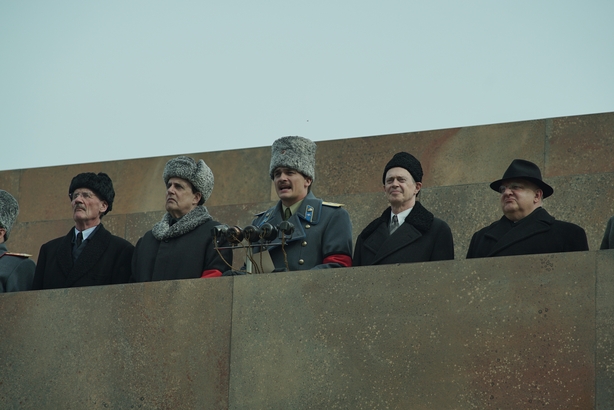 Jason Isaccs (The Patriot, Brotherhood, Harry Potter) plays Marshal Zhukov as a no-nonsense Geordie, affording hilarious contrast to the various other accents assembled here, Buscemi's slippery smart-aleck tongue and Russell Beale's plummy vowels. Andrea Riseborough is excellent as a vaguely deranged Svetlana - Stalin's daughter - while Vasily, Stalin's son, is played as a very deranged spoiled prince by Rupert Friend.
There are elements of Monty Python in the merciless dialogue and madcap farce of it all, but it is not pointed satire on the Soviet system and the film doesn't assume to itself the knowledge required to make such a satire. Director Armando Ianucci will take any glory that's going -  yes, it is being classified under 'satire' - and if people are happy to give it historical cred he doesn't at all mind.
The Death of Stalin is, rather, a humorous vehicle deriving from the notion of the power grab and the kind of chaos that results from bristlingly naked infighting. It could in fact be set anywhere. The historian Richard Overy pointed out historical inaccuracies about offices held by the various personae in today's Guardian newspaper. Somehow it is difficult to see how that much matters, in the event, given the whirlwind of licenced irreverence that the film whips up in its path, without a care for sensibilities of any kind. But still . .
Overy lamented too the absence of the serious film which he believes should be made about Stalin's victims, but that surely is matter for another day - a comedy is a comedy is a comedy, and one might add, a satire is a satire is a satire. The Death of Stalin is not engaged enough with history - viz the inaccuracies and that deliberate accent jumble- to be deemed much more than a poking fun-fest at the expense of the foibles of humankind. While it is not strikingly original even at that, it  still works as a kind of forgettable farce.
We need your consent to load this YouTube contentWe use YouTube to manage extra content that can set cookies on your device and collect data about your activity. Please review their details and accept them to load the content.Manage Preferences