Prepare to have your mind blown by this astonishing sci-fi noir
When I had finally located my eyeballs and scooped them up off the cinema floor after watching Blade Runner 2049, I realised my mind had just been fried and served back up to me. This is an epic sensory overload of a movie, a visual and sonic assault that ponders the big questions and yet also works as a mystery, a superb action thriller, and a saddening parable about love, human existence and identity.  
We are back in LA thirty years after the events of Blade Runner. Post eco-collapse, the city is a strip-lit industrial factory teeming with humanity where the only source of light seems to be the huge neon corporate logos blinking enticingly through the gloom.
We need your consent to load this rte-player contentWe use rte-player to manage extra content that can set cookies on your device and collect data about your activity. Please review their details and accept them to load the content.Manage Preferences
Humans have become wired, synced and morphed into the commercial world and given the recent quantum leaps in technology and the unchecked scourge of surveillance capitalism, it is an all too believable picture and another example of how very prescient author Philip K Dick has always been.
In this nightmarish near-future where it is either raining, sleeting or snowing, we meet K (his name, no doubt, a nod to Dick himself). He is a second generation replicant who "retires" renegade older models who are still on the run from the LAPD thirty years after they have finally been banned. K is played with a quiet brilliance by Ryan Gosling and while he may be a hunter, there is more than a touch of the hunted about him.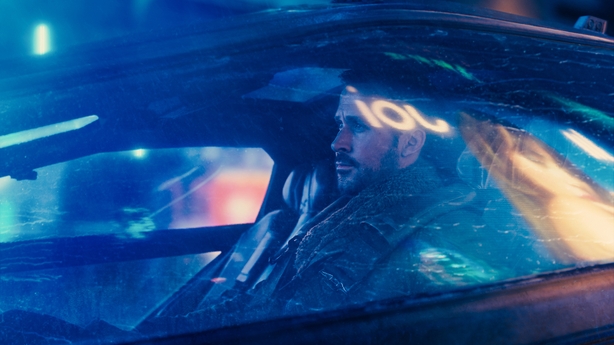 K is utterly impassive and grimly efficient until he makes a shocking discovery that sets him on the trail of our original robo hunter, Rick Deckard, played with haggard testiness by Harrison Ford. Hampton Fancher and Michael Green's screenplay's is a tightly-wound and fascinating affair but this is also a movie to simply let wash over you and carry you away on a tide of ingenuity and sheer visual flair.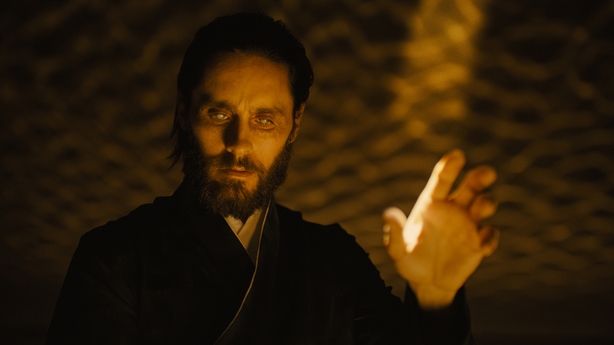 At the malignant centre of it all is Jared Leto as Niander Wallace, a dead-eyed visionary who has supplanted the defunct Tyrell Corporation. He may or may not be intended as a composite of our current generation of digital oligarchs with god complexes who run their corporations under a veil of secrecy while projecting the dangerous lie that they are actually working for the good of all humanity. Leto is at his sinister best and is superb in the role as he toys with humans and replicants alike. He murmurs gnomically as he plots a diabolic plan that would shock a million Bond baddies.  
There are subtle stylistic echoes and references to the first movie throughout but this reactivation of Blade Runner is no JJ Abrams fan boy exercise; Sicario director Denis Villeneuve is the king of moral ambivalence and he is also very much his own man. Reunited with cinematographer Roger Deakins he has created a near-future world dominated by VR and vicarious experience that is strikingly original and spectacular.
Many of Villeneuve's stylistic techniques are present, from incredibly detailed close-ups to vast landscapes. Hans Zimmer and Benjamin Wallfisch's resonant score echoes Vangelis in places but it also takes on a new urgency all its own.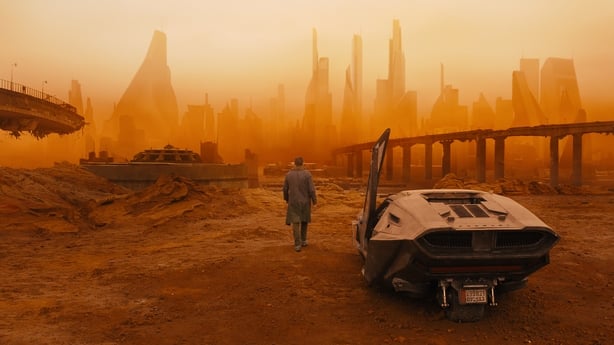 From filthy, abandoned industrial silos to antiseptic offices and labs high above the squalid streets, LA in the not too distant future is a dehumanising place. The all-pervading nihilism can be oppressive. At one point, a character remarks that they've never seen a real tree before; someone else expertly fashions an origami sheep, knowing that they'll probably never see the real thing; and when we finally see animal life, it flickers and blurs and turns out to be computer-generated.
Robin Wright is superb as the hard ass police chief Lieut Joshi and in Sylvia Hoeks' cold-eyed killing machine Luv we have one of the most memorable villainesses in recent years but it is the near silent Gosling, once again doing his coolly detached savant act, who manages to command a movie overflowing with spectacle and great performances.
He wrestles throughout the film with the unreliability of memory and for every thrilling action sequence, there are moments of vulnerability and sadness. Even to the very end of the two hour and 45 minutes running time, you are never quite sure who or, indeed, what K is.
After far too much infantilising juvenilia in our cinemas, here is a movie - sci-fi or otherwise - that takes itself and its audience very seriously indeed. Blade Runner 2049 is a dizzying triumph in every single sense.
Alan Corr @corralan