With dialogue in Swedish and English, this pacy tennis biopic recalls the tense 1980 Wimbledon Championship when the icy Swede Björn Borg met his impetuous American opponent John McEnroe.
It's matter of record of, but for those who do not recall, after a lengthy tie-break in the course of an extremely tense showdown, tennis champion Björn Borg (played in this instance by Sverrir Gudnason) finally won his fifth consecutive Wimbledon Championship against John McEnroe (Shia LaBeouf ) in 1980. 
The following year, McEnroe won Wimbledon, and everybody was happy. Well, not really, in fact. The lesson of this slightly po-faced movie is that nobody was happy, although no doubt there is much licence, it being a biopic.
A kind of deranged quest for perfection ruled the careers of both sportsmen, whether in sad-looking childhoods (pushy father, McEnroe, pushy mother, Borg), in adolescence or in young adulthood. In young adulthood you are supposed to be happy, for gawdsakes. Not these two bunnies.
It just never seems to stop, the quick by-ways to the blues, be it the puking in the toilet from sheer nerves (Borg) or the nightclub scene whose exaggerated revelry McEnroe seems to be part of but is somehow at a remove from. He is a kind of Chosen One of tennis, isolated by his gift, as is Borg. In later life, they would become close friends. How else could it end but in such companionship, you conclude at the end of the film, even if they are two entirely different characters. At the same time there was nobody like the two of them, the film suggests.
The film expertly draws in the tensions with parents (McEnroe), the trouble at school (Borg), and the Swedish champ's hot-and-cold relationship with his demanding coach, Lennart Bergelin (Stellan Skarsgård) himself a former tennis Pro. Then there are the dumb-ass TV interviews, the press conferences where the smoking journalists are unable to ask McEnroe even one question about the game of tennis, preferring to focus on the tantrums and foul language.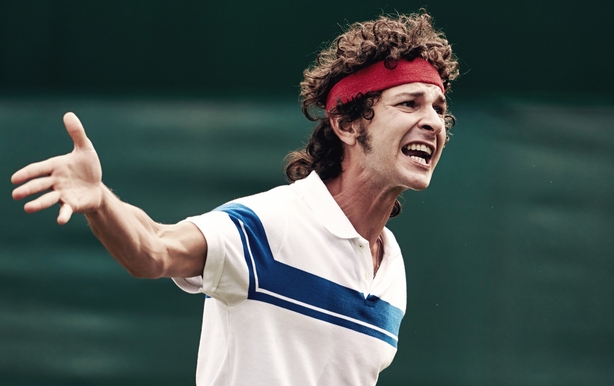 26-year old Borg has a fancy home in Monaco, overlooking the turquoise waters of the Mediterranean. Yet he can't walk down the street without autograph hunters dogging him, or histrionic girls screaming at him. Meanwhile, his fidgety fiancée, Mariana Simionescu (Tuva Novotny) chain-smokes her way through it all. The couple's wedding plans are threatened by demands from handlers and managers. Borg is offered a million dollars to play one match in South Africa? No thanks, says his fiancée, speaking for her taciturn beau, who is, it seems, unwilling to acquiesce with apartheid. Not that you'd know, he only talks tennis and then very little even about that.
Three young actors for the various Borgs, the youngest of whom we meet at about 10 years of age. He is belting a ball repeatedly against a garage door, as his father films him in Super 8. It is a beautifully moving way to begin the movie, a quiet Swedish back-street scene under a blue sky, a woman passing, asking the young boy if she could have a go with the racquet.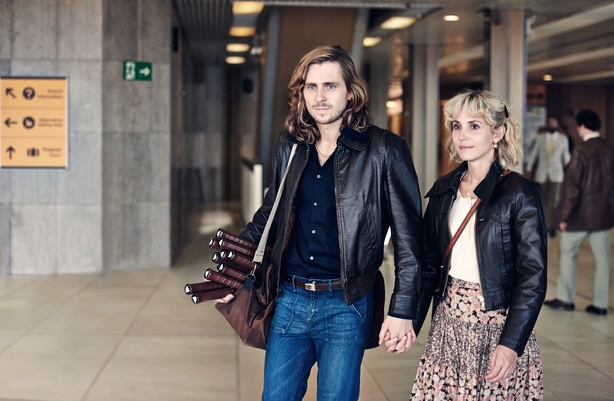 The adult Borg is obsessive about ritual and everything being the same. Two towels must be brought to each match - not one, not three, but two, as McEnroe hears from a pal. The car that brings the Swede to matches must be the same make, the upholstery must not change, he needs the comfort blanket of familiarity. So it goes, tracking the lead-up to the 1980 final, through the various heats, while back-filling the individual life stories in flashback.
Borg/McEnroe is very watchable and it is engrossing, but there is too much sonic effect, too much crowd noise and music dominating the drama. It's as though the producers were nervous that the inherent tension of the hard-fought contest was not in itself sufficient.
Matters would have been better if the makers had taken their hand off the throttle, quietened it down by just a few notches and let the story breathe a bit more. A valiant attempt though and not a bad film at all.
Paddy Kehoe
We need your consent to load this YouTube contentWe use YouTube to manage extra content that can set cookies on your device and collect data about your activity. Please review their details and accept them to load the content.Manage Preferences