The doll from hell is back to prowl on lickle orphan girls in a haunted house in the latest Conjuring cash-in
Now we've established that clowns are officially creepy, it's time to turn up the heat again on dolls. Of course, long before the relentless and now thoroughly formulaic Conjuring franchise served up Annabelle, the possessed Victorian dolly, we had Anthony Hopkins as a ventriloquist haunted by his malevolent dummy in Magic and murderous old carrot top Chucky rampaging through a million toy boxes in the 1980s. And let's not forget that well-weird baby doll in Toy Story 3.
In this entertaining and atmospheric prequel to 2014's Annabelle, we find out how the pasty faced porcelain freak show came into being. There's a nicely crepuscular period setting (the 1940s) and some great performances from the mostly child cast.
We need your consent to load this YouTube contentWe use YouTube to manage extra content that can set cookies on your device and collect data about your activity. Please review their details and accept them to load the content.Manage Preferences
The fact that naughty Annabelle picks on lickle orphan girls in a deserted house waaaaay out on the prairie in the American Midwest also adds extra badness to proceedings. The great Anthony LaPaglia and Miranda Otto play a toy maker and his wife who try to deal with their grief over losing their young daughter in a road accident by welcoming a nun and several girls from an orphanage into their home.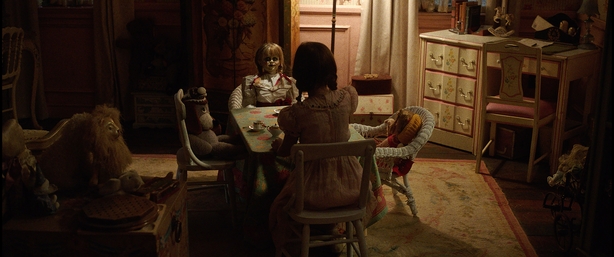 There are some great performances from the kids especially Talitha Bateman as Janice, an innocent and trusting young waif in a leg brace, whose habit of going walkabout at night will bring her a world of pain. We also get a clever haunted doll's house within a haunted house riff and games of hide and seek and childhood fears of monsters under the bed have some dark consequences.
Careful to follow all the clichés and conventions of the Conjuring franchise, Annabelle Creation ends up overlong and bum-numbingly repetitive. It is nevertheless entertaining even if it doesn't really create a sense of unease let alone a jump out of your seat moment.
Alan Corr @corralan