Brendan Muldowney's Pilgrimage is a sturdy piece of sophisticated hokum, the sophisticated bit being the use of subtitles as Norman soldiers and Irish monks talk impressive French and Gaeilge while a sacred relic is transported through the scenic wilds of 13th century Ireland.
The producers opted for English as the third language, rather than the vernacular Latin, although there are snatches of Latin here and there.
The film begins in early Christian Cappadocia as one of the first Christians, a man named Matthias, is stoned to death, guaranteeing him martyrdom. A particularly large piece of rock delivers the killer blow and the rock, now a precious relic ends up in a wildly desolate part of Ireland.
Over a thousand years later, Christianity is well established throughout the Western world. In the year 1209, the rock is in the care of monks who are visited by a Cistercian monk from Rome named Giraldus (Stanley Weber.) His instructions are to bring the relic to Rome, so a party of monks set off somewhat reluctantly with the rock, accompanying the messianic nuncio.
The party does not get too far before they meet a band of Norman invaders. Their leader is a pious man who asks permission from the monks to allow him venerate the rock so as to bless the conquest of Ireland. The Norman knights then agree to protect the pilgrimage party as it travels along the route towards Waterford from where the monks plan to depart for the continent.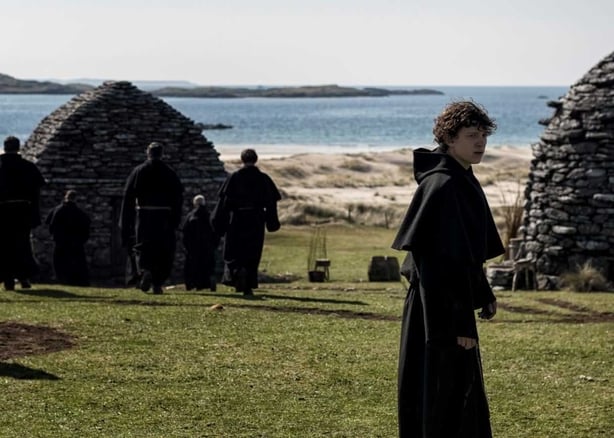 However, the fearful O Mórdha clan, who are sworn enemies of the Norman invaders, mount a bloody, violent attack on the relic transportation party. Many are slaughtered and the rock goes missing. I couldn't help but think if it weren't for that bloody rock, there would have been a whole heap of trouble spared, a lot of blood and guts, indeed scalps and heads too, would have remained in place.
Tom Holland – the new Spiderman  - speaks Gaeilge in a passable accent in the first frames of the movie. He plays Brother Diarmuid, an eager young novice and Holland has revealed that he and Jon Bernthal were auditioning for the roles of Spiderman and Punisher while filming the movie, recording tapes of themselves on set and sending them to Marvel.
Veteran Northern actor John Lynch puts in a committed performance as Brother Ciarán - he suffers an eviscerating end than you may have to avert your eyes from. It is arguably the most violent killing in cinema history.
The Irish Film Board provided funding with support also from the Centre du Cinéma et de l'Audiovisuel de la Fédération Wallonie-Bruxelles. Filming took place in the Clonbur area of County Galway, on the County Mayo coast as well as in the Ardennes region of Belgium. Hokum, but decent hokum - or put another way, a decent slice of historical escapism.
Paddy Kehoe
We need your consent to load this YouTube contentWe use YouTube to manage extra content that can set cookies on your device and collect data about your activity. Please review their details and accept them to load the content.Manage Preferences