A Man Called Ove (En man som heter Ove) is a touching portrait of a grumpy, widowed 59-year-old Swede with a heart of gold underneath his curt bad manners and frightful temper. We've been here before but it's a good spin on the theme.
For ten minutes your reviewer felt that A Man Called Ove would be almost as good as the good - sometimes great - films made by another Swede, the late lamented Ingmar Bergman.
It seemed at least to suggest bleak old Bergman with silent, wintry scenes and intimations of bleak Swedish weather ahead. There was the elderly protagonist Ove (Rolf Lassgård) working his way through that early flurry of snow - Ove is as miserable as many of the tormented males in Bergman's chilly masterpieces.
Except that Ove is not an artist or a professional, as he probably would be in Bergman. He is a serious, self-absorbed man who has grown up to value honesty and hard work, having cleaned trains for a living as he once courted the lady he would marry.
He is civic-spirited to a pernickety fault, with a contemptuous attitude to humankind in general. He also has an irritating habit of policing the neighbourhood, erecting signs prohibiting this and that, picking up cigarette butts and loudly hounding anyone who drives in the pedestrian area. He gets people's goats up for sure.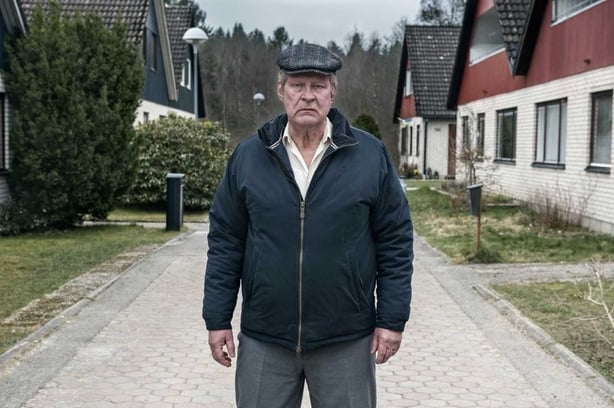 Yet he is too the handyman, gopher and general caretaker, the one who can bleed radiators or the one with the Allen key. He will grudgingly lend a ladder or a hose but he will write it down in a notebook because he does not trust you to return it.
As the film unfolds in flashback, we discover that Ove's life has been marked by tragedy. His mother died when he was a young boy and he lost his father in a tragic work accident (the young Ove is played by the outstanding Hannes Holm).
On top of the fact that he has just lost his job, Ove is haunted by sweet memories of the years of courtship and marriage to his deceased wife Sonja (Ida Engvoll.) Her framed photograph shows a warm, generous-spirited woman.
He has, however, a bossy, gregarious new Iranian neighbour in the shape of Parvaneh (Bahar Pars). Parvaneh is a decent-hearted, heavily pregnant young mother willing to overlook his rudeness, opting instead to tap into the charitable resources she senses in him.
The secret of what is sometimes a deeply moving film is how it chips away at the crusted layers of Ove's grumpiness. He is an extraordinary study in aggrieved misanthropy and his kindly schoolteacher wife is his perfect foil, all sweetness and light. The two leads are exceptionally brilliant actors and the film deservedly figured among the nominations for Best Foreign Language Film at the 2017 Academy Awards.
The movie stops being a serious, existential exercise after the first twenty minutes or so, after which it decides to be family-friendly, cute and cuddly, as though auditioning for the Hollywood remake. Which direction would you have preferred, you may find yourself musing as it gets into its cheeky, impish stride.
You may too discern a vision of Jack Nicholson or, perish the thought, Robert de Niro playing Ove in the remake. So it is perhaps an elaborate dark comedy in the end. 
Paddy Kehoe
We need your consent to load this YouTube contentWe use YouTube to manage extra content that can set cookies on your device and collect data about your activity. Please review their details and accept them to load the content.Manage Preferences