Baywatch, the big-screen reboot of the hugely popular 90s TV show, dials up the raunch-factor with piles of gross-out jokes and lingering shots of impeccably honed limbs, but still remains peculiarly limp and lifeless.
It is precariously saved through the sheer determination and brute force charm of Dwayne Johnson, who stands in as Mitch Buchannon, the steadfast, do-gooder lead lifeguard made famous by David Hasslehoff.
His Baywatch team recruit three newbies, Matt Brody (Zac Efron) a cocky, disgraced Olympic swimmer, Summer (Alexandra Daddario), who is quickly introduced as his love interest, and Ronnie (Jon Bass), a plucky, endlessly goofy lifeguard trainee.
The tone for the film is set early on with a prolonged comedy set-piece involving Ronnie's genitalia becoming lodged in a deck chair on the beach. The humour doesn't improve much for the rest of the proceedings with gags involving the bodily fluids of corpses and Efron's character frequently barfing.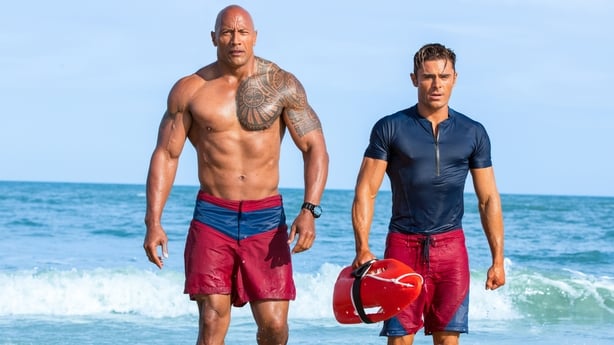 The paper-thin plot sees the lifeguards being inexplicably drawn into the activities of a local drug smuggling ring led by the impossibly glamorous villain Victoria Leeds, played by Priyanka Chopra in one of the more fleshed out female roles.
Despite being constantly reminded that the case is out of their jurisdiction by an increasingly aggrieved local police officer (Yahya Abdul-Mateen II), the team embark on a series of fraught adventures to get the bottom of the illegal activity and try to save the bay.
The film works best when it is knee-deep in ridiculous, suspend-your-disbelief action, but it too frequently careers into heartfelt exposition between the main characters which takes the wind out of its sails.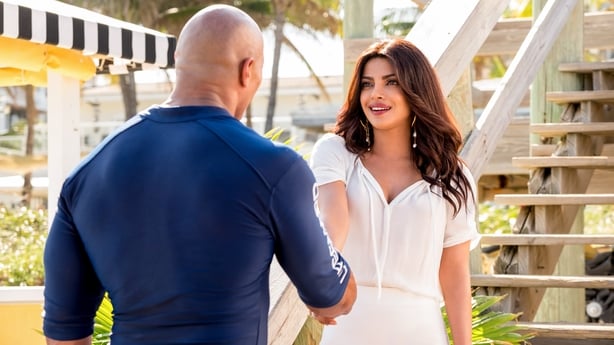 The tonal unevenness seems to originate from the film's lack of understanding about what it wants to be. It has moments of being knowingly self referential, such as Zac Efron's Matt saying the events are like "an entertaining but far-fetched TV show", but too often the script plays it straight.
The overt attempts at humour largely fall flat and the funniest moments are to be found in the throwaway lines, such as Mitch's constant pisstaking of Matt for his boyband good looks, at one point referencing Efron's rise to fame when he calls him High School Musical.
Of course, Baywatch icons David Hasslehoff and Pamela Anderson both make appearances, but Anderson's cameo is so fleeting, without even a single line of dialogue, as to be almost pointless.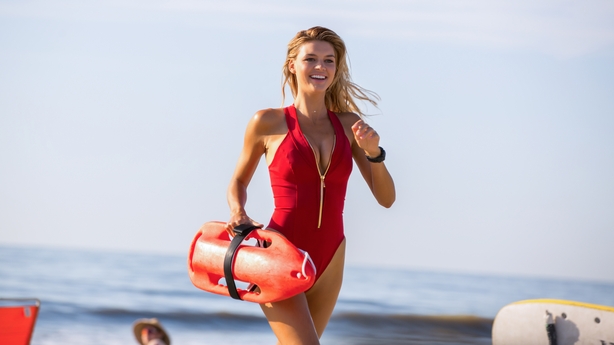 Dwayne Johnson pretty much carries the movie on his formidable shoulders and when he's out of action for a substantial middle chunk of the film it feels increasingly tedious. The tension between his character and Efron's elevates the film from 'unwatchable' to 'mindlessly entertaining', although Efron's party boy shtick is getting a little tired at this stage.
There are moments to enjoy here but they're few and far between, and this Baywatch revival will probably only appeal to hardcore nostalgia seekers.
Sarah McIntyre
We need your consent to load this YouTube contentWe use YouTube to manage extra content that can set cookies on your device and collect data about your activity. Please review their details and accept them to load the content.Manage Preferences