Written and directed by Liam Gavin, A Dark Song is dark enough for a body, so dark that at times it is unbearable to watch. Like, for instance the scene in which a dagger is pulled from a human belly - I am not saying whose so I'm not spoiling. Or take the scene where Sophie (played with requisite chilliness by Catherine Walker) is obliged to drink blood.
A wealthy, mysterious woman named Sophie buys an abandoned house and later meets up with an occultist named Joseph (Steve Oram). He is reluctant to accede to Sophie's wishes, as the rite she is asking him to perform is risky for both body and soul. However, she is determined to contact her young son who lost his life when teenagers dabbled in the self-same occult.
Joseph finally agrees to be the medium, draws a trail of what looks like salt around the empty mansion, a line which he says cannot be crossed. The rite may take months, they buy in stocks of food. He goes on about the cleansing the woman must undergo and asks her if she has done certain prior purification which involves not having had sex of any kind for some time beforehand. What wackiness is in store, one muses, settling in one's seat.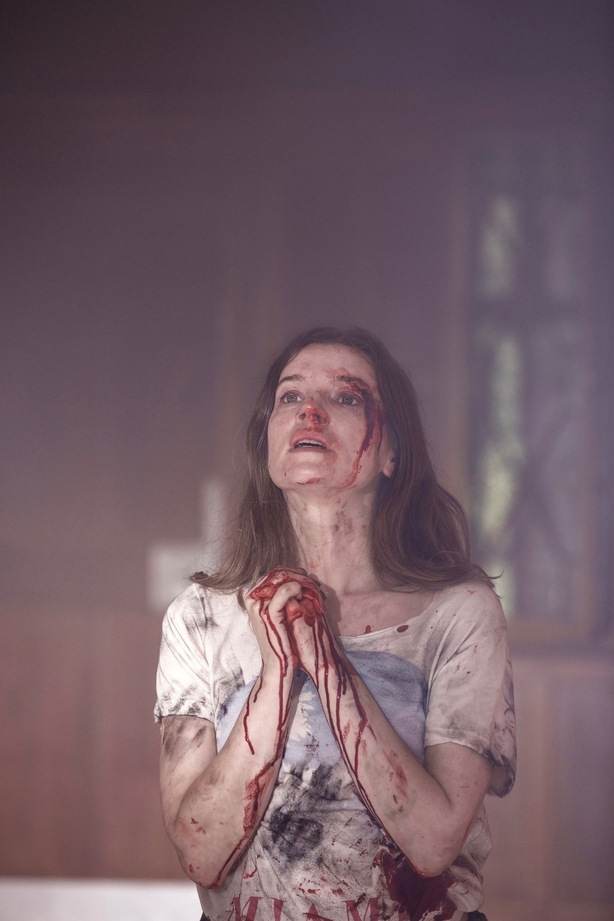 Thus the pair embark on their pitiless task, with obstacles to surmount – chiefly tedium, (for them and us, incidentally). An inordinate amount of candles light the rather futile journey towards possible contact with son. There is an awful lot of gagging and Catherine Walker getting sick in the toilet bowl.
On break periods from their punishing rites, the pair smoke roll-ups, drink coffee and snarl at each other. Or otherwise fling delph and things around, including that dreaded kitchen knife. Meanwhile, they resist intimacy as best they can.
Made with the support of both the Irish Film Board and Ffilm Cymru Wales, A Dark Song won two awards at FantasPorto and two awards at MonsterFest. Critically, it appears to be be doing well in such niche circles, and there may be some kind of late teen audience for this one. However, its purpose was mostly lost on your reviewer. No faulting the acting though. I feel that Catherine Walker, who we also saw in Patrick's Day will stun us all one of these days in some magisterial film of glacial brilliance.
Paddy Kehoe
We need your consent to load this YouTube contentWe use YouTube to manage extra content that can set cookies on your device and collect data about your activity. Please review their details and accept them to load the content.Manage Preferences