Irish director Juanita Wilson (As If I Am Not There) turns her hand to Daniel Woodrell's country noir novel in the new release Tomato Red.
Recently released from prison, young Sammy Barlach (Jake Weary) arrives in a place called Venus Holler, Missouri with the address of two people, a wayward sister and her brother. Sammy recently met the pair in decidedly odd circumstances, after they had broken into the same rich pad. Soon Sammy is welcomed into the bosom of this marginalised family unit, under the brooding Ozark Mountains of Southern Missouri.
In the small house lives the mother Bev (Anna Friel), the hard-bitten prostitute with a string of wise adages to deal with life. Adage-spouting, `old saw' mongering, or advice-wielding - call it what you will - is a tricky business in a movie. A character like Bev may have a heart of gold, but she may also sound like a spoofer, when she talks in gross over-simplifications. In other words, Bev's bite-sized nuggets of hard-bitten wisdom may sit better in the eponymous Daniel Woodrell IMPAC-nominated novel on which the movie is based. (Woodrell, incidentally, is the author of Winter's Bone, also the subject of a successful film adaptation.)
In the nearby trailer in Venus Holler live the two whom Sammy met earlier, Bev's kids, Jamalee (Julia Granier) the tactiturn, mercurial daughter and her brother Jason (Nick Roux.) Woodrell's novel, we can assume, deals extensively with Jason's sense of confusion about his sexual identity, a situation not helped by the fact that his sister urges him to work as a male prostitute.
The screenplay is clearly more demotic or stripped down, attaining mood through sparse dialogue and Danny's stream-of-consciousness voice-over.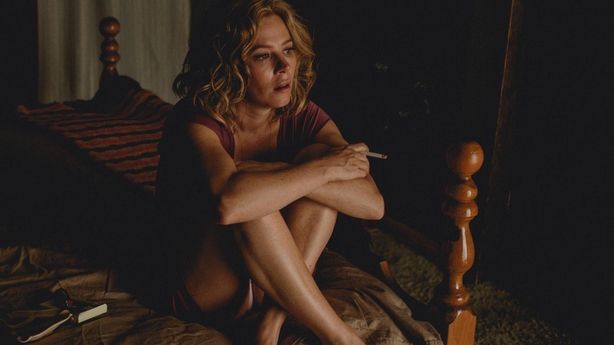 The film plays on the loyalty that is quickly forged between Sammy - whose mother, he quips, abandoned him before he was born - and his surrogate family. Given their innate rebelliousness and the fact that they are despised by the locals - notably the Country Club worthies - there is constant rejection, even when Sammy and Jamalee try to get menial jobs. Yet Sammy feels duty bound to stand by his new friends through thick and thin - and indeed the inevitable sexual triangle - with fatal results. 
After a well-paced build-up, the pivotal event – to say more is to spoil - causes huge trauma, ramping up the tension between the family and the local community.
Funded by The Irish Film Board/Bord Scannán na hÉireann, Tomato Red is a strong, engaging film in which Irish director Juanita Wilson manipulates the dramatic elements to produce a keen sense of pathos and despair.
Paddy Kehoe
Tomato Red goes on limited release from Friday March 3
We need your consent to load this YouTube contentWe use YouTube to manage extra content that can set cookies on your device and collect data about your activity. Please review their details and accept them to load the content.Manage Preferences