A young black girl is accidentally killed in Southside Chicago neighbourhood in a shootout between rival gangs the Trojans and Spartans. Such is the outrage felt by the persuasively sexy and formidable Lysistrata (Teyonah Parris) that, led by her, the local women collectively vote to withhold sexual favours from their men, until the gangs lay down their guns. Moreover, Lysistrata is herself the girlfriend to Spartan gang-leaders Chi-Raq (Nick Cannon) which name, incidentally, is also the hard-bitten euphemism for Chicago in the movie. Meanwhile, Wesley Snipes plays Cyclops, leader of the Trojans.
Such is the basic synopsis of Spike Lee's fairly ho-hum rap 'n gospel musical, which is based on Aristophanes's Greek comedy, Lysistrata. While it may owe something to Greek theatre and to a kind of ersatz rap, it owes just as much, you could argue, to the cloying earnestness of Jesus Christ Superstar. Yet it is a relevant film, given the fact that the area of Chicago depicted in the movie has seen more Americans killed in the past fifteen years than the Afghan and Iraq wars combined.
I wanted to like it - well, naturally, you do want to like these things – but 'tell me something new' was the refrain humming somewhere at the back of my brain while I sat through its long-ish duration. Built somewhat on headlines, the screen-play hovers a bit pointlessly over stuff we know some of the time. I also felt it was trying to tick all the boxes – gospel-singing decency and passion on one hand (with John Cusack acquitting himself very well as the padre) and sexual titillation and licence on the other. That was just in case we all got bored with the basic message about (love, not 'lurve.')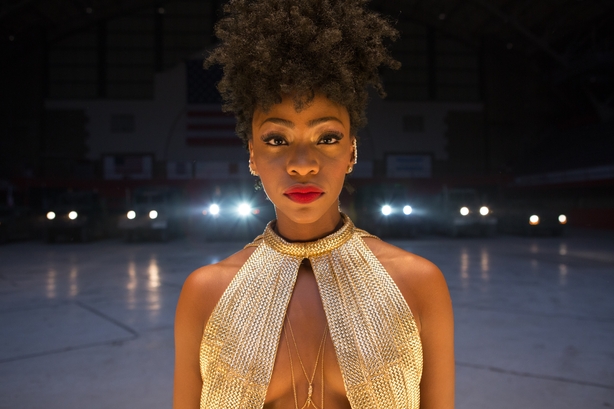 Chi-Raq: fiery, passionate women trying to put manners on their men
As well as being sentimental, it is admittedly stirring in its no-nonsense, clear-eyed depiction of black deprivation and frustration in contemporary USA. However, bar setting out the picture in an intelligent screen-play, it doesn't offer any concrete solutions to gang warfare, drug abuse and rampant unemployment among the black community. Perhaps it is wrong of this reviewer to expect a musical to do such a thing.
There are a few topical references to the Charleston and Sandy Hook massacres, Malcolm X and Martin Luther King are also name-checked, but the mise en scene has no foreknowledge of Donald Trump, bless it. Samuel L Jackson does a reasonable turn as narrator, or Greek chorus, of the piece.
Ultimately, Chi-Raq depicts the urban black plight with unerring accuracy and energy, but offers no direction home, nor indeed pretends to, being a musical drama, period. It is no doubt unfair to expect solutions that are more specific than just the cheesy `importance of love 'message with which the movie concludes. Unfairly or not, expectant of such solutions we somehow feel ourselves to be as we attend to the concerns aired in Chi-Raq. Opens at the IFI on December 2.
Paddy Kehoe