It's a very brave piece of casting putting the man who brought Walter White to life in the role of an undercover DEA operative, but the central conceit of this engaging thriller - based on real-life events - could have been pitched as Breaking Bad meets Narcos with just enough grit and glamour for the non-faithful to excite the box-office cash registers.
Certainly with Bryan Cranston on board, you're in very dependable territory and once again he's in fine form as Bob Mazur, a former accountant now working as an undercover narcotics agent in mid 80s Miami (though with that useful cinema trope of retirement looming over him). When the chance comes to move into the big league and disrupt the money-laundering machine being run by the Colombian drugs King-pin, Pablo Escobar, Mazur hits upon the strategy of following the cash rather than the coke.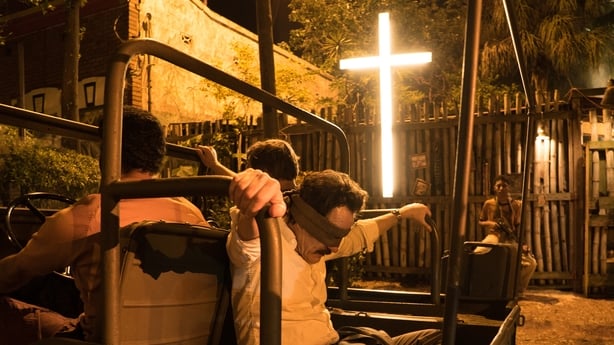 But lo! who is his bespectacled confidant? In another piece of poacher turned gamekeeper casting (well for an Irish audience anyway) it's none other than bleedin' Nidge. Tom Vaughan Lawlor gets to slip in and out occassionally as a fellow narc agent but it's a one note character with little to do except act as a sounding board. But bravo sir for finally registering on the Hollywood radar!
That all aside the movie quickly moves into a series of two-handers - first with John Leguizamo who puts in an excellent turn as Cranston's unpredictable wide-boy partner. Armed with assumed identities as corrupt businessman Bob Musella and his streetwise lieutenant, the pair go after the low-hanging fruit of the Escobar operation in the hope of moving up the echelons to the real deal-makers. It's all deftly played, if not more than a little drawn out, though thankfully buoyed up by the superb on-screen chemistry between the mismatched duo - Cranston's bottled up weariness is the perfect foil for his partner's unpredictable and mouthy energy.
However Mazur/Musella's conscience trips him up when he when spurns the advances of a stripper during a bout of marital guilt and he's forced to invent a fiancée as cover. Enter a rookie agent played by Diane Kruger who saddles up as one half of the crime-busting yet ostensibly glamorous couple. Amid all the simmering sexual tension, it quickly becomes all a bit Hart to Hart as the pair ingratiate themselves with Escobar's sicarios in particular his trusted bagman Roberto Alcaino (Bejamin Bratt) and his missus.
We need your consent to load this YouTube contentWe use YouTube to manage extra content that can set cookies on your device and collect data about your activity. Please review their details and accept them to load the content.Manage Preferences
As the net closes in on Escobar's money laundering operation, we're expected to believe that Cranston and Kruger's DEA agents are slowly succumbing to Stockholm Syndrome and are being drawn into the world they are out to expose. Soap-opera detours like this, notably a scene where Cranston's character's desperately attempts to conceal his true identity on a night out with his wife, stretch the story's credulity. Although Kruger equips herself well, there just isn't the same fizz in her scenes with Cranston as he has with Leguizamo who sadly disappears for far too long in the movie.
These quibbles aside, The Infriltrator remains a very serviceable and stylish thriller and more than justifies its bloated running time with some top-notch performances that should keep even the most ardent of Narcos/Breaking Bad fans muy contento.
John O'Driscoll