By his own admission, Louis Drax (Aiden Longworth) seems to be an accident-prone, illness-prone young kid, who has had many scrapes through his eleven years – in fact he has had so many that meningitis is mentioned as just one of a long list of misfortunes.
The story is told in flashback and reverts to his eleventh birthday party, a picnic on a California cliff, similar topography to the wild Monterey coast which Alfred Hitchcock used to shoot some of his Vertigo scenes. The choice of location would seem to be the first of the Hitchcock references and there is indeed something neo-Hitchcockian about much of the exercise.
During the picnic, Louis's adoptive dad drinks too much and gives vent to suspicions about his wife, Louis' mother, Natalie (Sarah Gadon) which leads to a confrontation between the pair. Louis falls over the edge of the cliff, seemingly by accident, and is now in a coma. Later on, Natalie is distraught in the hospital, as her husband has, it seems, gone missing. So distraught does the fragile mother become that she falls for the charms of Jamie Dornan's young but married neurologist, Dr. Allan Pascal. Nor indeed can he resist falling for her mysterious allure and it should be said that both actors acquit themselves very well indeed.
So, where there is life, there is hope and Dr Pascal becomes obsessed with saving Louis and bringing him back to the bright, perky chap he once was. The good doctor spends more and more time at the hospital and he offers Natalie a room there too, so as to be near her son who remains in a coma. Meanwhile, she has been receiving threatening notes written in a child's scrawl.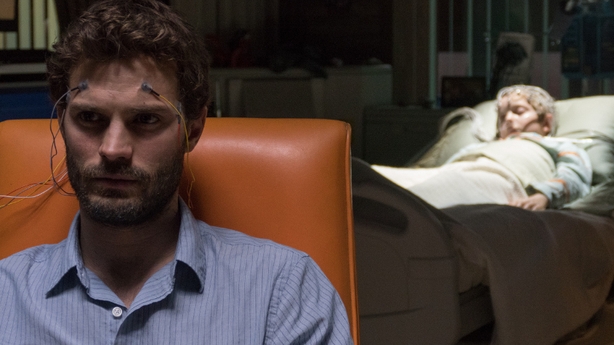 Thus it proceeds, a satisfactory mystery thriller, based on Liz Jensen's novel of the same name. However, the thing is spoiled by the presence of a most unnecessary monster with one of those very predictable distorted accents that Hollywood must keep on a shelf at the back of some sound stage. Dusted down when required.
Leaving the cinema, you may find yourself wondering (a) did you quite get everything that was going on in the high melodrama of it all? Or (b) What was that all about? Then again, Hitchcock, to cite the great master once again, also meant us to experience at the finish, that sense of barely resolved drama, that lingering sense of the abiding mystery. Kind of worth it.
Paddy Kehoe