Brent returns for an enjoyable and all too human tale of middle aged rock `n' roll fantasy. However, Ricky Gervais' comedy of cringe almost completely loses its impact in movie form
The last time we saw provincial middle manager David Brent in his natural habitat was in December 2003. The Office Christmas special had tied things up nicely - Brent finally gained a glimmer of self-awareness and there was even a hint at the possibility of romantic happiness.
But like a veteran rock band who know they must fall back on their older, better songs, Ricky Gervais has dragged his finest creation out of the stationary cupboard for a full-length movie.
It can be a risky business turning a beloved sitcom or TV mockumentary (if you will) into a movie. Does Brent and his world of venal conceitedness and self-delusion have the material and mileage for a full hour and half?
The problem here is that Gervais' pioneering form of sofa-squirming, knuckle-gnawing comedy of embarrassment is now everywhere. It's not that Gervais doesn't do it brilliantly; it's just that you may no longer feel the mortification.
We need your consent to load this YouTube contentWe use YouTube to manage extra content that can set cookies on your device and collect data about your activity. Please review their details and accept them to load the content.Manage Preferences
Brent is now 55 and working as a travelling rep for a company selling toilet products and tampons for vending machines. He hawks his wares around the dormitory towns of southern England, employing lavatory humour and sexual innuendo as sales patter.
The first half hour here is spent in what is essentially a return to the discomfort zone of Wernham Hogg, complete with Tim, Dawn and Finchy facsimiles.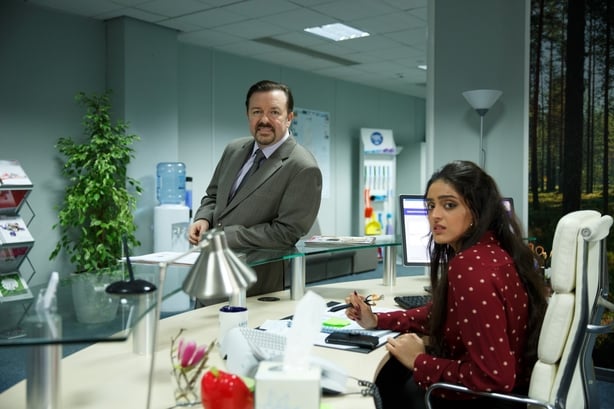 A slight return to the discomfort zone of The Office 
But Brent, ever the optimist, informs us in pieces to camera that he plans to get his band, Foregone Conclusion, back together to hit the road - "My stuff is new romantic, but modern. A bit Bublé, a bit David Essex" he says.
Taking a cue from Springsteen, the chubby little fat man (as Bowie once described Gervais' character in Extras) wants to mythologize the glory of the travelling rock band. Instead he blows his life's savings driving in circles around the suburban hinterland of the M25 in an expensive tour bus with a bunch of younger and cooler session players who despise him. At one point they even charge him to join them for a post-gig drink.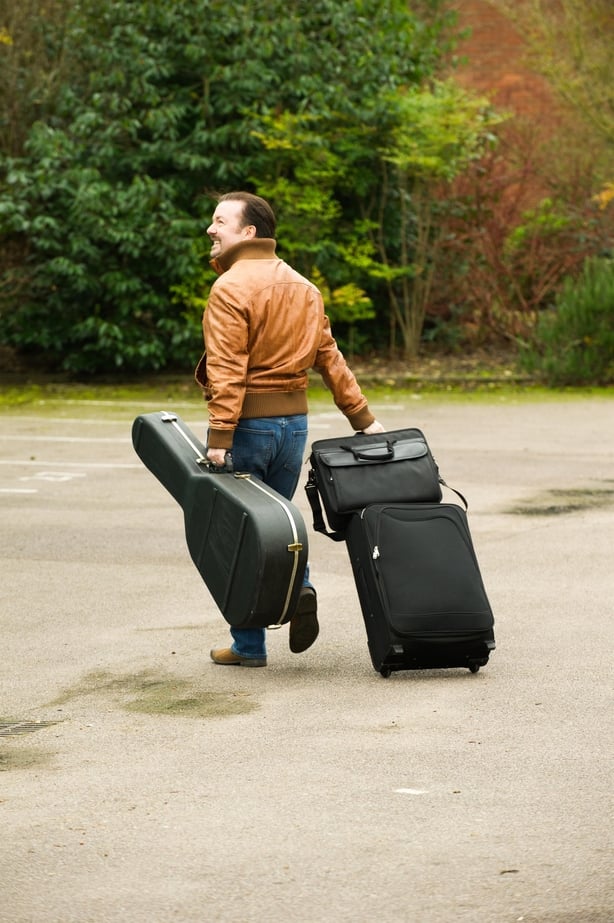 "My stuff is new romantic, but modern. A bit Bublé, a bit David Essex."
Life On The Road is at its best when Brent is on stage and not sitting around Travelodge receptions spouting the same deluded philosophy he spouted all those years ago in The Office. At thinly-attended gigs in the shabby backrooms and bars of southern England, he sings woefully offensive songs about Native American Indians, making love to gypsy women, racism, and right-on message songs about the disabled.
It is all very painfully human but Gervais' once brilliant portrait of self-delusion and social awkwardness now fails to evoke either pity or embarrassment. Like that Christmas special from 13 years ago, there is a final moment of self-realisation and an office romance of sorts but while I could watch endless returns of Steve Coogan's Alan Partridge, the return of David Brent ends up running out of road.
Alan Corr @corralan