Darren Thornton's refreshingly affecting yet sparklingly funny debut feature showcases exactly why Irish film-making and talent is stronger than ever.
A Date for Mad Mary is a beautifully crafted coming-of-age-tale that flickers with the excitement and fear that comes with the notoriously-perilous journey through late adolescence.
It captures so colourfully the comedy, angst and exuberance of young adults who feel like they have lost their way, in a society that is constantly judging.
Rising star Seána Kerslake leads the way as 'Mad' Mary McArdle, who returns to Drogheda after a short spell in Mountjoy for a vicious attack on a girl in a local nightclub.
The profound story of love and friendship comes across with the power of a true story, as emotionally muted Mary struggles to accept that her best friend Charlene (Charleigh Bailey), has moved on in her absence.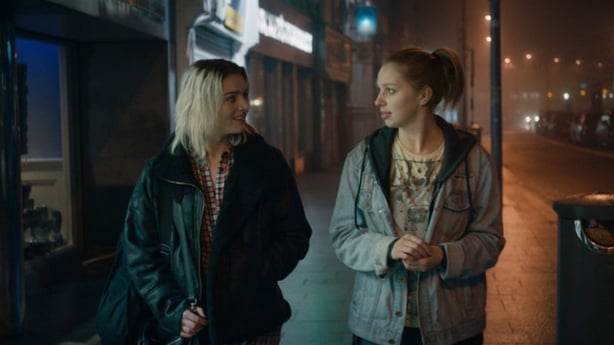 With three weeks before her long-time friend walks down the aisle, Mary becomes determined to bring a plus one. Her attempts at finding a suitable fella winds up making her feel more alone until an unexpected relationship begins with a wedding photographer (Tara Lee).
The movie rides on the charm of its stars and their easy rapport. Both Kerslake and Bailey are fully capable of keeping us invested in their characters, no matter how flawed they might be.
We need your consent to load this rte-player contentWe use rte-player to manage extra content that can set cookies on your device and collect data about your activity. Please review their details and accept them to load the content.Manage Preferences
Kerslake plays each scene with verve and sensitivity, while Bailey rises above the silly stereotype of a 'bridezilla' and gives her character life. Tara Lee puts in a fine performance but her character is underdeveloped and needs more clarity. Why is she a lone wolf? Why is she so afraid to fall in love?
The real strength of the film lies in its authenticity. Thornton, who penned the film with his brother, strikes a rich note with the script, offering a resoundingly universal reminder of how we mark our lives by our scrapes with love and our triumphs.
Every time the film teeters on the cusp of a familiar-sounding plot it satisfyingly withdraws into more subtle territory, ultimately making the final act feel sentimental without being sugary.
A Date for Mad Mary is an exquisitely written, delicately made and superbly acted gem that will only get better with age and reflection.
Laura Delaney