Writer and academic John Hull's last glimpse he believes was of a church spire in Shrewsbury in England, the last thing he ever saw before he went totally blind in 1983 at the age of 45. When he realised that henceforth he wouldn't be able to read the books he wanted to read in the fields of anthropology and sociology he enquired of libraries as to whether such works could be accessed as audio books.
He was told that blind people do not read such "big books." So he organised a band of readers of the books he wanted to read, who duly recorded such tomes on to literally hundreds of cassettes. The cassettes arrived in greater quantity than he could keep up with.
Notes on Blindness is a film, but it is very much a film about the aural sense, and is driven by the start and stop buttons of the cassette player. After blindness struck, John Hull began to record his own thoughts on tape, building up an archive of aural diaries that were published in 1991, under the title Touching the Rock. Hull won a Lifetime Achievement award in 2012 from the Royal Institute for the Blind for his writing on blindness.
The film is a response to John Hull's tapes, a drama-documentary of quiet restraint in which actors play John and his wife Marilyn, played by Simone Kirby. In an admirable technical feat, conversations which John recorded between his wife and himself are used as the core dialogue, as the actors lip-synch the archived dialogue of the real-life couple. Much of the commentary is John's own voice-over, recorded on his own, and these observations are the most interesting.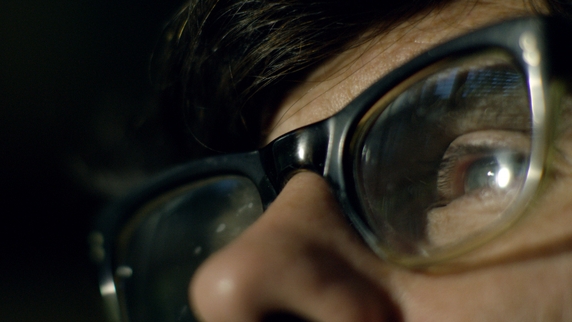 In the early years Hull faced huge introspective battles trying adapt to his new situation. "I knew that if I didn't understand it", he says, ``blindness would destroy me." If he is acquiescent he will die, his will to resist will be broken. Yet, not to accept blindness seems futile given that it is a verifiable fact.
The theologian learned to lecture without notes, to recognise students by their voices. Conscious of not smiling because there was no returning smile that he could see, he envisages himself as one who is sending `dead letters' when he tries to smile. Ultimately, he is conscious of himself not smiling at all as a consequence.
He suffered a particularly dark night of the soul one December, stewing in anger and isolation in the family home."Who had the right to deprive me of the sight of my children at Christmas time?" he asks rhetorically. He is nevertheless a man of faith. One of his five children asks him a question about God - John tells him that God gives him the courage to face blindness.
Eventually, there are practically no visual memories whatsoever. During the three years following total blindness he reaches the point where he cannot really recall what his wife looks like. Memories of photos are more easily recaptured. He talks of a sense of hunger, the brain longing for optic stimulation the way the body longs for food. Yet his wife is struck by his seeming happiness - he quietly tells her he wants his eyesight back, and cannot accept the loss of sight.
Notes on Blindness is mostly filmed in darkened interiors in sepia-like tones, images set to the tap-tap of John's walking cane, interspersed with delightful pretend weather reports from one of his children.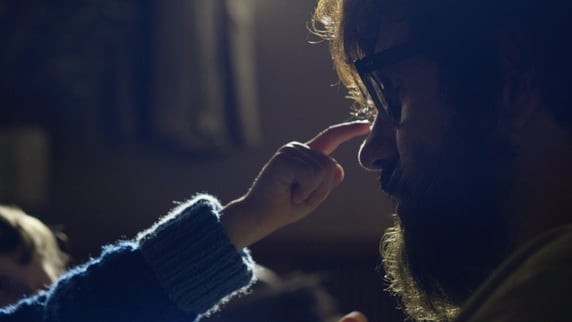 Through the sounds of rain outside he could sense the contours of the external world, so much so that he wished there was some kind of internal rain, an observation which becomes a haunting visual motif throughout the movie. There is one scene towards the close of the film in which wife Marilyn and two children are depicted sitting at a table, doing the school homework. Dan Skinner, the actor representing Hull, is standing at the open door. Showers of interior rain are spilling down on the assembled, who sit and stand seemingly oblivious to the deluge. This is pure cinematic poetry - done badly, it might have looked like a rejected shot from a Led Zeppelin album cover. Yet it works as an imaginative counterpoint to the more purely documentary aspects of the film.
Ultimately, he accepts blindness as a gift but there was the question of what to do with the gift. A visit to Victoria, Australia where he spent his early years proves disorienting, as he cannot locate his school or any of the old familiar places. Are they gone anyway, as the deserted places suggest, perhaps as metaphor - is it that he cannot see or sense them? There is interesting ambiguity here. The return to England in any case makes him happy again, the familiar locations and shapes of his adopted home.
John Hull died in 2015, aged 80, and is survived by his wife and five children. The award-winning film is a remarkable testament to a kindly father and teacher. Notes on Blindness is released on July 1 at the Irish Film Institute.
Paddy Kehoe