In cinematic and TV terms, the Italo-French co-production, Suburra, is a big deal, already a box-office hit in Italy and shown on Netflix in the Americas. It is the movie forerunner for a ten-part series which will premiere globally on Netflix in 2017.
Does it stack up? When it gets the blood flowing - as it does - well, yes it does, after a desultory start. Any resemblance to events that took place in 2011 are pretty much intended and the well-trumpeted Berlusconi excesses have clearly exercised some influence on the plot. The movie is set over the course of one week in the lead-up to the fall of the government that year. However, the (unnamed) Pope threatening to step down occurred a year later. 
The €7 million budget movie is based on the novel of the same name by Giancarlo De Cataldo and Carlo Bonini, which in turn is loosely based on a scandal, the details of which were revealed by the judicial inquiry known as Mafia Capitale.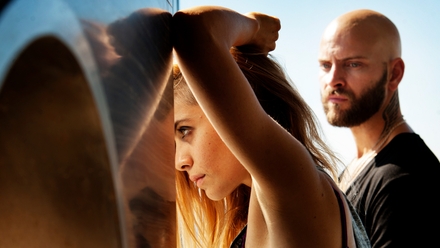 On the run from a rival gang in a welter of drug abuse and plans for Ostia
Call girls, drugs, bribery, betrayal, double-dealing, rigged voting, Vatican dodginess, even would-be gypsy Mafia, are duly whipped into an engine of propulsive, visceral evil, mostly worked out in incessant rain. Director Sollima made the mob drama series Gomorrah, and he clearly has a taste for blood and guns with silencers that go pop pop at regular intervals. (He got his title from the so-called Suburra quarter in ancient Rome, where criminality once ran rife, and, boy it must have been very rife given we're talking old Rome.)
Once it gets going after a frankly, dull start, Suburra does pretty much hold your attention, although calling it `Neo-Noir', as one critic did is being kind. Whatever about the Neo, it's about as Noir as Rambo. In the entire two hours, there is just one instance of speech which is worthy of Noir. It goes as follows:
"Over time, I've learned to take it easy with the dead, they're tough to handle." Thus utters the steely, string-pulling Samurai (Claudio Amendola) who is feared by all the low lifes who are trying to cut deals and exploit situations under his wary gaze. Ostia, a seaside town in the environs of Rome, is set to become a new Las Vegas, with hotels, clubs and casinos and the crooks want to be in on the development.
The Samurai appears to be semi-retired from serious crime. A late middle-aged man who has clearly seen it all, he lives with his ancient mother - now there is a nice Noir touch. He exudes low-key sangfroid, much like a tough but respected school teacher or venerable team coach. He wears cheap-looking clothes and has a misleading air of contained pride and quiet reasonableness that will throw you.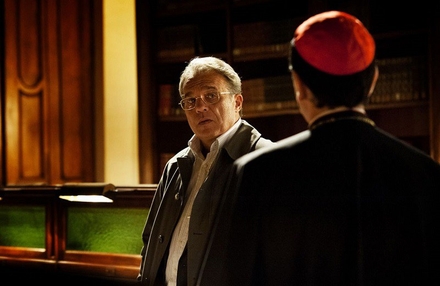 A cardinal gets some friendly advice from the Samurai (Claudio Amendola)
The now mildly respectable Svengali, and former member of the notorious Magliana gang, wants to turn Ostia into a serious leisure resort. He needs the ruthless Member of Parliament, Filippo Malgradi (Pierfrancesco Favino ) to get the Suburban Renewal Law passed, with particular attention to the proposed amendment for the Ostia beaches. Malgradi needs him too for a favour in a movie which as well as being a saga of family honour and retribution is also very much about needs of various kinds, satisfied in various ways.
Aside from the above-quoted immortally good line, there is no further reflective stuff  of any value in the purely functional screenplay. ("I kick butt at video games, " is how one character's utterance is translated in the sub-titles - yea, that kind of movie.) Suburra is nevertheless kind of worth it.
Paddy Kehoe
Suburra is on release from June 24