For me, one of the greatest TV animation shows ever made is Teenage Mutant Ninja Turtles, or - thanks to some legal issues - Hero Turtles as they were known in this part of the world.
A lighter adaptation of the original Mirage comic book series, it was smart, witty and loads of fun. It also added several new characters, including the warlord Krang, and the evil Shredder's rather dumb sidekicks Bebop and Rocksteady.
In Out sequel to 2014's Teenage Mutant Ninja Turtles cinematic reboot, those three all make an appearance, as does Casey Jones, a hockey mask-wearing vigilante who first appeared in the original comics to team up with the pizza-loving Turtles to tackle New York criminals.
Kicking-off with Leonardo, Raphael, Michelangelo and Donatello enjoying some pizza while watching the New York Knicks net a few, things get serious when the incarcerated Shredder is freed, with the help of a pair or lower-level crews, Bebop and Rocksteady, the latter played by Stephen 'Sheamus' Farrelly, the Dublin-born wrestler who's now trying his hand at acting.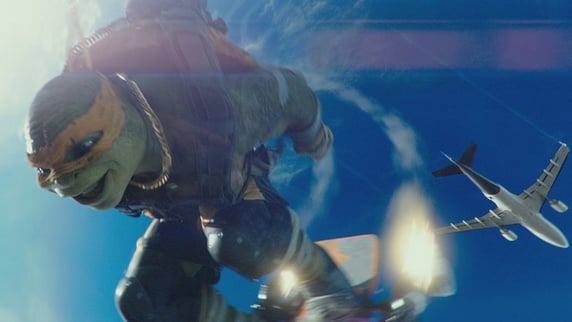 After his spectacular escape, Shredder turns these two into mutants and joins forces with Krang in a plot to take over the world. Meanwhile the Turtles team up with April O'Neil (once again played by Megan Fox), Will Arnett's Vern Fenwick, and Casey Jones, who's played by Arrow star Steve Amell.
Click on the video link to watch TEN's interview with Irish WWE star Sheamus who plays henchman Rocksteady
Great sets, the odd spectacular action sequence and an uncomplicated plot that hinges on Krang bringing his Technodrome through a portal so himself and Shredder can make planet Earth their plaything, it all adds up to make the two hours fly by.
This is a vast improvement on the 2014 film, and certainly sets the bar for this summer's round of blockbusters. Cow a-fun-ga!
John Byrne