Love & Friendship director Whit Stillman's delightfully droll adaptation of Jane Austen's lesser-known novella Lady Susan is an absolute gem, combining a lush period drama setting with a razor sharp script and top-notch performances all round.
Kate Beckinsale is at the centre of the stellar cast as Lady Susan, a beautiful and conniving widow who is hell-bent on securing a marriage of convenience in order to maintain her comfortable lifestyle.
Amid scandalous rumours of her romantic impropriety abounding in high society, she packs up shop and heads to her in-laws' grand countryside estate to seek refuge. But, as with all of Lady Susan's actions, there is an ulterior motive at work, which is to wed her sister-in-law's handsome younger brother Reginald De Courcy (Xavier Samuel).
Her plans are all going swimmingly, that is until her shy and retiring daughter Frederica (Morfydd Clark) arrives unexpectedly, throwing everything into disarray. Threatened by her daughter's potential to come in-between her burgeoning romance with Reginald, she attempts to fast-track a marriage with the disgracefully rich but outrageously foolish Sir James Martin, played with scene-stealing aplomb by Tom Bennett.
Her only true confidant is Alicia Johnson (Chloe Sevigny), an American socialite who is married to a wealthy older man (Stephen Fry) who Susan amusingly condemns as being "too old to be governable, too young to die."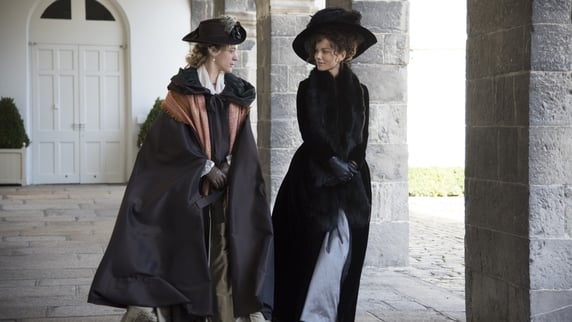 Lady Susan and Alicia Johnson get up to some scheming
The path of her complicated social manoeuvring never runs smoothly, but Lady Susan takes any obstructions in her stride, at one point exclaiming "Facts are such horrid things!" when she is caught out in a deception.
Pithy one-liners such as this come thick and fast in this wonderfully-paced comedy which zips along nicely, keeping you entertained and amused throughout. Crucially, the tone is far from moralizing, and you can't help but delight in Lady Susan's duplicitous ways.
This is about as far from a typical Jane Austen adaptation as you can imagine possible, and only serves to highlight the writer's sharp wit and ahead-of-her-times sensibilities.
Sarah McIntyre