This could be the closest Love/Hate fans get to an onscreen reunion.
Along with star Killian Scott, Traders also features Laurence Kinlan (Elmo), Peter O'Meara (Andrew the dentist), Caoilfhionn Dunne (hitwoman Lizzie) and Barry Keoghan (her apprentice, Wayne) in supporting roles. Word on the street is the cat was asked but his demands were excessive.
Oddly enough, it doesn't feel like overkill having so many people from the same show in the one movie; Traders problems are more script-related.
Firmly establishing his leading man credentials, Scott plays Harry Fox, a man-about-town type whose loft apartment lifestyle is threatened when the investment bank he works for goes belly up.
Stuck in data entry hell with the mortgage misery intensifying, Harry is approached by maladjusted former colleague Vernon Stynes (Game of Thrones' John Bradley), a manchild who's a firm believer that where there's blood, there's money. Other people's.
Vernon has come up with a fatal spin on Fight Club and reckons he has both the business acumen and killer instinct to make it a success. Should Harry come on board, or will Vernon stab him in the back? Literally.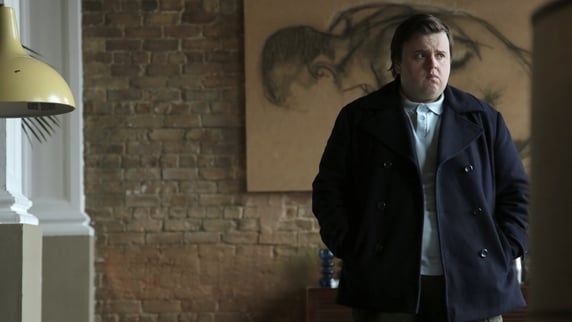 From Oldtown to the Old Town...
Full credit to writer-directors Rachael Moriarty and Peter Murphy, their cast and crew for making the little money available go as far as it does in this story of envy, greed and doublecrosses. From the Quays to ghost estates, Traders makes the most of its locations and is so effective at putting the Dublin damp on the big screen that you're reluctant to take off the jacket throughout. The chemistry between Scott and Bradley is great and it's quite the dilemma deciding which of their characters is the most despicable. Today it's Harry.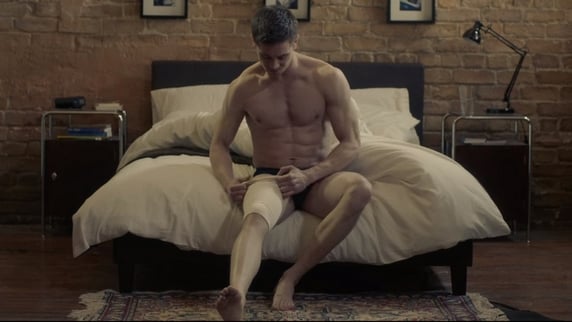 Smart move by the directors with this shot
Hampering that good work is the fact that Traders becomes far too repetitive as the plot unfolds. Suspension of disbelief is one thing - it is a film - but the thriller didn't need the amount of bloody hand-to-hand combat scenes that have ended up on screen. Some of this time should've been used to tease out the 'love' triangle between Harry, Vernon and Vernon's neighbour Orla (McGuigan), thereby cranking up the tension. By the close of business you may feel you've taken a few digs to the head yourself.
This finale would have been so much better with the simple re-appearance of one character before fading to black. 
Harry Guerin