The world's favourite fashion dummies return in another idiotic caper. With great cheekbones
We are all Derek Zoolander now. Since the world's most ridiculously good-looking male model first sashayed into cinemas 15 years ago, his world of preening self-obsession and perfect hair now seems almost quaint. Social media has seized a certain generation and turned them all into selfie-obsessed preening Zoolanders living in drama of their own making.
The immediate worry with this long overdue sequel to the first Zoolander, a box office stiff on its release in 2001 which then enjoyed an afterlife on DVD and Netflix, is that it will go the way of Dumb and Dumber Too. However, a lot like JJ Abrams' blatant Star Wars remake, it manages to repeat the joys of the original, a bit like the very good Anchorman sequel, a movie which did for the vanity of US broadcast news what Zoolander did for the vacuity of the fashion world.  
Zoolander No 2 opens with the delicious sight of Justin Bieber being hunted down in the streets of Rome at night by two gunmen on motorcycles. He races down dark alleys and pulls some action hero moves but is finally cornered and expires in a hail of bullets.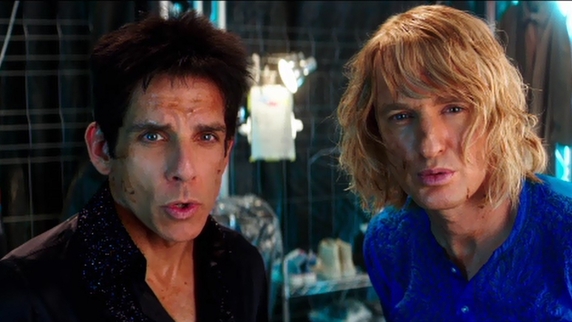 Cheekbones like geometry 
What's not to like? In fact, this opening scene will later become one of the best jokes in Zoolander 2; when Derek confronts evil fashion genius Mugatu (Will Ferrell, back to chew the scenery and chew out his cowering aide Todd). 
In his dying moments, Bieber has, of course, managed to take - and instagram - a final selfie in which he pulls off the perfect `Blue Steel', a facial expression of chiselled yet smouldering male beauty pioneered by Zoolander all those years ago. This same facial contortion has also been turning up on the faces of other murdered pop stars, a gag that may seem a little raw in the wake of the recent and very real toll of music greats.  
Derek and Hansel, now no longer friends and now living in self-imposed exile following a terrible disaster at the Derek Zoolander Center For Kids Who Can't Read Good, are coaxed out of retirement to help Interpol fashion police officer Melanie Valentina, who is played with great gusto by former model Penélope Cruz, to track down this fresh threat to the world's beautiful people.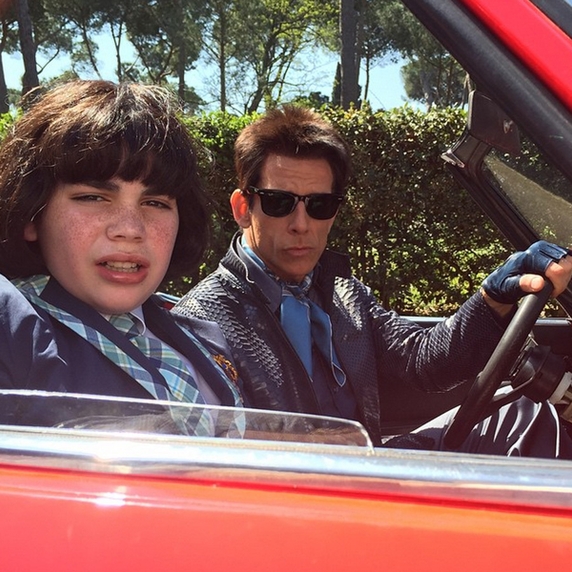 Derek and his estranged son
For Derek, it is also a chance to reunite with his long estranged son, who was last seen as a pouting baby in the first movie. The plot is as hay-wired as Zoolander's own tentative grasp of reality. At several points it seems that Stiller and screenwriter Justin Theroux are making the whole thing up as they go along, which is just fine.
Suffice to say that this new story involves an Illuminati of fashion gurus including Tommy Hilfiger, Alexander Wang, Marc Jacobs and Anna Wintour, a fountain of youth dating back to the Garden of Eden, and Derek's own son as The Chosen One.
It is as surreal and bizarre as a Vivienne Westwood creation and no fashion faux pas or excess is left unmolested. Kristen Wiig is almost unrecognisable as she lays it on thick as a pumped-up grotesque dressed in freakish couture but it is Will Ferrell's megalomaniac Mugatu who steals the catwalk on everyone once again.  
Of cameos there are many but very few of them actually work. Most of famous faces popping up here have turned up to show us all what great sports they really are. Po faced adult rock bore Sting in particular seems to be involved in a desperate stab at relevance but Benedict Cumberbatch as a gender fluid model named All is just terrific and there is also a truly bizarre turn from Kiefer Sutherland as one of Hansel's many lovers.
It's a retro retread that royally sends up the vulgarity and vanity of it all but Derek Zoolander, well, he'll never go out of fashion.
Alan Corr