Siún Ní Dhuinn takes a look at An Cailín Ciúin's epic journey to Hollywood.
Being an Irish speaker in Ireland can be an exhausting and sometimes gas-lighting experience. We are often told we don't exist, and if we do exist, we are somehow infringing and dirtying the monoculture of those who don't speak any more languages than English, by merely existing and asking to be respected.
This year, however, An Cailín Ciúin has changed the game. We are no longer pushing for space in national newspapers and online and begging those who do include us to not always refer to Peig Sayers and her challenging life but rather, we are basking in the glow of a piece of art unapologetically in Irish being critically acclaimed and internationally adored.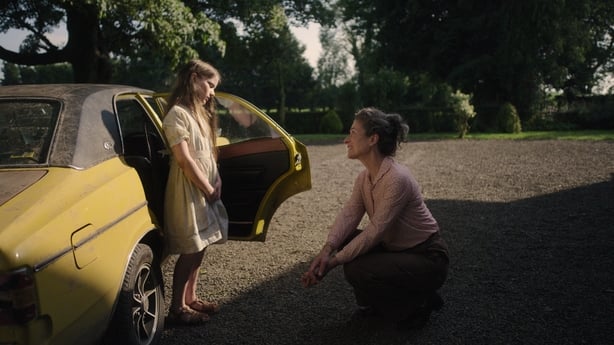 I was asked to go and see An Cailín Ciúin to review the film at the beginning of its journey to the Oscars. I sat in an auditorium, well-spaced out from other reviewers (we were still unfurling from the pandemic) and took in one of the most moving films I'd ever seen. When it finished, no one got up to leave for at least 5 minutes. The film had suspended reality for us all, those of us who usually rush out of the cinema or pick up our phones were left numb. The shared silence echoed the many unspoken moments of a stunning film we had all experienced.
Director Colm Bairéad says the book on which the film is based, Foster by Claire Keegan was so powerful that he knew he wanted to make his debut narrative feature film as soon as he finished reading it. Bairéad and producer Cleona Ní Chrualaoi, who had been making television programmes for many years separately and together, were aware of Cine4 - a funding initiative by TG4, Screen Ireland and the Broadcasting Authority of Ireland which aimed to produce Irish-language feature films. He says he knew he could make this novella into a film.
"By the final page, the final paragraph, I am weeping uncontrollably. And something has shifted inside of me, and I know that I have to try and make a film of this story."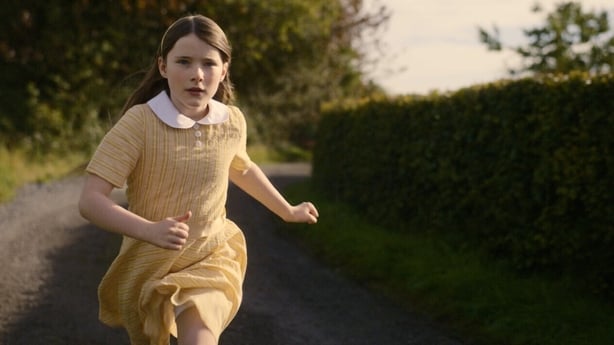 Its first flutter of success came when it debuted at The Berlinale Film Festival in February of 2022 and was awarded the Grand Prix of the Generation Kplus International Jury for Best Film and a special mention from the children's jury after its world premiere at the festival.
Not long after, the film opened the Virgin Media Dublin International Film Festival, the first film in Irish to have ever done so. It also swept the board at last year's IFTAs where An Cailín Ciúin was named Best Film - the first time an Irish-language feature has taken the top honour. Colm Bairéad won the Best Director and Rising Star awards and young star Catherine Clinch picked the Lead Actress accolade.
Since then, the film has blazed a trail of success and acclaim, it grossed over €1 million at the box office within the first few months of its release. The film's team have since worked tirelessly to get to where they are now, just over a year since its debut, to be shortlisted for the Best International Feature at this year's Academy Awards which will take place in Hollywood on Sunday.
Tá pobal na Gaeilge faoi chomaoin ag foireann an scannáin seo a bhfuil misneach as cuímse léirithe acu sa scannán agus atá ceannródaíoch, cróga agus a chruthaíonn spás dóibh siúd a thiocfaidh ina ndiaidh sa réimse seo. Cuireann An Cailín Ciúin an Ghaeilge ar ardán idirnáisiúnta, i lár an aonaigh, léiríonn an rath atá bainte amach acu gur fiú an dua a chaitheann muid ag plé le teanga atá go minic ag snámh in aghaidh easa agus a fhulaingíonn go leor dímheas sa tír seo. Léiríonn An Cailín Ciúin go bhfuil domhan eile amuigh ansin a aithníonn ealaíon ar mhaithe le healaíon, gan teorainneacha teanga.
Colm Bairéad and Cleona Ní Chrualaoi have achieved what so many of us who speak Irish aim to do, they have transcended the invisible, but clearly defined cultural borders between those who speak Irish and those who don't. They have brought people to the cinema who haven't been for years and hopefully initiated a new era for art in the Irish language in Ireland to be viewed not as 'other' but as part of our contemporary Irish identity. Speaking on the film's Oscar nomination, Bairéad and Ní Chrualaoí said that "this is a truly historic and meaningful moment for Irish film, the Irish people and the Irish language".
"Never before has an Irish film been nominated in this category. Never before has Irish-language art been given such a platform," they said.
The 95th Academy Awards take place at the Dolby Theatre in Los Angeles on Sunday night and will be broadcast on RTÉ2 and RTÉ Player on Monday from 9:30pm.