Colin Farrell has said he was thrilled to return home to Ireland for his latest movie, The Banshees of Inisherin, and admits it was a dream come true to reunite with his In Bruges co-star Brendan Gleeson and director Martin McDonagh.
The eagerly-awaited upcoming black comedy-drama, which was filmed on location on Inishmore on the Aran Islands and Achill Island in Co Mayo, brings the two Dublin actors together for the first time in fourteen years.
Speaking on Friday's Late Late Show, the 45-year-old star said he was thrilled to land a gig that meant he could return to the Emerald Isle.
"It's worked out that once every three or four years I get to come home and shoot something. It's not by design, but just by good fortune and coincidence," he said.
"I get home every year but for a week or two to catch up with everyone, but to get home and spend two or three months here, especially on something I loved, with someone I love, and Martin as well who I know well at this stage was great," he added.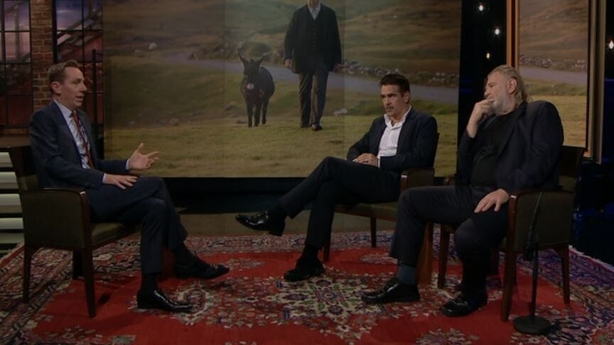 Farrell said he can't believe it's been fourteen years since 2008 gangster comedy, In Bruges, became a cult classic.
"It's been fourteen years since In Bruges but it felt like it was yesterday. It didn't feel like it was fourteen years ago except for the pain in the knees and the hips," he laughed.
Brendan Gleeson admits there was confusion about how to market the movie when it was released over a decade ago, and said it was only when the film made it to the States that it "took cult status" after a slow start elsewhere.
"When something is unique there isn't a genre you can shove it into and just say this is what it is..., so it went out a little slowly. Even in Britain it didn't happen," he explained.
"Then it went over to the States and suddenly an undercurrent started and then they brought it back into cinemas and had another go. Word of mouth helped it to take cult status. It has a very particular niche," he said.
Oscar-tipped, The Banshees of Inisherin, which also stars Kerry Condon and Barry Keoghan, opens in cinemas on Friday 21 October.
Check out all of the happenings from The Banshees of Inisherin's Irish premiere here
You can catch Colin and Brendan's full interview on the RTÉ Player