Filmmaker Brett Morgen presents David Bowie as a moving canvas in his sensory overload of a new film
Six years after his death, you may think there is little to left to say about David Bowie, the sainted citizen of the world whose passing seemed to plunge us all into the kind of madness his songs often touched upon.
2016 saw Trump and Brexit actually happen, Prince, Leonard Cohen and George Michael all joined the choir invisible . . . Such was the ineluctable, almost divine allure of Bowie, that Planet Earth seemed a lesser place with fewer possibilities after he had left it.
We need your consent to load this YouTube contentWe use YouTube to manage extra content that can set cookies on your device and collect data about your activity. Please review their details and accept them to load the content.Manage Preferences
Brett Morgen's fabulously strange new Bowie film manages to capture the full range of that world of imagination. The director, who made the excellent Kurt Cobain documentary Montage of Heck and the romp of a Rolling Stones film Crossfire Hurricane, never intended to make a linear, chronological account, and having gained access to the Bowie archive, he had an Aladdin Sane's cave of over five million assets to play with.
Morgen has said that his launch pad for Moonage Daydream were his visits to the planetarium at the famous Griffith Observatory in Los Angeles, Pink Floyd Laserium, and his own acid-fried trips to Disneyland theme park rides.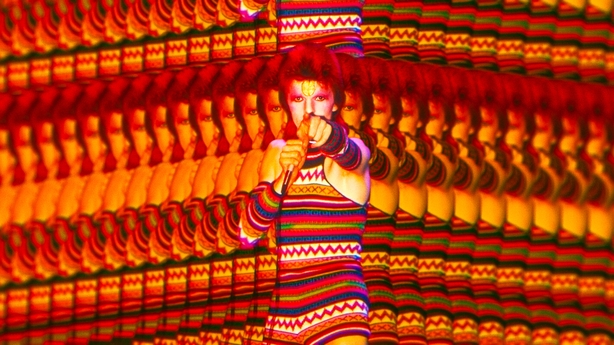 And so, his 140-minute film is a lurid rush of sensory overload that comes at you all at once and seems to echo our phone scrolling addiction. Or maybe it's all akin to tuning in and out of a radio station beamed in from a distant star or absent-mindedly channel surfing in a late-night funk.
Inspired by the Dadaists and Williams Burroughs' cut-up technique, it's a film that pinballs all over Bowie's career, piling image upon image until the collage spins out of control. It's a chaotic account that Ziggy-zags (sorry) back and forth from Bowie, the alien pop entity of 1972 to his ghostly and reptilian mid-seventies to the latter-day aesthete and curator of his own life and work.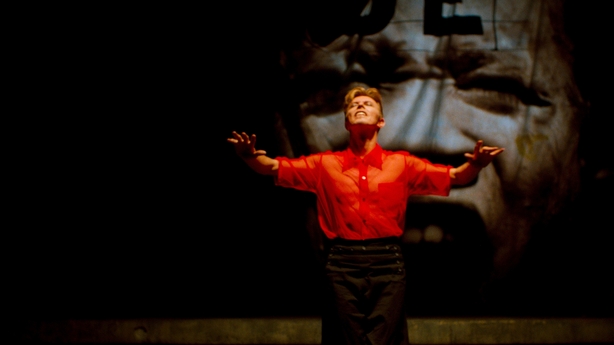 Of course, we see that near iconic footage of David with the Spiders inspiring mass ecstasy among the early seventies yoof at Hammersmith Odeon and an alarmingly collared Russell Harty trying to coax something, anything from Bowie, who sits there politely wearing a rictus grin.
All this Bowie footage, some familiar and some unseen, is intercut with a Warholian approach to other sources. Snippets of The Cabinet of Dr. Caligari, A Clockwork Orange, Un Chien Andalou, Nosferatu, Blade Runner, Georges Méliès' A Trip to the Moon, Powell and Pressburger's The Red Shoes all flash by in the whole mad jumble.
The selective approach to Bowie's work means the unfairly demonised Tin Machine don't make the cut. The post-Let's Dance eighties (what David himself called his "Phil Collins' years" and the first hint that maybe this god of sound and vision had feet of clay) are also glanced over.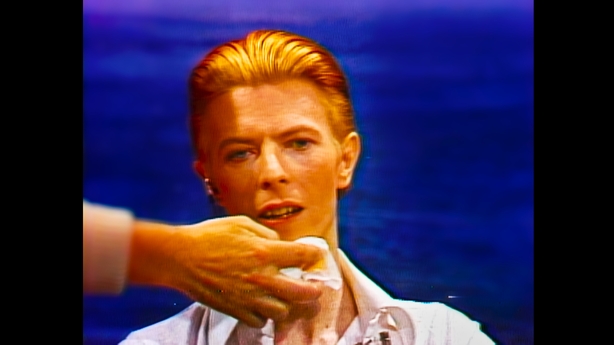 However, a greater omission is the scant regard given to Bowie's nineties, a decade that saw him produce work that was arguably comparable to his run of albums in the 1970s. But this is already a film that is in danger of imploding under the sheer force of its own kinetic energy, so maybe Morgen has made the right creative decisions.
Bowie's slightly plummy voice narrates the whole thing, his wise words sounding from beyond. "I was creating the 21st century in 1971," he says, adding that he wishes to provide us with "a roadmap of how to survive the 21st century". Later, he avers, "Ever since I was 16, I decided to have the greatest adventure any one person could have."
Moonage Daydream is a far-out trip that left my left eye dilated.
Alan Corr @CorrAlan2