Rising star Daryl McCormack, who hails from Nenagh, says 'it was a real gift' to work with Emma Thompson at this stage in his career.
Eagle-eyed Fair City fans may remember 29-year-old McCormack from his days in Carrigstown as Pierce Devlin, or perhaps you might know the Tipperary native as Isaiah Jesus from season six of Peaky Blinders.
The Gaiety School of Acting graduate has also shared the screen with Alec Baldwin in Pixie, Rosamund Pike in Amazon's The Wheel of Time, and Lesley Manville in Channel 4's anthology series I Am….
So it was only a matter of time before McCormack landed his first leading role, which is in the sex-positive movie Good Luck To You, Leo Grande. But what he did not expect, was that his co-star would be Oscar, Golden Globe and BAFTA-winning actress Emma Thompson.
"It's been a real gift to be honest, not only to work with Emma but to work with her in this capacity," he told RTÉ Entertainment.
"I don't think it's very often you will get the chance to have this kind of intimate process of making a film, to have this experience so early on (in your career), to do it on a script and with characters that I absolutely adore and feel are important.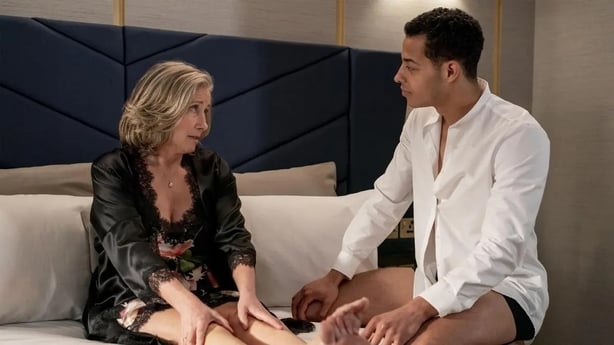 McCormack added that "there was a lot of disbelief for some time" that he was making the movie with Thompson and that "it felt like a crazy perfect package with a lovely ribbon tied around it."
Thompson was quick to say: "And how lucky was I to have someone like Daryl turn up quite out of the blue actually."
She continued: "This project met you (McCormack) right in the centre of your being, just at the right time.
"It's all about timing. I couldn't have played this five or 10 years ago, I don't think I could have done it. So the piece found us."
Directed by Sophie Hyde (Animals) and written by comic Katy Grand, Good Luck to You, Leo Grande follows retired widow Nancy Stokes (Thompson) as she hires a handsome young sex worker (McCormack) in the hope of enjoying a night of pleasure and self-discovery after an unfulfilling marriage.
Speaking about his character McCormack said he was "really pleased at how Katy has written Leo" explaining that "he has a real grasp on his navigation with his intimacy, his sexuality in himself."
He added: "Katy, to me, has managed to write a really modern man who has a really healthy grasp on all of that and embodies that really well."
Good Luck To You, Leo Grande is in cinemas now