The Dancing with the Stars champion for 2022 was crowned in Sunday night's epic finale and we followed the show live - get the lowdown on everything that happened right here.
Dublin singer-songwriter Erica Cody, former jockey Nina Carberry, rubgy star Jordan Conroy and Paralympic swimmer Ellen Keane were the celebrities who competed to lift the glitterball trophy, and it was Carberry who ultimately reigned triumphant.
The story of the night:
First up in the Judges Choice round, Ellen Keane and Stephen Vincent performed a Paso Doble to Run the World (Girls) by Beyoncé.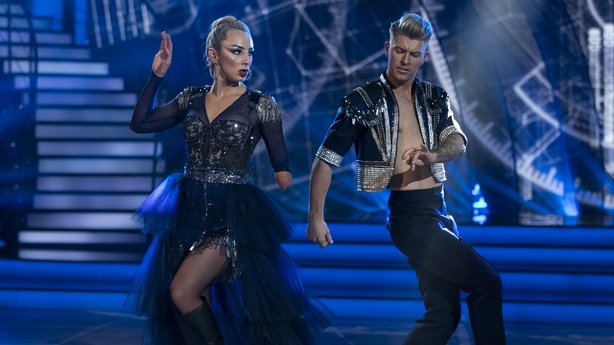 "I'm here to give it my all," said Ellen before the dance got underway. And that's exactly what she did, putting in a powerhouse performance.
"I'm really, really proud," Stephen told Jennifer afterwards while praising Ellen. But what did the judges think?
"You did not disappoint. It was a terrific Paso Doble," said Judge Loraine. "I really feel that tonight you have executed it to perfection."
The judges awarded them a total of 30 points. An impressed Nicky said: "What a way to start the final!"
A perfect Paso from @keane_ellen and @SteveVincent17 to open our show 🎉 🎉

30 points! (don't forget the audience at home decides our winner tonight)@DWTSIrl #DWTSIrl pic.twitter.com/BcZEJk8Ury

— RTÉ One (@RTEOne) March 27, 2022
After the break, Nina Carberry and Pasquale La Rocca were next up and danced a Viennese waltz to At Last by Beyoncé.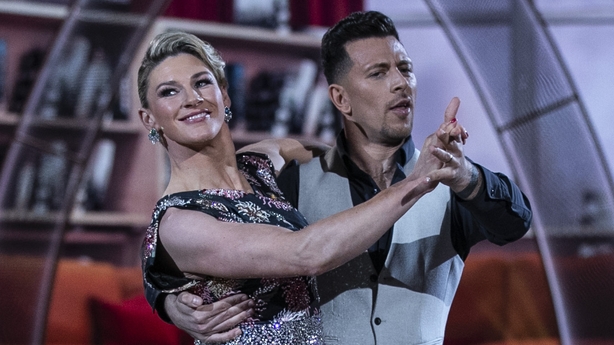 "I'm really looking forward to going out there and showing how much I've improved to the judges," said Nina, before she went out and dazzled with partner Pasquale.
"It was so lovely to do that again, and I really enjoyed it," Nina told Jennifer. But were the judges as impressed?
"Can you improve on perfection?" Judge Arthur asked rhetorically of Nina. "The answer is: yes you can! That was beautiful . . . You have been so consistent in this competition. You went from dark horse to the front runner!"
The judges awarded them a total of 30 points. As Nicky noted: "It's another full house!"
Next up, Erica-Cody and Denys Samson did a Charleston to When We're Human by Michael-Leon Wooley, Bruno Campos and Anika Noni Rose featuring Terence Blanchard.
"I want to gives the judges bumph - and a Charleston to remember," said Erica as they took to the dance floor.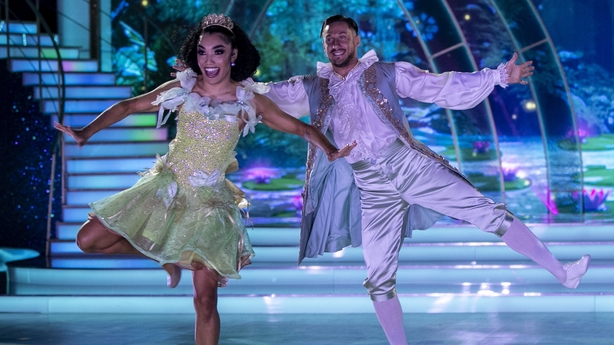 "That was incredible," Jennifer told Erica and Denys after - well - an incredible performance.
Judge Brian told them: "I enjoyed every single moment of it . . . You did it goofy, in the way a Charleston should be, but to still look beautiful doing it is something to behold. Just a Charleston masterclass. I loved it."
"I couldn't be happier," Erica told Nicky afterwards. The impressed judges gave them a total of - you guessed it - 30 points. Just as well it's the public vote that decides the result tonight!
After the break it was the turn of the only lad left in the contest, as Jordan Conroy and and Salome Chachua performed a Paso Doble to Paint it Black by Escala.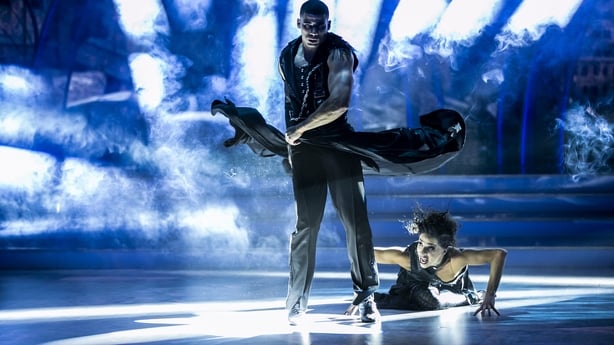 "I'm going to take this as re-match with my Paso Doble," said Jordan, "because I want to make that three 10s. It's on! Ding! Ding!"
The crowd went wild when the dance ended, and Jennifer said: "Everyone's on their feet!" But did the judges agree?
Judge Loraine gave them great praise. "I don't think I would ever tire of watching that," she said. "And I feel this dance totally sums you up, Jordan. Because it is intense . . . but there's a passion there that gives a softness too."
"I had a point to prove," Jordan told Nicky afterwards, while still gathering his breath. "And I left it all out there."
The judges awarded them 30 points, making it a full house for all four contestants after the Judges Choice round.
Can we take a moment for Jen and Nicky's INCRED outfits tonight! #DWTSIRL pic.twitter.com/sAKgItLYxf

— Entertainment on RTÉ (@RTE_Ents) March 27, 2022
And so it was on to the Show Dance section. First up were Ellen Keane and Stephen Vincent, who performed to I See Stars by The Shires.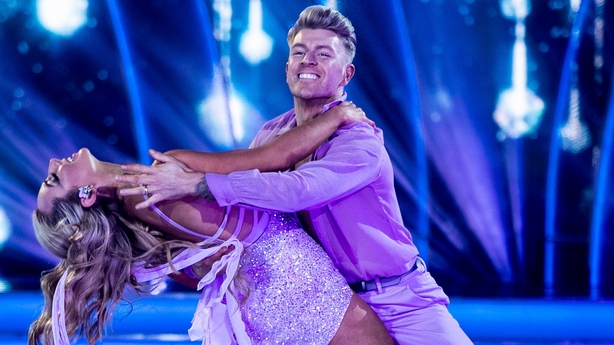 "I think it's going to be a really emotional dance," said Ellen. "It's kind of sad. Am I ever going to dance with Stephen again? So it's about embracing it and enjoying it, and showing people how far we've come."
After the dance, Judge Arthur said: "I'm sad watching you dance, because I just realised it's the last time I'll be watching you and everybody else in the competition.
"It's actually very emotional," he added. "That was so beautiful, so sensitive . . a stunning last dance."
Speaking to Nicky, Ellen admitted "It's so sad" that she danced her last dance with Stephen, but added: "I'm so glad we went out on a high."
The judges awarded them a total of 29, the first time on the night that someone didn't get a full house.
After the break, it was the turn of Nina Carberry and Pasquale La Rocca, who danced to If They Could See Me Now by Christina Applegate.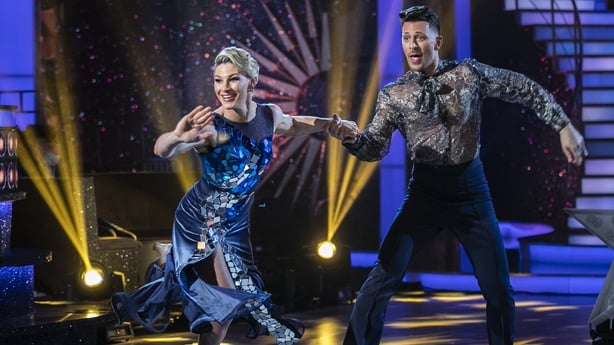 "I have definitely surprised myself," Nina said before she took to the floor. "It's going to be something that I will always remember."
"You had the judges on their feet," Jennifer said afterwards. "You were sensational"
Even Judge Brian was gushing in his praise. "It's not just you friends who can see you," he said. "It's the whole nation . . . you've absolutely knocked it out of the park!"
Talking to Nicky, Nina said: "You know yourself - you just hope everything goes well and I'm absolutely delighted. Well done, Pasquale," she added, patting her partner on the chest. "It was a brilliant choreography."
This time around, the judges awarded them a total of 29 points.
With just two dances left, next up were Erica-Cody and Denys Samson, who danced to Glitterball by Sigma featuring Ella Henderson.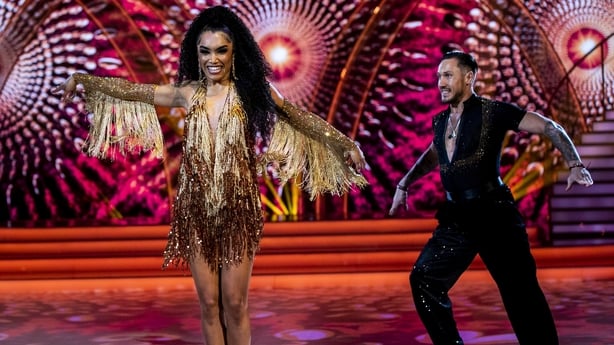 "It's been a really emotional experience for the both of us," said Erica before they took to the dance floor. "We just want the best for each other."
As they made it over to Jennifer, she praised the dancers. "I know you guys are emotional - but what a performance that was," she said. "Wasn't that incredible?"
Judge Arthur told Erica: "You are a born entertainer. I can tell how much this competition means to you. You come alive when you're dancing. Your presence, your demeanour have changed so much, you've blossomed into a superstar performer."
"Can you put it into words?" Nicky asked Erica afterwards. "I can't," she replied, trying to hold back her tears. "I can't thank Denys enough for everything he's done . . that dance is for his mam, and for my mam."
This time around the judges awarded them a total of 28 points.
Last - but not least - Jordan Conroy and Salome Chachua performed to Fire It Up by Outasight, in the final contestant dance of the night.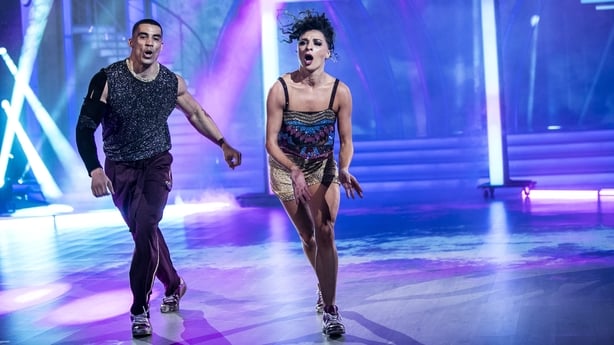 Before the dance, Jordan said: "As this is my last dance with Salome, I kind of get that sinking feeling in my stomach, knowing that I won't be seeing her every single day. She's an absolutely amazing person."
An impressed Jennifer said to Jordan: "That was sensational! How the hell did you that - with an injury." Jordan replied that he "wanted to go out with a bang" - and he certainly did.
"You absolutely took my breath away with everything you did there," Judge Loraine told Jordan. "And all I want to say is, I just wish I was a solo judge tonight."
"Are you sure you're not a professional dancer?" Nicky asked Jordan afterwards. "Honestly," Jordan replied, "it could not have gone any better. I put everything into it and I'm delighted."
The judges awarded them a total of 30 points. "A full house to finish off the dancing!' said Nicky, before the public vote opened.
And when the votes were counted, the winner was announced by Nicky: "Nina and Pasquale!"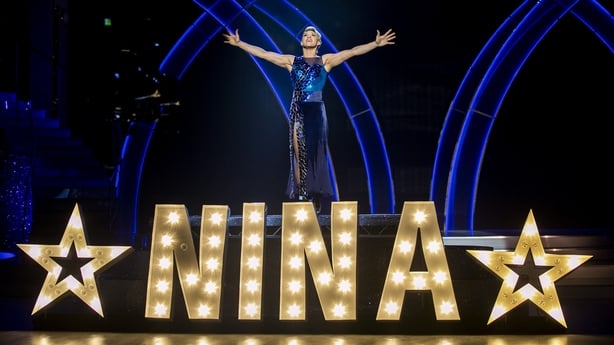 "It's hard to sum it up," Nina told Nicky. "This is an incredible show, and these are incredible too," she added, in a nod to her fellow finalists.
Pasquale hugged Nina and told her: "I just want to say, you are incredible. You are a dream woman. As I said before, I am very honoured and privileged to have danced with you."
Read more:
Nina Carberry crowned champion of Dancing with the Stars
In Pictures: The Dancing with the Stars Final
Catch up with Dancing with the Stars on RTÉ Player