Former Coronation Street star Dean Fagan continues to take centre stage in tonight's episode of family drama Smother as he fights to discover who really killed his father.
With the Ahern family still reeling from his sudden arrival and his claims to be the long-lost son of the late patriarch Denis, the mysterious and magnetic Finn becomes a real fly in the ointment as he works his way into the heart of the dysfunctional clan and forges alliances and sparks further paranoia among Val (Dervla Kirwan) and her warring daughters.
We need your consent to load this YouTube contentWe use YouTube to manage extra content that can set cookies on your device and collect data about your activity. Please review their details and accept them to load the content.Manage Preferences
As the family prepare for Calum's 16th birthday celebrations and the campaign of terror against the family escalates, they struggle to maintain a semblance of normality but the big question is - what is Finn's game?
His arrival has rocked Val's world. Still picking up the pieces after the death of Denis and the cover-up that followed, her carefully curated veneer of family harmony has been shaken once again when Finn turns up on her doorstep.
Abandoned to grow up in foster care in Britain, he wants to get to know his family, but his appearance coincides with what seems to be an orchestrated campaign against the family, as each of the Ahern daughters has their lives targeted and exposed.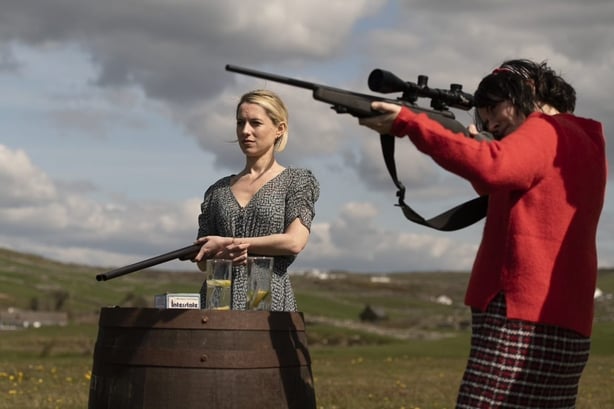 And Finn isn't wasting any time. For a start, he clearly has designs on Jenny (Niamh Walsh). "I think he's doing it to gain control, but his feelings for her might be taking over as it goes on and he doesn't know what to do with it," says 33-year-old Dean, who played mechanic Luke Britton on Coronation Street from 2014 to 2018.
"So that's the only part of his life he doesn't have control over so will he let that take over or will he try to control that too?"
Asked about being the newbie in the cast, he says, "There's always a pressure when you start a new job, but everybody made me feel really, really welcome and it didn't take me long to get involved."
Dean's character has already revealed a keen interest in guns and on tonight's show we get to see what a sharpshooter he really is when he takes part in a spot of firing practice at some watermelons during Calum's birthday bash.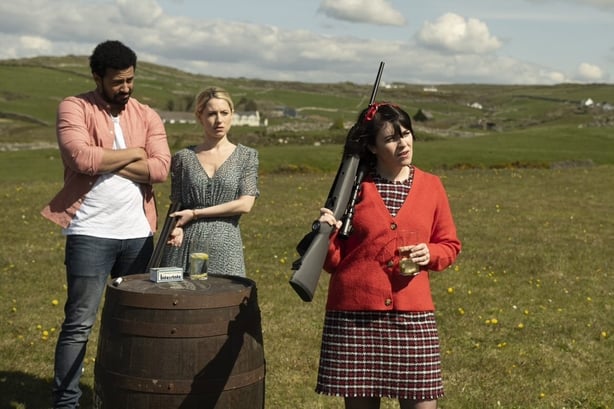 For Dean it was quite an experience. "We had a gun expert who came in and he showed us how to handle a gun and look confident while handling a gun because that's one of the biggest things. I took to it quite easy. It is a scary power. For me personally I don't like guns but I can understand why some people might like the power it gives you."
Jenny exchanges quite a meaningful look with Dean after he proves his prowess with a rifle, underlining once again that Smother is getting darker in tone as it progresses.
"The girls are really good with the guns because they've grown up with them," Niamh says of filming the scene. "I've never picked up a gun in my life so the look that gives Dean is one of surprise because she thinks he's going to be new at this. You can tell a lot from that one look. She didn't know that about him - what could that mean for the future?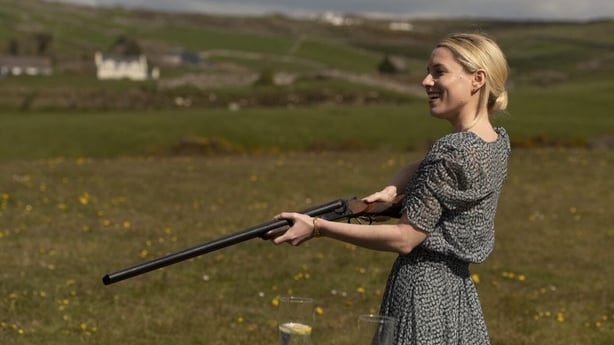 "I think series two is darker. We had a murder kick off season one and it was never going to get lighter!" she adds.
Tonight's episode further underlines how much of an unknown quantity Finn really is but working with guns really hit home following the recent tragedy on the set of the Alec Baldwin film Rust when cinematographer Halyna Hutchins was accidently killed during the filming of a shooting scene.
"When all that came out it was so near to the time we were filming those scenes," says Niamh. "There is a tendency among actors to perhaps make light of those scenes, but armourers are very serious people and they take what they do incredibly seriously and because it's all fake and because they're blanks, we never actually shot at the watermelon.
"The watermelon was rigged to explode," she adds. "There has been a tendency to think when you're working with guns, nothing really happens so the chill that ran through the industry after the Rust tragedy really hit hard. It really made us think we shut up and listen to all the safety procedures. The safety people were amazing."
As for last week's scene when Finn and the already fragile Calum (James O'Donoghue) bond during a sea swim, Dean says, "That day of filming was hard because it was so cold and hopefully that brought out the tension in the scene with all the shivering and shaking.
"Dean goes into the water to bring his adrenalin up so he thinks he's pushing Calum to see how far this boy is willing to go because they relate to each other quite a lot, they've got a lot of pain within themselves so he's just seeing how far he can push him."
That bracing dip in the Atlantic brings the half-brothers closer together as they both fight to find out how their father really died.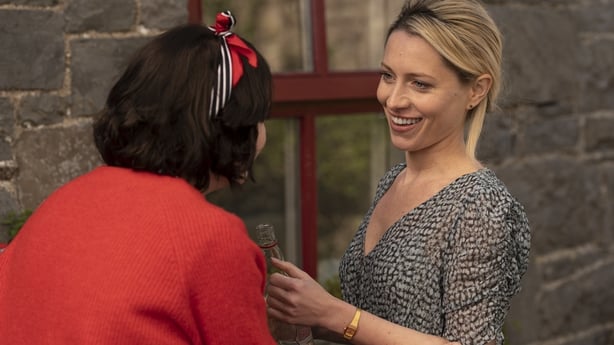 "They're working together, and Dean has brought Calum under his wing and he's being a paternal figure to him, but he may also have a hidden agenda to discover who killed his dad."
Dean has enjoyed swapping the cobblestones in Manchester for the beauty of Lahinch and he has visited Ireland before. "I was in Cork about ten years ago when I was a student," he says.
"A friend of mine's mum lives in a beautiful part of the countryside and I stayed for two or three days but it was a drinking holiday, I had a lot of Guinness so it's all a bit hazy!"
He also played a charity football game a couple of years ago in Dublin but with a surname like Fagan, does he have an Irish background?
"Hahaha. I've yet to discover where my name is from. It comes from my dad's side and he's of Caribbean descent. We're from Jamaica originally so we'll have to do one of those Who Do You Think You Are? specials."
Smother continues on Sundays on RTÉ One at 9.30pm