Bat Out of Hell star Meat Loaf has died at the age of 74 from an undisclosed illness.
The singer, who was born Marvin Lee Aday, passed away on Thursday night with his family by his side.
A family statement read: "Our hearts are broken to announce that the incomparable Meat Loaf passed away tonight with his wife Deborah by his side. Daughters Pearl and Amanda and close friends have been with him throughout the last 24 hours.
"His amazing career spanned 6 decades that saw him sell over 100 Million albums worldwide and star in over 65 movies, including "Fight Club", "Focus", "Rocky Horror Picture Show" and "Wayne's World."
"Bat Out of Hell" remains one of the top 10 selling albums of all time.
"We know how much he meant to so many of you and we truly appreciate all of the love and support as we move through this time of grief in losing such an inspiring artist and beautiful man.
"We thank you for your understanding of our need for privacy at this time.
"From his heart to your souls…don't ever stop rocking!"
Born in Dallas, Texas, Meat Loaf starred in the Los Angeles production of the 1960s musical Hair and fronted the bands Meat Loaf Soul and Floating Circus and the duo Stoney and Meat Loaf before achieving superstardom.
He secured his place in music history with his debut solo album, Bat Out of Hell. The 1977 record went on to sell more than 50 million copies around the world.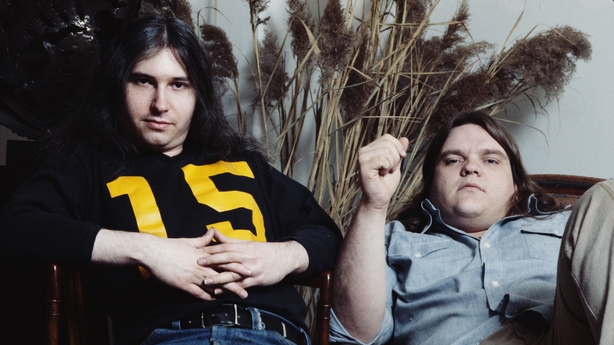 The album's composer, longtime Meat Loaf collaborator Jim Steinman, died last April.
After the success of Bat Out of Hell, Meat Loaf and Steinman worked together again on the 1981 follow-up, Dead Ringer.
Following a career downturn in the late 1980s, Meat Loaf made a triumphant return with 1993's Bat Out of Hell II: Back Into Hell, reuniting with Steinman and scoring the worldwide hit I'd Do Anything for Love.
They last worked together on Meat Loaf's final studio album, 2016's Braver Than We Are.
The Grammy winner played many concerts in Ireland over the decades, including Dalymount Park on 13 June 1982.
Promoter Pat Egan remembered a star who was very friendly, "who put his arm around me when he met me."
"The gig went well but I remember more the personality," Mr Egan said.
He recalled the bill Meat Loaf left behind after staying in a Dublin hotel.
"It was £1,300punt – an amazing amount of money to spend on room service - and when we looked at the bill it was all steaks and red wine… so you know, he enjoyed himself from that point of view," Mr Egan said.
"It was great that the Irish public got to see him."
Mr Egan said the fans always loved Meatloaf live, he was "an outrageous character on stage."
The Dalymount Park gig came ahead of later concerts around the country in smaller venues, during a time when Meat Loaf's career was stalled.
A comeback album brought him back into the mainstream and he was on the bill for the first Féile festival in Thurles, Co Tipperary in 1990.
His other film roles included Leap of Faith, Spiceworld: The Movie and Tenacious D in the Pick of Destiny. On the small screen, he had roles in the series The Equalizer, House and Glee, among many others.
Meat Loaf published his memoir, To Hell and Back: An Autobiography, in 1999.