Donegal country and Irish singer David James has released his new single, Take Your Time. We asked him the BIG questions . . .
22-year-old James is from Killea on the Donegal/Derry border has already had several hits on iTunes and has performed in front of Duke and Duchess of Sussex Lisburn. He also released a duet with Daniel O'Donnell last March.
We need your consent to load this YouTube contentWe use YouTube to manage extra content that can set cookies on your device and collect data about your activity. Please review their details and accept them to load the content.Manage Preferences
James' new track was written for him by Derek Ryan, and speaking about the song, the singer said, "I was delighted when Derek Ryan offered me this fantastic song.
"Take Your Time is a song that really resonated with me the first time I heard it. I guess it's an important message to a young up and coming singer like me not to rush things but simply to take your time."
Tell us three things about yourself?
I am from Donegal. I work as a radio presenter in Highland Radio presenting my show weekdays 2.30 to 5.00pm. I started Irish dancing at three years of age and continued to compete until I was 18!
How would you describe your music?
I would describe my music as country and Irish! In saying that I perform a wide variety of material from pop to folk ballads. I try and so something to suit everyone!
Who are your musical inspirations?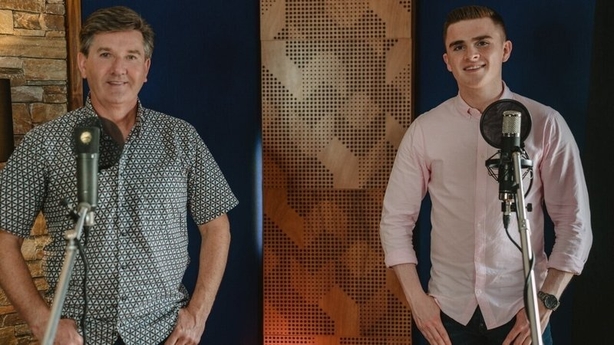 I find this a difficult question because there are so many. I love so many different genres of music. If I had to choose, I would say Vince Gill. I just think his voice is one of the best voices in music ever! He is such a humble man and I think there is a lot to be learnt from him. Also, I would have to say Daniel O'Donnell. He represents everything that is good about the Irish music scene. It was a dream come true to record with him back in January. Our duet Don't Take The Goodtimes for Granted was a major success so that's something I'll always look back on very fondly!
What was the first gig you ever went to and the first record you ever bought/downloaded?
The first gig that I recall actually going to was a Daniel O'Donnell concert in Letterkenny when I was 14. I was taken along by my godparents and ever since that night I was bitten by the showbiz bug. The first record I think I ever bought was actually from a band called Razorlight. It's actually quite random because their music has absolutely no relevance to the music that I perform now!
What's your favourite song right now?
Right now, with all the hype surrounding Garth Brooks coming back to Ireland my favourite song is currently Unanswered Prayers.
Favourite lyric of all time?
"Don't you sit upon the shoreline, And say you're satisfied, Choose to chance the rapids. And dare to dance that tide" - The River by Garth Brooks.
If you could only listen to one song for the rest of your life what would it be?
I think if I could only listen to one song for the rest of my life it would have to be something uplifting. With that in mind, I'm going to say Five O'Clock Somewhere by Alan Jackson and Jimmy Buffett.
Where can people find your music/more information?
People can find me on Facebook under David James Music and Instagram under David James official. I'm also on iTunes and Spotify and my website.