Irish music legend Christy Moore brought both tears and laughter to Friday's Late Late Show as he sang tracks from his new album which touched on topics such as climate change, politics, and one of the darkest eras in human history.
Joining host Ryan Tubridy in studio, the 76-year-old Kildare man talked about the background to his latest release, Flying Into Mystery, and the inspirations behind some of the new songs, including December 1942, a moving lament about the terrible events of The Holocaust, which was penned by Cork songwriter and artist Ricky Lynch.
"Music can be a healing balm for those who hear it a certain way"

The legendary @christymoore45 in studio tonight.#latelate pic.twitter.com/0XghKb8nGu

— The Late Late Show (@RTELateLateShow) November 19, 2021
And it turns out there was a nice touch of synchronicity involving Holocaust survivor Tomi Reichental behind the track.
"I met Tomi Reichental a few years ago," Christy said. "We were both in RTÉ doing different programmes and we met up and we had a chat. I was aware of Tomi and I was aware of his work and what he did.
"On the back of that meeting, Tomi sent me his book, I Was a Boy in Belsen, and because I had met him, I connected in a definite way with the horrors that were visited on the people in The Holocaust.
"And as I read the book, completely out of the blue, Ricky Lynch, the great Cork songwriter and artist, sent me this song and it was just amazing that the song arrived as I was reading the book and I just realised I had to sing the song."
Dear Listeners,
My new album "Flying Into Mystery" is out today on @SonyMusicIre & available here - https://t.co/JgIvtOUKB5
Also, I've been invited to play 3 songs from the album on the Late Late Show this evening (RTE 1 from 9.30 pm) - I hope you can tune in.
Thank You.
Christy pic.twitter.com/oxZ9sXa1pa

— Christy Moore (@christymoore45) November 19, 2021
85-year-old Mr Reichental, who is originally from what was then Czechoslovakia, and his wife, Joyce, were in the Late Late audience on Friday night and speaking about his friendship with Christy he said, "I met Christy for the first time in 2018 in Donnybrook when I was recording something and of course I recognised Christy and I knew Christy attended my film.
"But I never met him but when I saw him again, I introduced myself and since then miraculously we have become very good friends. He sent me his new album with a note, and it is so beautiful. When he sings the song, he gets the right words when he wants to express himself.
"He rang me a couple of months ago to ask me could he dedicate this song December 1942 to me, so I was overwhelmed," Mr Reichental added.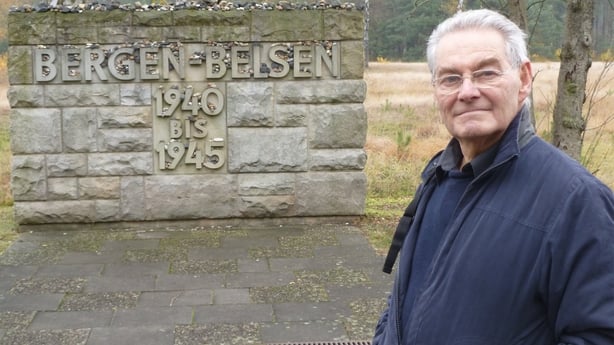 "He told me that he would he singing it in the Concert Hall, and he sent me the link and we actually saw the show and when he was playing the song, he told the audience he was dedicated the song to me.
"I was overwhelmed. One day I won't be here, but his song will be here forever. It is a great honour and to have Christy commemorate The Holocaust is a great honour."
Christy, who received a Lifetime Achievement Award at the RTÉ Folk Awards this week, also spoke about how he and his son Andy had played eight lockdown gigs online during the pandemic and he was now delighted to be back playing in front of live audiences.
We need your consent to load this YouTube contentWe use YouTube to manage extra content that can set cookies on your device and collect data about your activity. Please review their details and accept them to load the content.Manage Preferences
"The online shows got over a million views. It was lovely and that's what helped me get me through it. But it's fantastic to sit in front of listeners again," Christy said.
"The gigs in the Concert Hall were very special because I got myself prepared for the fact that the room was going to be empty and tried to focus on people out around the world sitting in their living rooms watching the box and after a couple of songs I forgot about the emptiness and could think about the distant listeners."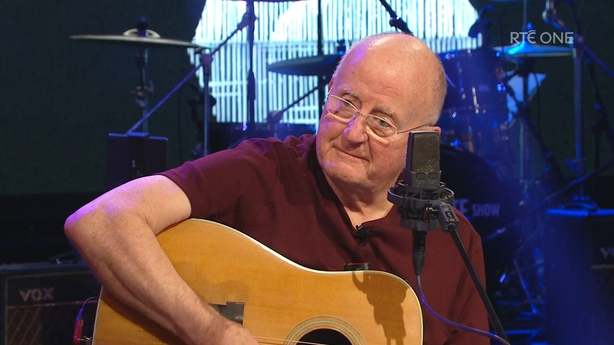 Christy recorded his new album, which also features songs by Paul Doran, Mick Hanly, Wally Page, Tom Tuohy, Gary Moore, and Christy himself, in The Sandymount Hotel, Dublin where the crew turned a conference centre into a working studio, while other work took place in Prosperous, Co Kildare, and in Derry City.
"Some songs came my way," he said. "Shortly after lockdown songs came my way that really helped sustain me and gave me something to focus on, learning them and arranging them and writing some bits and pieces of my own. I wrote some songs and revived some traditional ones and I think there are eight new songs on the new album."
One of those new tracks is Johnny Boy, which was written by the late guitarist Gary Moore.
"I remember he came to a Planxty gig in London in 1972 and he was intrigued by Liam O'Flynn's pipe playing and then I met him again in 2008," Christy recalled.
"His music was just very special, he was just a beautiful, soulful guitar player. I heard this song of his, Johnny Boy, and I just fell for it straight away."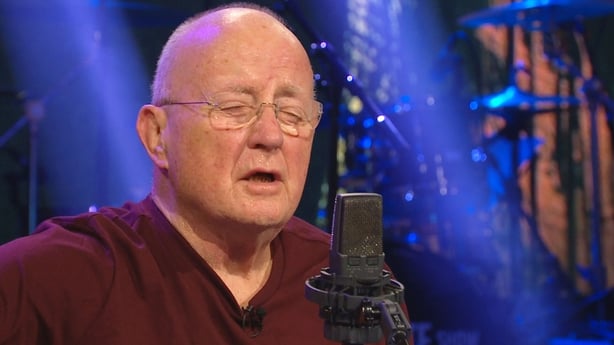 Christy also sang an updated version of live favourite Delirium Tremens on Friday's Late Late in which he namechecked Phil Hogan, Leo Varadkar, and Ian Paisley Jr but there was a more sombre moment ahead of his rendition of new song, eco anthem The Clock Winds Down, which was penned by Washington DC songwriter Jim Page, who first met Christy at the anti-nuclear power show at Carnsore Point in 1978.
David Rooney's artwork of Flying Into Mystery makes references to climate change and Christy, who has long been involved in political and ecological issues, said, "It's very frightening, it's a very frightening time. The realisation that we're at a point where it can go either way. Some people think we're at a point of no return, some people hope that we're not."
Alan Corr @CorrAlan2