The Taoiseach has said he accepts the need for clarity within the entertainment industry and has called on the sector to work with Government in the coming days.
Micheál Martin was speaking on RTÉ Six One News after the Government approved plans to reopen more parts of the economy, including live venues and nightclubs.
From Friday, for indoor live music, drama, live entertainment and sporting events, members of the audience and spectators should be fully seated with standing permitted at seats.
The continued use of masks, vaccine certificates and physical distancing measures will remain in place until February.
The Taoiseach said he understands that the timelines are short, but said the situation will be worked out as it had been for the hospitality during the summer.
He said society has been gradually and steadily reopened and this had been effective and successful by working closely with the sectors as they reopened.
Mr Martin said NPHET's advice is that the key protective measure is the vaccination certificate should be used everywhere and where appropriate, other measures such as mask wearing should be used.
He said the Government appreciates that people have made plans and it wants to engage with the industry and work it out.
Earlier Mr Martin said there will be sector-specific advice coming in relation to mask-wearing, social distancing and ventilation measures "where appropriate".
Taoiseach @MichealMartinTD sums up the Government's message on #Covid19 in three requests: Wear a mask when meeting indoors; if you run a business, enforce the Covid pass; and if you are not vaccinated, get a vaccine | Live blog: https://t.co/1KXaEKIvBP pic.twitter.com/uGDmF6feEo

— RTÉ News (@rtenews) October 19, 2021
Speaking at Dublin Castle this afternoon, the Taoiseach said NPHET's view is that with the protective measures in place, nightclubs can open, but with collective behaviour.
Guidance will be coming, but he said "people will be able to dance in a nightclub, of course".
The Taoiseach said there will not be a capacity limit in terms of outdoor events and that in relation to indoor musical events, it is not one clear line across every sector.
He stressed that there has to be ongoing vigilance around the virus and everyone has to enforce and respect the rules.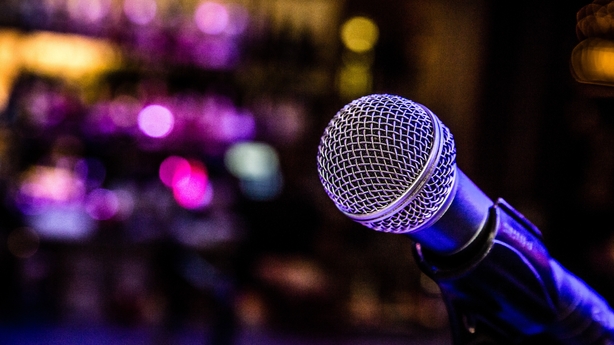 The Government's revised reopening plan also includes the return of normal trading hours in bars and restaurants, but it is still table service only with a maximum of ten adults at a table.
Again, these premises, live venues and nightclubs will only be open to those with a digital certificate.
Antigen testing will also play a bigger role in this phase of reopening.
The Taoiseach said the message is clear - if you are indoors with other people wear a mask; if you are running a business that brings people indoors, check for a vaccine cert and if you are not vaccinated or not fully vaccinated, please get a vaccine.
---
Read more: Latest coroanvirus stories
---
Speaking on RTÉ News at One, Minister for Health Stephen Donnelly said nightclubs are "an anomaly" and he understands that people will question why they can dance in a nightclub but not necessarily at a live venue.
He said the detailed specifics will be worked out in the coming days.
The musician James Vincent McMorrow was among those questioning the logic of the Government announcement.
On the fact that dancing will be allowed in nightclubs but not at live gigs, he tweeted: "In a country where I've gotten so used 2 so many of the rules regarding my industry making little sense & feeling wildly arbitrary, this one definitely takes it."
He called some of comments made by politicians on nightclubs "bonkers".
The Social Democrats' co-leader, Catherine Murphy, said: "The announcement today on the lifting of the restrictions was yet another startling display of confusion, incoherence and chaos.
"With just three days to go before many businesses, which have been closed for nearly two years, are due to open, the rules are being rewritten.
"We all accept that the rates of Covid transmission can surge very quickly and can be unpredictable.
"Businesses have been given absolutely no guidance on the manner in which they can improve ventilation and make their businesses safer.
"Nightclubs and music venues are going to get advice on how they can open their business at the last possible moment.
"We're told, for example, you can dance at nightclubs but you can't go to the bar for a drink, it's very confusing - you could probably dance to the bar."
Angela Dorgan, CEO of First Music Contact, said she is "devastated" by the confusion for live venues in the Government's reopening plan.
She said they can't make "head nor tail" of it as she expressed frustration that nightclubs will be allowed to operate with fewer constraints while live venues can't operate to 100% capacity.
She said small live venues can't continue to work competitively in Europe with the restrictions around seating and it is ultimately losing out.
She warned that musicians, venues and promoters will "go to the wall" because of this.
"If you are in a venue at a gig you can't dance on the dancefloor. It is not funny. It is going to have a devastating effect reputationally on Ireland."
She said the Department of Arts is looking for clarity by tomorrow but she said for now it is "utter confusion" for those in the industry, two days away from the new measures taking effect.
Ian Redmond, owner of Tramline nightclub said they are elated they can reopen after 590 days of closure but that they empathise with those in the live music sector.
He said it is horrifying the turmoil that live venues will face with the decisions being taken.
He said his club will have 900 people coming in on Friday and Saturday night.