Friends in real life for two decades, Colin Firth and Stanley Tucci's chemistry off-screen ensures that they strike gold on it in Supernova, the beautiful new film from writer-director Harry Macqueen.
It's the story of a couple living with the devastating diagnosis of early-onset dementia - Macqueen working with specialists at University College London and charitable foundation The Wellcome Trust to make his drama as accurate as possible.
Below, the filmmaker talks about how Supernova has changed his life, and how he hopes it will help others.
We need your consent to load this YouTube contentWe use YouTube to manage extra content that can set cookies on your device and collect data about your activity. Please review their details and accept them to load the content.Manage Preferences
I had a lot of preconceptions about what dementia is and how it affects people before I started the research. Almost all of those were completely untrue.
I think one of the things about the research process for me was being constantly surprised by not only dementia itself and the many, many, many forms of it and how they affect the person - it's so, so different person to person and type of condition to type of condition - but also how people live with it. I think it's inspiring stuff to meet people who are living with this kind of situation. That sort of informed my focus, really. It was really about how love changes and how love is forced to evolve in a different way when you're caring for someone that's ill in this way.
I think - naturally - when you're making a film about difficult, complex issues like this, you can be very melodramatic about it.
What I found was that that's often not the situation that I experienced doing my research. The melodrama doesn't happen much in those big moments; it's more just a constant drama, a constant, low-level background drama. That's really what I wanted to explore with this - the subtlety and the nuance of the relationship. But it's also a relationship that is really positive and empowering and fun - I think that's a big part of the film as well.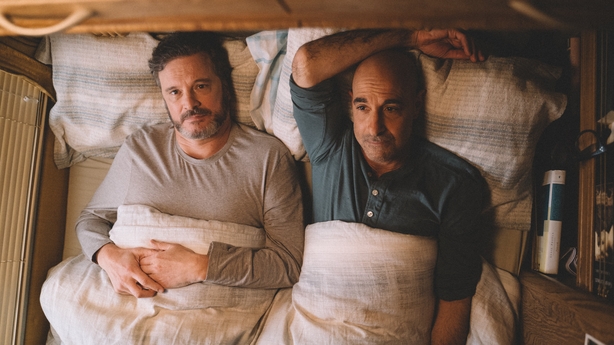 I met so many people doing my research that some of them inevitably were very religious and others the polar opposite of that.
I think I actually tried to make something that sort of met those experiences in the middle. I think how we deal with the notion of death and life, indeed, is a very personal one. There are so many different ways of representing it.
It felt a bit like fate getting Colin Firth and Stanley Tucci together to make the film.
I think a bit of fate always comes into it. I think we [also] got really lucky. Colin and Stanley are two people that, as you can imagine, get sent a lot of film scripts and a lot of projects come their way. I do think there was really something unique about this that instantly drew them to it. They really loved the characters; they really loved the subtlety of the story and the way it was written - happily! And so, they just responded to the fact that it was a film that was trying to do some important work and trying to tackle some important issues, as well as being a relationship drama.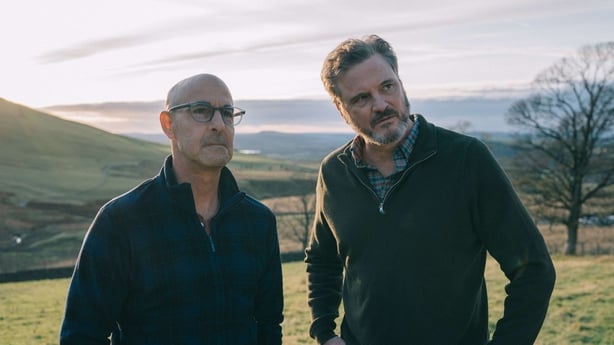 It didn't surprise me how good they were, but it was quite amazing to watch that day on day.
What's surprising, I suppose, is how quickly actors of that calibre can turn it on, can really get into those places. It is inspiring to watch when you're there. And also, not that this was necessarily a surprise, but I obviously didn't know them before we made the film - they're both just really nice people. That's always a good thing! They're really fun people and their relationship is very fun. There are times where it is a sort of marriage!
It was always a really nice set to be around, but it was quite often a hilarious set to be around.
We were all quite a fun group of people - Colin and Stanley, obviously, are that too. But, there were also times when it necessitated a different way of being. You know, the bigger scenes towards the end of the film, for instance. We really had to get the atmosphere right on set to be able to pull those off because they're very difficult to shoot - for everyone. There were times when it was very, very sad and moving, but I think that's because we all knew we were doing something that was powerful.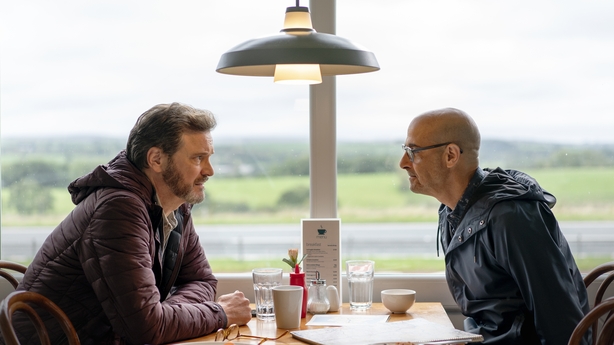 I think public opinion of end-of-life choices and the conversation around assisted dying has moved massively in the last 10 years.
We're trying to use the film to further that conversation in a way. Of course, it's not for me to say what anyone should do if they're in that situation. I absolutely couldn't, and I hope the film doesn't, either. It's open-ended for a reason because there's no easy answer when you're faced with that. But what I do believe is that we should be in a position in the UK where people are allowed to make an informed choice about that and not have to lie to the people that are close to them because of the state of the law. I don't think that's right at all.
I've made a lot of new relationships making the film and doing the research.
I've met so many people and have become really close with a lot of people who are going through this kind of situation. That's life-changing, really. It changes the way you value friendships and love and it changes the way you think about getting old and being ill. I think those are all really positive things, as challenging as they are sometimes.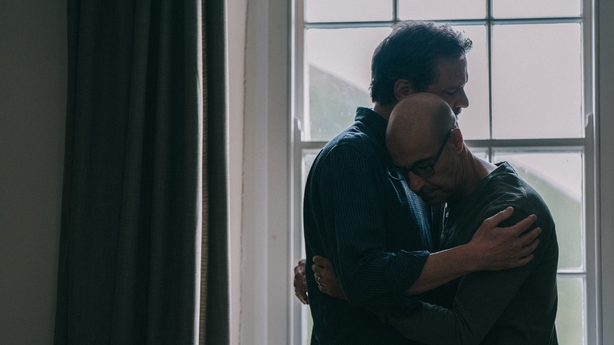 It feels incredible for the film to be out in cinemas now.
I think it's really important for a film like this to be in cinemas. For all of the obvious reasons, but also because it's a conversation, this film, hopefully. To have that conversation with strangers in a room, have that collective experience is really important. I hope the film educates people and also inspires people. For me, it's really a romantic, life-affirming film about a very difficult subject. I really hope that that comes across when people watch it. I definitely feel it's got a very different resonance now, and I think that's quite special. We've all been thinking about what's important in our lives and the people that are important to us and, of course, mortality. We've been forced to do that for the last 18 months in a way that we never had to before in our lives. I think to watch a couple onscreen go through a very similar thing - as kind of beautifully and subtlely as Colin and Stanely as the characters do in this film - I think that's going to be a really special, singular moment.
If you have been affected by issues raised in this story, please visit: www.rte.ie/support.