Aslan's Christy Dignam once again displayed his national treasure status on RTÉ One's Today on Friday as he shared the wisdom that gets him through the day: "There's always somebody worse off than you are."
During the pandemic, the singer has been forced to deal with the passing of his father, Christy Dignam Senior; the threat posed to his own serious health issues by Covid-19, and the loss of his livelihood.
Dignam has amyloidosis - the build-up of an abnormal protein in tissues and organs - and receives chemotherapy. His father died last May after contracting Covid-19.
When the frontman joined hosts Maura Derrane and Dáithí Ó Sé on the final show of the current season of Today on Friday, he was asked: "How do you keep coming on TV with us every time with a big smile on your face?"
"When you've got a condition like I have... I go in every Tuesday to get me chemo, so you're in a room with maybe 14 different people and they're all having chemo," Dignam replied.
"You'll always see people that are worse off than you, or you'll go in someday and you'll say, 'Where's Marian?' or 'Where is John?' and the nurse will say they passed away during the week.
"So, there's always somebody worse off than you are, you know? So, I'm just happy to be able to... Once you get your feet on the ground in the morning, you do be happy. Like, every morning I wake up, I kind of think, 'Geez, that's another day - lovely!'"
"Like, I had a birthday on Sunday - I was 61 on Sunday," he continued. "Like, I didn't think I'd even see that birthday. So, when you've things like that, how could you not be positive?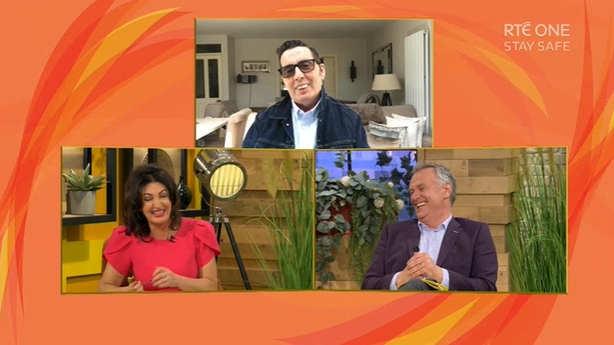 "I've been vaccinated. I had me first vaccination of the AstraZeneca. Hopefully, we'll be able to get down to Cork before the end of the year and we'll drop in and say hello."
"Just a quick one before I go," Dignam added.
"I was coming home from chemo on Tuesday, right? And Kathryn [wife] said, 'I have to go to Lidl's'.
"I went into Lidl's and I was like a child walking around - just going to Lidl's! I was buying screwdrivers and pliers, stuff that I don't even need! But it was just to get out of the house - amazing!"
Today will be back on RTÉ One in September.