Formerly of now defunct Dublin indie-rock quintet Spies, Neil Dexter has released his debut single, Loving You. We asked him the BIG questions . . .
Speaking about launching his solo career, Dexter, who also plays with Tandem Felix and Royal Yellow, says: "A lot of what I've worked on in the past has been collaborative. You give a lot of yourself to whatever you're doing in that situation, but ultimately the responsibility is shared among your bandmates.
We need your consent to load this Spotify contentWe use Spotify to manage extra content that can set cookies on your device and collect data about your activity. Please review their details and accept them to load the content.Manage Preferences
"Whereas, over the last few years I've been learning how to write and find my voice in my song writing. In some ways, there's less pressure to make music in this context. I entered the studio with some goals and had a lot of fun messing around with arrangements in the process of reaching the finishing line with a song."
Speaking about Loving You, he adds, "A lot of the themes across my song-writing lean towards introspective self-reflection. With this song, I was thinking a lot about how we become so overwhelmed by daily stresses we struggle to enjoy the simplicity of a particular moment.
"This is especially relevant within relationships. Loving You explores the guilt that often comes from not being more present for your partner and also, a guilt for being too hard on your past self. It's me trying to remind myself not to let my worries get in the way of appreciating the wonderful people around me."
Tell us three things about yourself?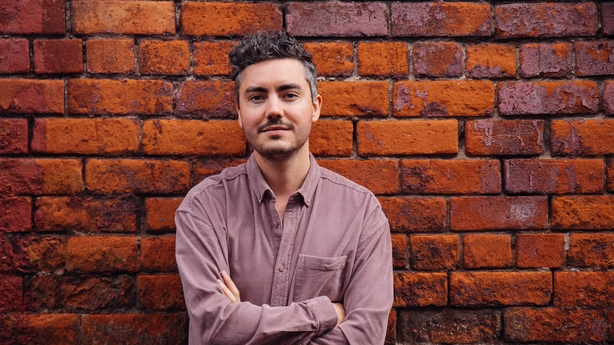 My musical career began as a boy soprano in St. Patrick's Cathedral. I'm the middle child of seven kids from a very musical family (basically the Irish von Trapps). My two loves in life are my little black kittens called Winnie and Boo.
How would you describe your music?
Varied. I've played music in bands for years, but this is the first time I've written and recorded my own material. What's happened is a Frankenstein amalgamation of all the things I love put into the songs. Think New Wave, think Madonna Ray of Light meets Achtung Baby era U2, Italo disco meets the Blue Nile, The Beach Boys go surfin' with MBV, and Brian Ferry hanging out with David Bowie and Robert Wyatt.
Who are your musical inspirations?
Peter Gabriel. It's 35 years since So - what a record. Arthur Russell, Björk, Scott Walker, Elliott Smith, Yo La Tengo, Hiroshi Yoshimura, Perfume Genius, Westerman, Radiohead, Robert Wyatt, The Cure, Bowie, Mark Hollis, Fela Kuti, Prefab Sprout, Roxy Music, The Beatles, and many more
What are you most looking forward to post-lockdown?
Live shows! Tickets booked for Anna B Savage and Villagers later this year.
What's your favourite song right now?
The Zodiac Speaking by Was Man, the moniker for my friend Warren, who also sings in Let's Set Sail. His latest single has been on repeat. It's a beautiful track.
Favourite lyric of all time?
Into My Arms by Nick Cave. "I don't believe in an interventionist God/But I know, darling, that you do/But if I did I would kneel down and ask Him/Not to intervene when it came to you'. It doesn't get much better than that for a love song.
If you could only listen to one song for the rest of your life, what would it be?
More Than This by Roxy Music, just so every time it plays, I can sing Sweet Caroline to myself during the verses.
Where can people find your music/more information?
You can follow @neildextermusic on Instagram and Twitter. You'll find my debut single Loving You on all streaming platforms as well. I also have a website.