Ireland's Eurovision hopeful Lesley Roy has said fans need the Eurovision now more than ever after the events of the past year.
The Dublin singer was chosen to represent Ireland in last year's song contest which was cancelled due to the Covid-19 pandemic. Fourteen months later, she is finally gearing up to take to the Eurovision stage in Rotterdam, representing Ireland in Tuesday's first semi-final with her anthemic new song Maps.
Speaking to RTÉ Entertainment, the 34-year-old singer-songwriter agreed wholeheartedly when asked if fans need the spectacle of the Eurovision now more than ever.
"Yes!", she said animatedly. "I think this is one of the most important music shows that will happen this year. I really think people need the light, the fun, the entertainment."
Lesley and her team have devised a staging idea that has never been done before to the Eurovision to compliment her performance.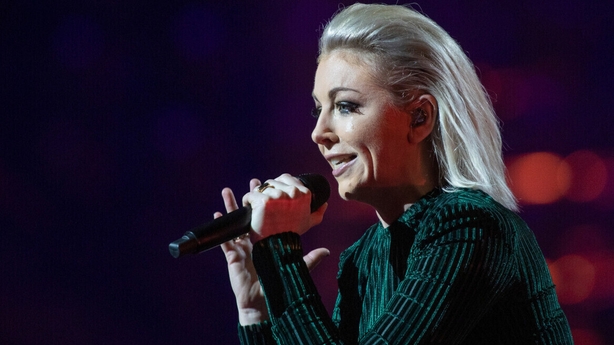 "My staging is very much built and geared and created for people sitting at home watching on TV", she explained. "We knew working on the staging that there was more than likely going to be nobody in the audience, so let's use that to our advantage and let's create something that will move people at home.
"We didn't want to do 12 foot high pyro explosions because I don't know if that's what I wanted to portray with Maps. It works for some songs but I wanted to make it something very different for the people at home."
The singer said they've created "a paper, fairytale fantasy world" on stage that she journeys through to "get back to my true self at the end".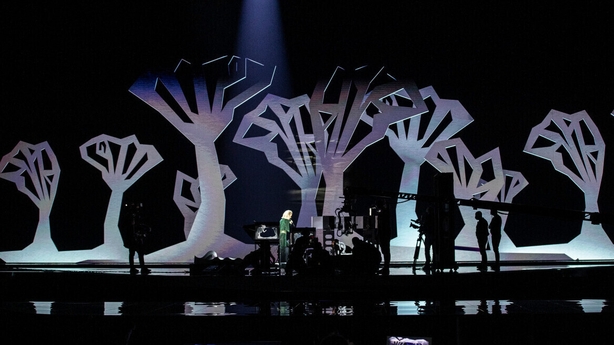 As well as two treadmills and a moving mirror, Lesley will be accompanied on stage by dancers Ingrid and Malin. They won't be doing a dance routine for the performance, but will be hand controlling the props on stage.
It's an ambitious plan that relies on the precision of all the performers and the production crew. After the success of the second rehearsal which saw everything start to "really come together", Lesley's excitement is building.
"The final nail in all of this is us going out there next week and having fun with it", she said. "After so many months of work it is coming together and we're all feeling great."
We need your consent to load this Instagram contentWe use Instagram to manage extra content that can set cookies on your device and collect data about your activity. Please review their details and accept them to load the content.Manage Preferences
When Story Of My Life was selected as Ireland's Eurovision entry for 2020, no one could have predicted what would follow. Despite the challenges of the past year, Lesley feels lucky with how everything has turned out.
"There was no way of knowing that after Story got selected that the world was going to go the way it went, but in a very weird way it's all kind of come together in a nice, creative finish," she said.
"Without the cancellation and without Story of My Life I never would have created Maps, I never would have built this team and we never would have gotten the opportunity to do something so unique. In a strange way it's turning out pretty good so I'm very fortunate in that."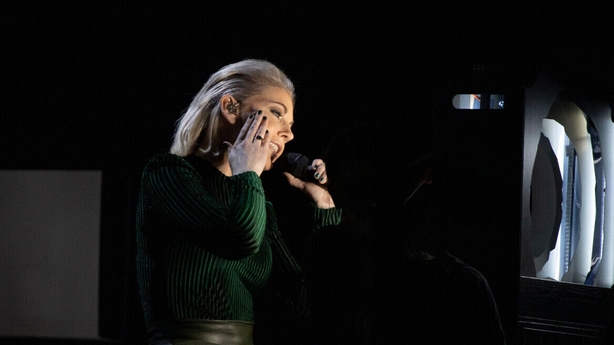 Maps, which came to Lesley in a "lightbulb moment" after months of feeling creatively exhausted, is about "getting back to your true sense of self". She thinks the message has really connected with listeners.
"I think because of the year we've been in, we've been forced to look inward about who we are, to look in the mirror in a different way," she noted. "There's nowhere else we could have gone, we have to look at ourselves and say 'who have I become over the past four or five years? Where am I going? Where do I want to go?'"
The singer said her own self-reflection led her to realise she has been "missing who I was, and what I want to get back to".
Lesley and Lauren, her wife of 13 years, normally live in New York but the couple moved back to Ireland to prepare for the Eurovision.
We need your consent to load this Instagram contentWe use Instagram to manage extra content that can set cookies on your device and collect data about your activity. Please review their details and accept them to load the content.Manage Preferences
The songwriter described her wife as "am absolute star" and said she "wouldn't have been able to do this whole thing without her.
"She's so supportive, and it helps that she's a therapist, not that she's supposed to do therapy with me, but it definitely helps because when I am freaking out or worried about some of the small details she really helps," she said.
Despite the strangeness of the current times, the singer said she was glad to be back in her home country.
"It would have been lovely to be home after so many years and to experience being 'home home' instead of just being in the apartment, but I do think even though we've been in lockdown, it was nice to be back in Balbriggan and be there experiencing such a weird time with everybody, instead of experiencing it in a different country," she said.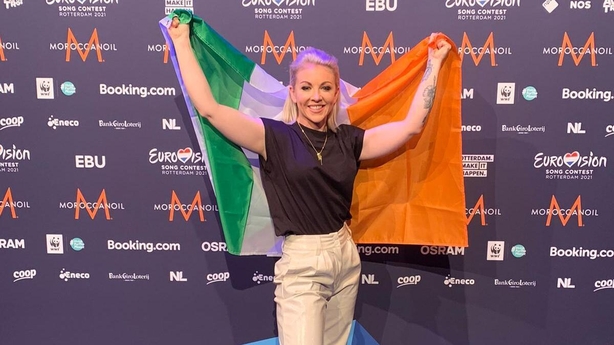 The singer said her decision to enter the Eurovision was partly rooted in wanting to bring her career back home.
"I definitely want to perform more in Ireland and one of the reasons [to do the Eurovision] was to come back with a bang."
She added: "I'd love to transition, if I can, more so into presenting and into the television side of things… That's my next chapter that I'd love to look at and maybe create some sort of culture and music show."
Lesley Roy will represent Ireland performing Maps at the Eurovision Semi-Final on May 18. The programme will air live on RTÉ2, RTÉ Radio 1 and the RTÉ Player.
The Eurovision Song Contest Grand Final takes place on Saturday, May 22 at 8pm. You can watch it on RTÉ One and RTÉ Player.