Morrissey has issued a strongly worded statement which claims he was portrayed as an overweight racist on the latest episode of The Simpsons.
In Panic On The Streets Of Springfield, which aired in the US last night, The Smiths singer is parodied as Quilloughby, front man of "The Snuffs", an imaginary friend of Lisa Simpson's with a quiff, a strict vegan diet, and a dim view of foreigners.
The character was voiced by Benedict Cumberbatch and a series of 80s-inspired songs were written by Flight Of The Conchords' Bret McKenzie for the episode.
I feel bad for the other Snuffs. But on some level they knew this might happen, though. @TheSimpsons pic.twitter.com/G59RYT6l2B

— Matt Selman (@mattselman) April 19, 2021
In the episode, Lisa's attends a concert for the band featuring an older version of the Quilloughby character who said he now ate meat because veganism "was invented by foreigners, of whom there are far too many on this planet".
However, a statement on Morrissey's official Facebook page after the episode aired in the US claimed the show had used "hateful tactics" in its portrayal while also taking swipes at The Simpsons lack of quality control.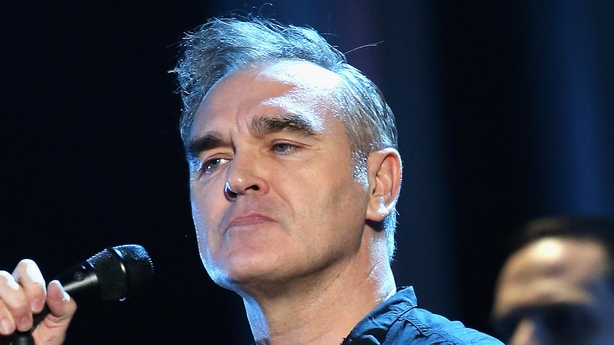 "Surprising what a 'turn for the worst' the writing for The Simpson's (sic) tv show has taken in recent years," the statement said.
"Sadly, The Simpson's show started out creating great insight into the modern cultural experience but has since degenerated to trying to capitalize on cheap controversy and expounding on vicious rumors.
"Poking fun at subjects is one thing. Other shows like SNL still do a great job at finding ways to inspire great satire.
"But when a show stoops so low to use harshly hateful tactics like showing the Morrissey character with his belly hanging out of his shirt (when he has never looked like that at any point in his career) makes you wonder who the real hurtful, racist group is here."
The statement also criticised the show for portraying the "Morrissey character" as "a racist, without pointing out any specific instances".
Referencing the events of the episode, the message said: "Morrissey has never made a 'cash grab', hasn't sued any people for their attacks, has never stopped performing great shows, and is still a serious vegan and strong supporter for animal rights."
I think Quilloughby is only Lisa's second or third imaginary friend @TheSimpsons pic.twitter.com/6HuHumaFpa

— Matt Selman (@mattselman) April 19, 2021
It added: "Truly they are the only ones who have stopped creating and have instead turned unapologetically hurtful and racist."
The former Smiths singer, who has been a solo artist since 1988, has previously expressed his support for far-right political party For Britain, wearing a badge with its logo in a 2019 TV appearance.
Responding to a suggestion the same year that the party's leader, Dublin-born Anne Marie Waters, could be considered racist, Morrissey replied, "everyone ultimately prefers their own race".
The Facebook post also referenced the apology voice actor Hank Azaria made last week for voicing Indian shopkeeper Apu for 30 years on The Simpsons.
"Simpson's actor Hank Azaria's recent apology to the whole country of India for his role in upholding 'structural racism' says it all," it said.
Tim Long, who wrote the latest episode of the long-running cartoon series, said that as well as Morrissey, Quilloughby was also inspired by The Cure singer Robert Smith and Joy Division's Ian Curtis.
Morrissey was reported to have previously turned down an appearance in a 2003 episode of the show entitled The Regina Monologues, which saw Homer and family visit Britain. The episode featured guest appearances from then-British Prime Minister Tony Blair and Harry Potter author J.K. Rowling.