Aidan Turner has spoken about his instant sex symbol status following his near iconic shirtless scene in BBC drama Poldark, saying "it didn't seem to represent me".
In a scene that out-smouldered Colin Firth's wet tunic appearance in Pride and Prejudice back in the nineties, a topless Turner was pictured working in the fields wielding a scythe in the historical drama.
It set hearts a flutter and led to rumours that the Dubliner would take over from Daniel Craig as the next James Bond.
We need your consent to load this YouTube contentWe use YouTube to manage extra content that can set cookies on your device and collect data about your activity. Please review their details and accept them to load the content.Manage Preferences
Speaking to the Irish Times, Turner said, "It was hard. You have a nice conversation with a journalist about it. It would just be thrown in and you think: oh, that's fine; it's nothing. We go on to talk about the show and different work I've done.
"Then that headline will come out on the piece. And it would just be weird. Then they would show that photograph. Yeah. It took away from the work. It didn't seem to represent me. It didn't seem very fair. I'll have the conversation, but to lead on that in a newspaper or magazine always felt unfair.
"There was a slight feeling of guilt about all that," added. "I just wish it wasn't focused on that. But, you know, people will follow what they follow. I am not in control of that."
37-year-old Turner, who recently married American actor and filmmaker Caitlin FitzGerald, also revealed that he was able to return to Ireland at the beginning of the first lockdown in March last year.
"I finished shooting at the beginning of March. We cut the shooting in half. I went back from March to June," he said. "I was in Dublin for that, which was great.
"I was in a bubble with my parents. And that was brilliant. And then after that, we went back and finished the series for the summer in Rome. So, it was a very different thing."
Turner stars as Leonardo da Vinci in Amazon Prime's new series, Leonardo, which streams on the service from April 16th.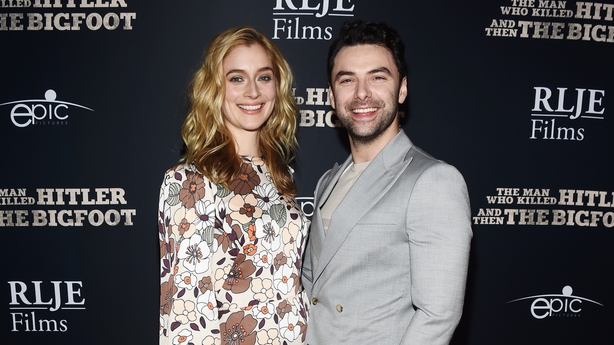 He said that the new drama was filmed under very strict Covid guidelines. "Everyone was wearing masks and hazmat suits. You're sectioned off. Everyone has their own green room. Yeah. You're not talking to actors before takes.
He added, "It's a very different thing. The crew get called in at different times to set up. There are all these things you miss when they're gone - just for creativity. Talking to the actors and the director and the producers about how things are going has all gone. The social element is out the window."
Turner, who attended the Gaiety School of Acting, has starred in Martin McDonagh play, The Lieutenant of Inishmore, BBC drama Being Human, and he played Kíli in Peter Jackson's Hobbit trilogy.
As well as Leonardo, he plays St Andrew in Terrence Malick's upcoming The Way of the Wind, opposite, Géza Röhrig is Jesus Christ, and Mark Rylance is Satan.
Leonardo streams on Amazon Prime from April 16th.