The death has been announced of the author and playwright Lee Dunne at the age of 86.
Among his best known work is RTÉ Radio 1 drama series Harbour Hotel, and books such as Goodbye To The Hill, which was made into a film.
Dunne wrote 2,000 radio scripts and plays for RTÉ, including Harbour Hotel, which was set in the fishing village of Kilmahon, and Convenience Corner.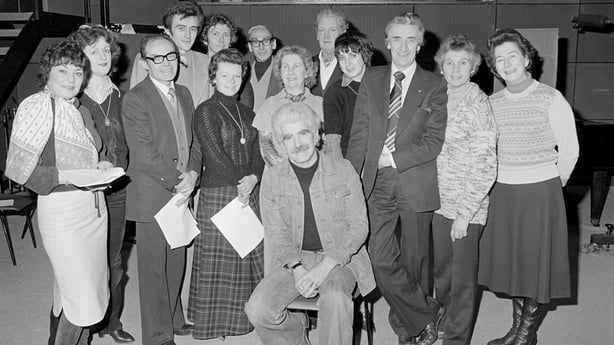 His best known book, Goodbye to the Hill, was published in 1965. A fictionalised account of growing up in Ranelagh, Dublin, it went on to sell over a million copies.
Dunne fought the censorship of his work Paddy Maguire is Dead, a book about alcoholism, in court, where he was represented by future President of Ireland Mary Robinson, but he was unsuccessful in his appeal against the Censorship Board.
Asked in an interview with the Bray People in 2004 how he would like to be remembered as a writer, he said: "I'd like it, if people thought that I was true to the spirit of Dublin in my work, that I told a good anecdote, and that I gave good value for money.
"Life, is a magnificent gift. Who needs drink when you have perspective?"
He is survived by his wife Maura, three children, and grandchildren.
Tributes have been paid to the writer on social media:
"Author" barely covers Lee - showman, impresario, hustler need to be in the mix too. His legendary self-produced run of Goodbye To The Hill at the Regency Hotel in the 1980s - two years and ten months - is an object lesson to any aspiring playwright. https://t.co/uCfMTztspf

— Jonathan White (@liffeystynx) April 11, 2021
Condolences to the family and friends of the great Lee Dunne who has died. 'Goodbye to the Hill' and many radio dramas to his credit. A sad loss.

— Mal-Paull (@MalWolf2) April 11, 2021
I'm deeply saddened to hear of the passing of one of Lee Dunne a gifted writer. I knew him well and indeed he was great friends with my mum. He offered great advice to me too during my career
RIP Lee I'll always remember you...
Thoughts with his wife Maura and family pic.twitter.com/rbeo3M2I0a

— David Baker (@davidbakerdj) April 11, 2021
Very sorry to hear of Lee Dunne's death. Hugely talented literary figure. Saw one of his plays in the Eblana many years ago. He was there himself that night.

— Michael O'Regan (@Michael_O_Regan) April 11, 2021
Rte archives have some good footage on Lee Dunne. His childhood up bringing in Ranelagh was a world away from the manicured Ranelagh of today

— Cathal O'Donoghue (@donoghue_cathal) April 11, 2021
Goodbye to the Hill is seminal classic & deserves to be on Leaving Cert curriculum. I published 2 of his books when I ran my own publishing co, Paddy Maguire is Dead & My Middle Name... Lee Dunne was one of the nicest people I've met on this journey called life...

— ?????????? ??'?????????? (@jasonotoolereal) April 11, 2021
Lee Dunne's book "Goodbye to the Hill" was about coming from the deprived Mount Pleasant Buildings of Ranelagh; there's a piece at @chtmdublin about the area: https://t.co/FPXPJHY79S

— Pól Ó Maoldhomhnaigh (@oceanclub) April 11, 2021