Five-time Oscar and six-time BAFTA nominated movie Promising Young Woman will debut on Sky Cinema and streaming service NOW from April 16th.
The acclaimed movie, which has had its cinema release delayed by the pandemic several times, has become one of the most talked about movies of the year for the forthright way it tackles the subject of violence against women.
We need your consent to load this YouTube contentWe use YouTube to manage extra content that can set cookies on your device and collect data about your activity. Please review their details and accept them to load the content.Manage Preferences
Written and directed by Killing Eve creator Emerald Fennell, Promising Young Woman is a genre-bending mix of rom-con, revenge flick and psychological thriller starring Carey Mulligan as Cassie, a gifted former student in LA who drops out of medical school after her best friend is sexually assaulted and dies at the hands of a group of drunken frat boys.
Carey Mulligan is out for revenge in Promising Young Woman
Let down by the authorities, a now listless and lost Cassie holds down a dead-end job and lives at home with her concerned parents but by night she seeks vengeance for Nina's cruel death by hitting nightclubs and bars and exposing and shaming men for their predatory and unethical attitudes to women. 
Speaking to RTÉ Entertainment, Fennell said, "It's absolutely a film about the culture we grew up in. We as a society tend to tip the scales of justice towards men. We just do. It's a natural inclination and one that's come from thousands of years."
"People have received the film in the way that it was meant," she added. "Which is actually about how do we move forward, how do we forgive and move on?
"Cassie is trying to be ultimately loyal to their best friend despite the fact that it's so detrimental to her own life."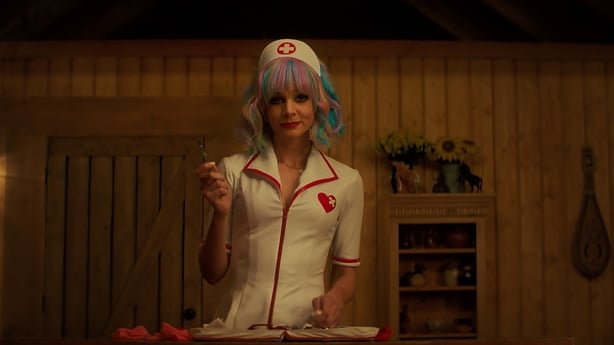 "And I think the film says you can forgive and move on once people acknowledge something has happened and they apologise for it and actually the people in this film are only in trouble because they don't apologise and they double down and make excuses and that's what this film is about.
"If people feel affronted by it or its portrayal of men then they may need to spend a bit more time empathising with how women have been treated."
The film also stars Bo Burnham (The Big Sick), Alison Brie (Glow), Connie Britton (Nashville), Adam Brody (Shazam!), Jennifer Coolidge (Legally Blonde), and Laverne Cox (Orange is the New Black).
Promising Young Woman will be released on Sky Cinema from 16 April. The film will also be available on streaming service NOW via the Sky Cinema Membership.