It's been on a firm favourite for nearly thirty years and there's a Broadway musical version on the way, but it seems there's an R-rated version of Robin Williams comedy Mrs. Doubtfire out there.
According to a tweet from Film Facts, the late Williams "improvised" so much during the making of the film, in which he plays an actor masquerading as a nanny so he can spend time with his estranged family, that "that there were PG, PG-13, R and NC-17 cuts of the film."
Naturally, fans of the comedy now want to see a new director's cut from Chris Columbus, who made the PG-13 hit in 1993.
We need your consent to load this YouTube contentWe use YouTube to manage extra content that can set cookies on your device and collect data about your activity. Please review their details and accept them to load the content.Manage Preferences
"The public deserves to see the NC-17 Mrs. Doubtfire," wrote one fan. "NC 17 Miss. Doubtfire is what the world needs after over a year of Covid," said another.
Other US fans joked about giving up their $1,400 stimulus checks for a chance to see a new edit of the movie, which ended up with a PG-13 rating on its release.
Rumours of the possible existence of R and NC-17-rated versions of Mrs. Doubtfire began after a 2015 Yahoo Entertainment interview with Columbus, who praised Williams, who died in 2014, for his acting and improvisational skills.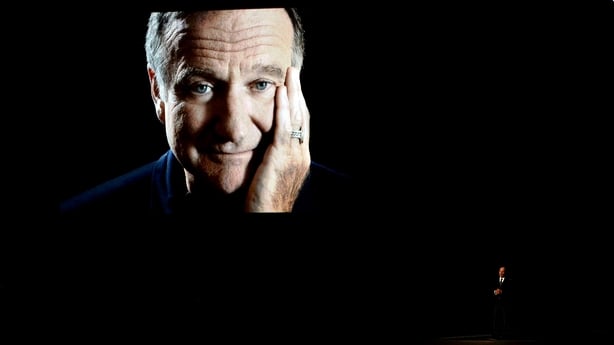 "He without a doubt, the best actor I've worked with," the director, who also made Home Alone, said, adding that multiple cameras were positioned at all angles during the making of Mrs. Doubtfire to capture Williams' every move, word, and gesture.
Columbus said making the movie was "like shooting a documentary".
"For instance, in the dinner scene toward the end of the movie, the other actors had no idea what he was going to say," he said. "And it was getting their expressions and reactions the first time they ever heard him say something like that."
Williams' talent for improvisation meant that Columbus ended up with four different versions of Mrs. Doubtfire on the editing floor. "Literally, a PG-rated version of the film, PG-13, R and NC-17," he said.
According to reports, Mara Wilson, who played Williams' daughter in the movie, also suggested that there might be an R-rated version of the much-loved comedy.
"I don't know about NC-17, but with some of the things [Robin] said, I'm sure there was probably an R cut somewhere," the actress, now 33, said in 2016.
In another interview on Friday with EW, Columbus returned to the theme, saying, "The reality is that there was a deal between Robin and myself, which was, he'll do one or two, three scripted takes. And then he would say, 'Then let me play.' And we would basically go on anywhere between 15 to 22 takes, I think 22 being the most I remember.
"He would sometimes go into territory that wouldn't be appropriate for a PG-13 movie, but certainly appropriate and hilariously funny for an R-rated film."
Sadly for fans of the film, Columbus says he is not interested in releasing a director's cut of the movie, or making an R-rated version, and suggested that a documentary might be a good way for people to see the scenes left on the cutting room floor.
"I think that that would be the best approach. I'm very proud of the film. I'm in a good place with Mrs. Doubtfire, so there's really no reason to do the definitive cut. The definitive cut of Mrs. Doubtfire is out in the world right now."