Tributes have been paid to actor and comedian Robin Williams, who was found dead last night at the age of 63.
Marin County Sheriff's Office said Mr Williams's death was due to suicide and he was found dead at his home by his personal assistant.
Lieutenant Keith Boyd said Williams was last seen alive on Sunday by his wife Susan Schneider before she went to bed.
She left the house yesterday morning assuming he was still asleep in a separate room.
He was found dead by his personal assistant, who entered the room "when he failed to respond to knocks on his bedroom door," Mr Boyd said.
Mr Boyd, who is Marin County's assistant coroner, refused to say whether a note had been found, as an investigation continues.
Williams's appeal stretched across generations and genres, from family fare as the voice of Disney's blue Genie in 'Aladdin' to his portrayal of a fatherly therapist in the 1997 drama 'Good Will Hunting,' for which he earned his sole Oscar.
But many remembered the master of impressions for his tender portrayal in 'Mrs Doubtfire', when he played the part of a British nanny whose identity he assumed as a divorced father to be with his children.

Williams had been recently suffering from severe depression,his publicist Mara Buxbaum said in a statement last night. The actor had repeatedly talked about his past struggles with alcohol.
"This morning, I lost my husband and my best friend, while the world lost one of its most beloved artists and beautiful human beings. I am utterly heartbroken," Ms Schneider said in a statement.
In his final posting on Twitter on 31 July, Williams had wished his daughter Zelda a happy 25th birthday. Late last night, Zelda wrote on Twitter: "I love you. I miss you. I'll try to keep looking up."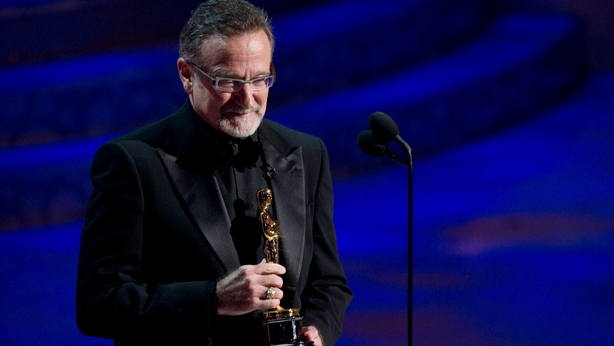 My Heart's broken. Robin was a beautiful, kind soul. Can't bear that he's gone. So incredibly sorry for his family.

— Minnie Driver (@driverminnie) August 11, 2014
US President Barack Obama said: "Robin Williams was an airman, a doctor, a genie, a nanny, a president, a professor, a bangarang Peter Pan, and everything in between. But he was one of a kind.
"He made us laugh. He made us cry. He gave his immeasurable talent freely and generously to those who needed it most."
Director Steven Spielberg said: "Robin was a lightning storm of comic genius and our laughter was the thunder that sustained him. He was a pal and I can't believe he's gone."
Kevin Spacey said: "Robin Williams made the world laugh and think. I will remember and honour that. A great man, artist and friend. I will miss him beyond measure."
Comedian and actor Steve Martin said: "I could not be more stunned by the loss of Robin Williams, mensch, great talent, acting partner, genuine soul."
Monty Python stalwart Eric Idle said "I can't believe my lovely friend is gone. My heart goes out to his wife and his beloved children. He brought us so much joy and laughter."
Read: Robin Williams Obituary
Gallery: Robin Williams - A Life in Pictures
Blog: Coping with Loss
"Robin Williams rest in peace. Make God laugh" - marquee outside the Laugh Factory standup comedy club in Hollywood.
Oh Robin...Our hearts are broken. Rest in peace darling. We loved you.

— Goldie Hawn (@goldiehawn) August 11, 2014
Devastating news about @robinwilliams — knew him a little and liked him a whole lot more. A brain wired like no other and so so kind.

— Stephen Fry (@stephenfry) August 12, 2014
RIP Robin Williams. Such a loss. He will be gone but never forgotten. #RIPRobinWilliams pic.twitter.com/c3uN96Yj6F

— Will Smith (@WilII_Smith) August 11, 2014
U touched our lives U touched our hearts U gave us laughter n joy U'r a beautiful soul U will be missed Our love to the family RIP Robin W.

— Forest Whitaker (@ForestWhitaker) August 12, 2014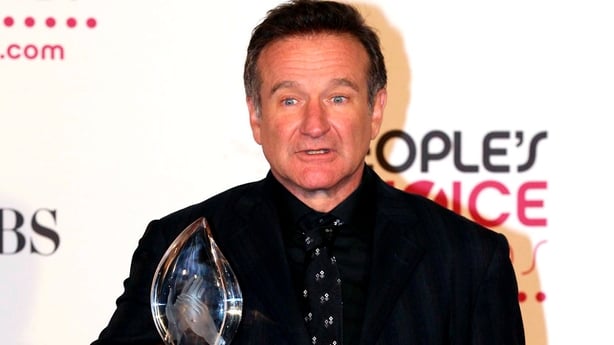 Absolutely stunned to hear the news about Robin Williams. It's unimaginable to me that we've lost such a genuinely funny and sweet man.

— Conan O'Brien (@ConanOBrien) August 12, 2014
Such sad news. My heart goes out to his family. The great Robin Williams. http://t.co/gKqbQZosT2 via @YouTube

— graham norton (@grahnort) August 11, 2014
Comedian and actor Billy Connolly, a close friend of Williams, said: "Robin was both my friend and my hero, a unique talent and a kind and generous man; the world will be a much poorer place without him."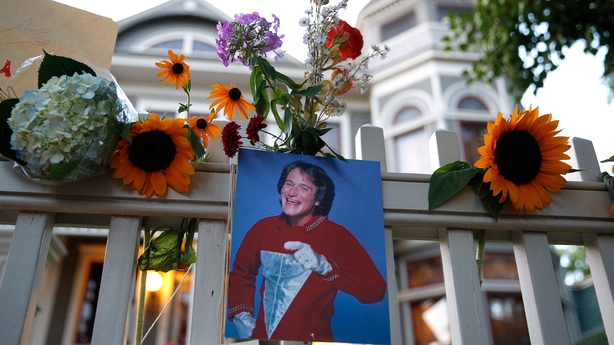 Steve Carell said: "Robin Williams made the world a little bit better. RIP."
Heartbroken

— Danny DeVito (@DannyDeVito) August 12, 2014
A tweet cannot begin to describe the hugeness of Robin Williams heart and soul and talent. This is so sad. #RobinWilliams

— Ben Stiller (@RedHourBen) August 12, 2014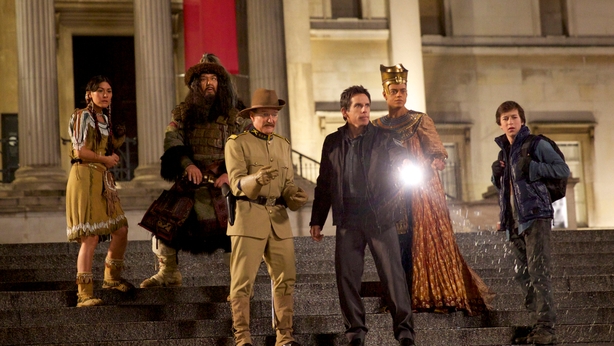 The world just got a lot less funny. Robin Williams is a tragic loss.

— Seth MacFarlane (@SethMacFarlane) August 12, 2014
One of my all time favourites. Movies I grew up watching over and over again. A genius that will be so missed. R.I.P. Robin Williams.

— Harry Styles (@Harry_Styles) August 12, 2014
Robin Williams Rest in Peace. Nanu Nanu LG x

— Liam Gallagher (@liamgallagher) August 12, 2014
Very sad, very upset, very glad I did not have to hear about this though Twitter. Probably going to be taking some time off it for a while.

— Mara Wilson (@MaraWritesStuff) August 11, 2014
Robin was as sweet a man as he was funny. If you're sad, please tell someone.

— Jimmy Kimmel (@jimmykimmel) August 11, 2014
Williams, who was most recently in the CBS television comedy 'The Crazy Ones' until it was cancelled after one season in May, had entered a rehabilitation centre this summer to help him maintain sobriety.
Sarah Michelle Gellar, who played his daughter in 'The Crazy Ones', said her life was better for knowing Williams.

"To my children he was Uncle Robin, to everyone he worked with, he was the best boss anyone had ever known, and to me he was not just an inspiration but he was the father I had always dreamed of having," she said in a statement.
Helplines: Samaritans 116123 | 1Life 1800 24 7 100 | Console 1800 247 247